Clash of the Car-hailing Titans: Dida Seeks IPO Funds as Battle Looms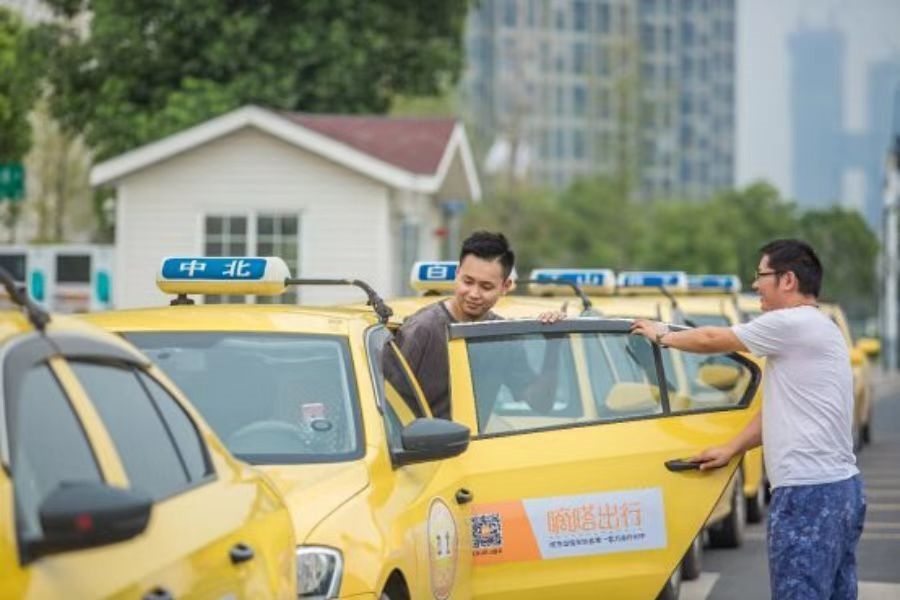 The Chinese rideshare platform has filed to list on the Hong Kong Stock Exchange for a third time, as rivalry in the shared transport business heats up again
Key Takeaways:
Dida Inc. has revived plans for a Hong Kong IPO, but investors could be troubled by a 92% plunge in net profit for the first nine months of last year
The company's archrival, DiDi Global, has resumed user registrations after a regulatory freeze, heralding a fight with Dida for market share
By Tina Yip
China's car-hailing and rideshare giants could be heading into battle this year, as the dominant platform faces a renewed challenge from its dethroned rival.
DiDi Global (DIDIY.US), the onetime king of car-hailing services, is back on the battlefield, signing up new users again after being sidelined for more than a year by regulators. Meanwhile, Dida Inc., the ridesharing upstart that rose to fame during DiDi's demise, is looking to fill its war chest ready for a fresh round of rivalry.
In late February Dida embarked on a third attempt to list on the Hong Kong Stock Exchange, shortly after its competitor was cleared to resume user registrations.
Starting out as "Dida Pinche" in 2014, Dida was founded by Song Zhongjie, then a local director at Google China. Rather than going head to head with DiDi on car-hailing, the company aimed to open up a new market for sharing minibus rides.
Dida added taxi-hailing services in 2017 and has expanded rapidly since then. By the end of last September, Dida had about 12.4 million certified private car owners on its books in 366 cities, making it China's biggest ridesharing platform.
The company had applied for a Hong Kong listing in October 2020 and April 2021, but its efforts stalled both times. Its latest filing, with CICC, Haitong International and Nomura International as joint sponsors, comes with an update on the firm's financial performance for the first nine months of last year.
Profits plummet 92%
Dida's revenue was 754 million yuan ($109 million) in 2020, rising 3.6% to 781 million yuan in 2021, according to the prospectus. However, last year Covid controls badly hit the core ridesharing business, which accounts for nearly 90% of Dida's top-line income. Revenues fell nearly 27% to 428 million yuan in the first nine months of 2022 from the year-earlier period.
Dida made a loss of 2.19 billion yuan in 2020 due to a change in the fair value of its preferred shares, but it bounced back the following year with a profit of 1.73 billion yuan. In the first nine months of 2022, profits fell 92% to just 74.85 million yuan, hit by a fall in user trips during the pandemic as well as heavy subsidies to snatch market share.
Subsidy wars have a long history in China's car-trip services market. Back in February 2015, two opposing forces agreed a Valentine's Day truce after a fierce bout of competitive subsidies for passengers and drivers. DiDi and KuaiDi announced a merger to form DiDi Global, which then dominated the market for ridesharing and hailing, chauffeur services and even buses.
But the newcomer Dida still attracted star investors in the early days, despite being an industry underdog. The investments included $3 million from two IDG companies in 2014, $20 million from Tencent (0700.HK) and IDG in 2015, and another $20 million in the Series C financing that year from Trip.com (9961.HK), IDG and Tencent.
In 2017, the founder of electric car maker NIO Inc. (NIO.US; 9866), William Li, also took a liking to Dida, betting 200 million yuan on the ridesharing platform. Li now serves as a non-executive director responsible for business and investment strategy. In 2018 Dida welcomed new shareholders including Hillhouse Capital and JD.com (JD.US; 9618.HK), which together invested about 350 million yuan. Dida has accumulated more than 800 million yuan from the five rounds of financing.
But in 2018 two women were murdered while using DiDi's ridesharing services. The cases sparked public alarm and triggered tough regulation, stalling the leading platform's business for more than a year. The smaller player, Dida, was also required to reform but it managed to resume operations swiftly. The underdog quickly overtook the giant DiDi as the largest rideshare platform in China.
Financially outgunned
However, safety remains a major concern for regulators. Dida, which derives nearly all its revenue from ridesharing, needs to tread carefully, paying attention to official policies and user preferences. The company also said in its prospectus that the carpooling market could stagnate if users cool to the idea or shy away due to safety fears.
Dida is also wary of over-reliance on one part of the transport-services business, and has diversified into smart taxi services. Since DiDi emerged from a cybersecurity probe and got the green light in January to sign up new users, the sector looks set for a repeat of the subsidy wars, this time between Dida and DiDi. But Dida does not have the same deep pockets as its rival.
As of last September, Dida's cash and cash equivalents amounted to just 597 million yuan. Equivalent figures for DiDi are not available, but the company's cash and cash equivalents at the end of 2021 stood at 43.43 billion yuan. The financing gap may explain why Dida is keen to boost its funds with an IPO.
Dida stated in the prospectus that it would invest the cash in expanding its user base, enhancing marketing and promotional activities, improving technology and security, and exploring investment or acquisition opportunities.
The only vehicle-hailing platform currently listed in Hong Kong is Gogox Holdings (2246.HK), specializing in delivery services. Many investors have deserted the loss-making company since it listed at HK$21.5 last June, pushing its share price below the HK$3 level on Wednesday. Its latest price-to-sales (P/S) ratio stands at about 2.3 times.
Dida's valuation is about 4.27 billion yuan. Using annualized revenues based on the first nine months of 2022, its P/S ratio is about 4.3 times. With a better earnings performance, Dida obviously enjoys a premium over Gogox.
However, the weak Gogox share price also reflects a lack of optimism about the ride-hailing market in general. After last year's profit plunge, Dida may need to demonstrate that it can hitch a ride on China's economic recovery, if it wants investors to jump with confidence on board its IPO.
To subscribe to Bamboo Works weekly free newsletter, click here