Charged by Surgical Robot's Approval, Shenzhen Edge Medical Makes New IPO Bid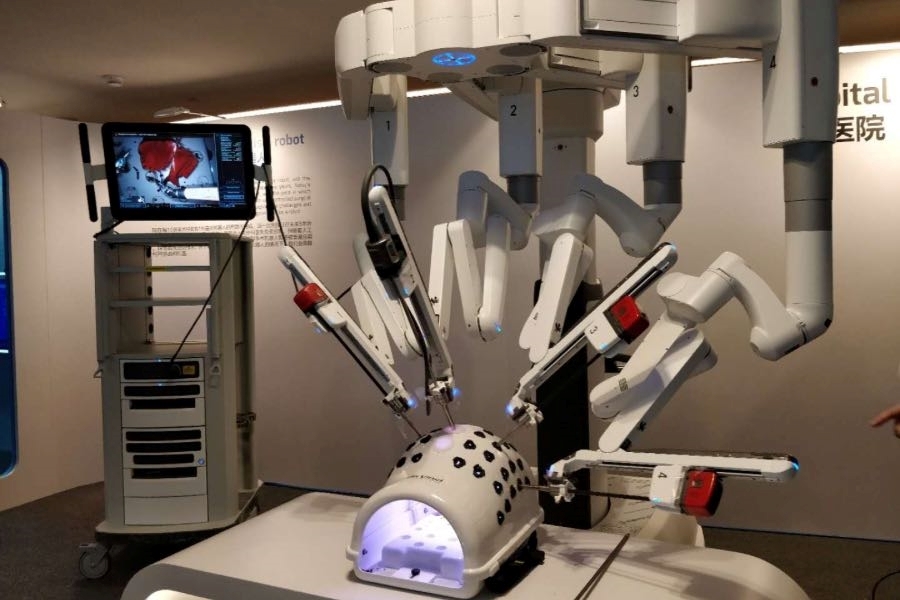 The medical device maker filed a second time for a Hong Kong IPO after updating its prospectus with the recent approval of its first surgical robot
Key Takeaways:
Shenzhen Edge Medical got approval for one of its two surgical robots last month and confirmed its first sales order, as it aims to list in Hong Kong
A growing number of such Chinese robot makers have gone public and secured big financing, as they jockey for position before the field becomes too crowded
By Ellie Si
Shenzhen Edge Medical Co. Ltd. hopes the second try will be the charm for its bid to list in Hong Kong, this time armed with a major new product approval. Eight months after its first IPO attempt, the surgical robot maker filed an updated prospectus last week revealing the regulatory nod for a key product that will bring the young company its first sales.
Compared with traditional techniques, surgical robots have clearer imaging systems and flexible robotic arms, and can carry out complex surgeries with minimal invasiveness. Such robots are increasingly popular for performing laparoscopic, orthopedic, neurological and percutaneous coronary intervention surgeries.
Shenzhen Edge is a relative newcomer to the field, founded in 2017 as a designer and maker of such surgical robots. Its updated prospectus shows its MP1000, a multi-port endoscopic surgical robot, was approved by the Chinese National Medical Products Administration (NMPA) last month for use in urological surgeries. Meanwhile, the company's more sophisticated single-port endoscopic surgical robot SP1000 is still under development.
Shenzhen Edge is hoping to tap a surgical device market that is growing rapidly both in China and worldwide. The global market for multi- and single-port endoscopic surgical robots surged from 18 billion yuan ($2.66 billion) in 2016 to 42.4 billion yuan in 2021, growing at an annual compound rate of 18.7%, according to third-party data in Shenzhen Edge's prospectus. The market is expected to grow further to 184.3 billion yuan by 2030.
The company's backers including such big names as Temasek, Poly Capital Management, Sequoia Capital China, 3H Health and Boyu Capital, which have contributed a combined total of over 2 billion yuan to the company. Its valuation passed $1.5 billion following its latest fundraising of more than $200 million in October 2021.
U.S.-based Intuitive Surgical's (ISRG.US) Da Vinci Surgical System is the clear leader in endoscopic surgical equipment, while China's arrival to the field was quite late. In October 2021, a surgical robot developed by Shandong Weigao Orthopaedic Device (688161.SH) became the first China-developed endoscopic robot to win approval in the country. A growing number of homegrown players have entered the fray since then, showing Shenzhen Edge Medical will face a long and arduous journey trying to carve out a place in the market.
Zero revenue
Despite its potential, Shenzhen Edge had yet to report any revenue in the first nine months of last year, forcing it to make its IPO filing under Chapter 18A of Hong Kong's listing rules. That provision allows biotech companies without any revenue or profit to go public, unlike other listing candidates that must show strong revenue and sustainable profits. By the end of last year, close to 50 medical technology companies successfully went public under the rule, which was adopted in 2018 in Hong Kong's bid to lure more high-growth, high-tech companies to the bourse.
Not surprisingly, Shenzhen Edge has incurred substantial R&D, administrative, sales and marketing costs as it ramps up its business and prepares to sell its first products. In that process, it registered a 349 million yuan net loss in 2021, and a 147 million yuan loss in the first nine months of last year. Its R&D expenses made up 79.9% and 48.3% of total expenses during the two respective periods.
Among its two key products, MP1000 is designed for performing urological surgeries and gynecological procedures. It completed its clinical trials for urological surgeries in December 2021, and registered with the NMPA a month later before getting regulatory approval last month. The company believes the device is equal to comparable Da Vinci Surgical System products in terms of efficacy and security.
Its other key product, the single-port SP1000 endoscopic surgical robot, also focuses on gynecological surgeries. Its clinical trials launched in October 2021, and are expected to wrap up in this year's first quarter. The company submitted a preliminary registration application to the NMPA last October.
Single-port robots are more precise than multi-port ones. By making a single incision instead of multiple ones, they can reduce surgical invasiveness and bleeding, diminish the risk of infection and the time needed for anesthesia, and simplifying surgical procedures in general.
But that also means higher regulatory requirements for single-port robots. Intuitive Surgical's single-port endoscopic surgical robot, the Da Vinci SP surgical system, is the only one approved by the U.S. Food and Drug Administration (FDA), while other companies are working on rival products. According to Shenzhen Edge Medical's prospectus, China currently has no officially approved single-port endoscopic surgical robots.
First sales
With the MP1000's approval, Shenzhen Edge Medical is finally in a position to start generating some revenue. It secured its first order for the device last December from a top-tier hospital in Southwest China's Sichuan province, though the company didn't provide more specifics.
That said, commercializing surgical robots in China is no easy feat, which explains their extremely low penetration rate so far. Market data cited in the company's prospectus shows the penetration rate of robotic-assistance devices for endoscopic surgeries in China was only 0.7% in 2021, much lower than the 15.5% in the U.S. Factors like cost, lack of qualified doctors and special license policies are all limiting the use of such surgical robots in China.
But that hasn't stopped others from piling into the field these past few years on hopes that the penetration rate will grow. Shanghai MicroPort MedBot (2252.HK), Shandong Weigao Orthopaedic Device and Tinavi Medical Technologies (688277.SH) all have rival products. That trio have also beaten Shenzhen Edge Medical to financial markets, and currently boast valuations of more than HK$29 billion ($3.7 billion), 25 billion yuan and 5 billion yuan, respectively.
Weigao Surgical Robot and Shanghai MicroPort MedBot have both launched their endoscopic robots, giving them a head start over Shenzhen Edge Medical's MP1000. Suzhou Kangduo Robot's product also won approval last year, and the company is currently valued at nearly 10 billion yuan and expected to list on Shanghai's Nasdaq-style STAR Market.
At the end of the day, the going won't be easy for Shenzhen Edge Medical as it vies with well-funded rivals that are more advanced. Even companies in the early stages of development are still soaking up funds, such as Würzburg Dynamics, which raised 100 million yuan to complete its series-A financing last year, and Sinovation Medical Technology, which recently finished its 300 million yuan series-D financing. That shows that even if its second listing attempt in Hong Kong succeeds, Shenzhen Edge Medical will still face a long road to prove it can be a leader in China's emerging surgical robot sector.
To subscribe to Bamboo Works weekly free newsletter, click here