Booster Shot for Brii Biosciences with First Covid Drug Launch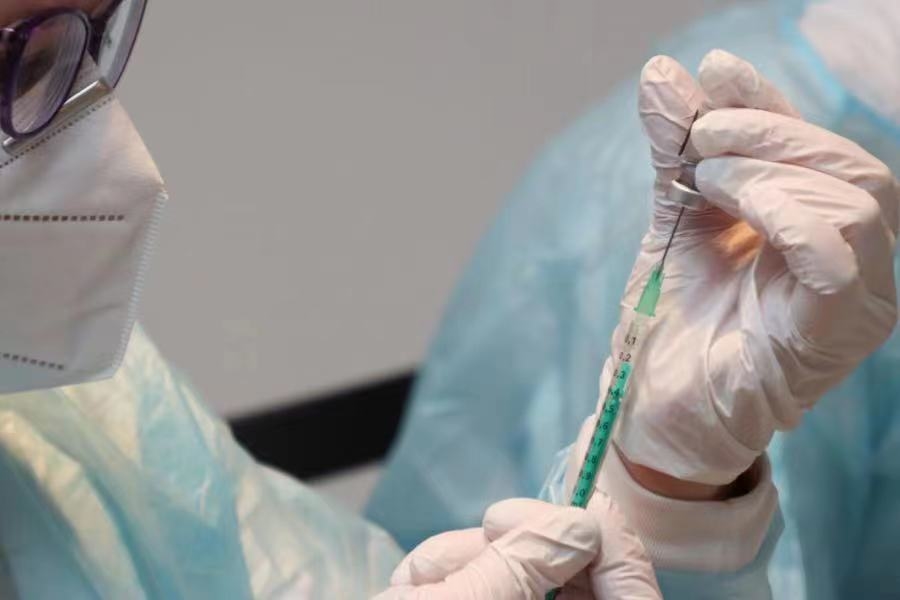 Brii Biosciences announced the commercial launch of its injectable Covid antibody treatment, which will be covered by government medical insurance in many parts of the country
Key Takeaways:
The antibody injection developed by Brii Biosciences is China's first nationally approved Covid treatment and is effective against Omicron variants
It will face fierce competition from oral drugs developed by other Chinese pharma companies
By Molly Wen
China's first domestically produced Covid drug has finally launched, giving its maker an early lead in the sprint to bring new anti-virus therapies onto the market.
But as the Chinese field becomes more crowded, investors face the challenge of identifying the companies that are most likely to triumph in the marathon medical battle against Covid.
First out of the starting blocks is Brii Biosciences Ltd. (2137.HK) with an injectable antibody treatment that officially launched last week, seven months after the drug was approved by China's medicines regulator.
The therapy, jointly developed with teams at Tsinghua University and a Shenzhen hospital, uses a cocktail of two types of antibodies to help fight off a Covid infection.
Founded in 2017, Brii Biosciences had not commercialized any drugs up to now. After news of the Covid drug launch, the company's stock powered out of a two-month slump and hit a three-day winning streak, with the price touching a five-month high of HK$15.28.
The injection treatment using neutralizing antibodies was approved by the National Medical Products Administration in December 2021 for Covid patients over 12 years of age with either mild or more severe symptoms. The global pharmaceutical industry has already produced Covid antibody therapies, but Brii's treatment is the first to be wholly developed in China and approved for clinical use by the Chinese medical regulator. Crucially, many provincial and municipal authorities have granted the treatment medical insurance coverage, ensuring a certain degree of market penetration.
The company has already shipped several thousand doses to the Third People's Hospital of Shenzhen and has received orders from more than 20 provinces and municipalities, company president Luo Yongqing said. Supplies will be distributed across the country by China Resources Pharmaceutical Group (3320.HK), Shanghai Pharmaceuticals Holding (2607.HK) and Sinopharm Group (1099.HK).
Addressing the time lag between approval and launch, Luo said that various quality and production tests had been carried out in the interim, including assessments by five drugs authorities such as China's national regulator and its branches in Jiangsu, Beijing and Shanghai, as well as the Food and Drug Administration (FDA) in the U.S.
Effectiveness against Omicron
Earlier antibody therapies include treatments developed independently or jointly by Regeneron Pharmaceuticals, AstraZeneca, GlaxoSmithKline/Vir Biotechnology, or Eli Lilly/Shanghai Junshi Biosciences. But the emergence of the Omicron variant changed the fate of these drugs.
Research showed that many of the pioneer drugs were not very effective against Omicron variants, prompting the FDA to restrict those therapies to use against other strains of the virus, thus excluding the drugs from a large part of the Covid-19 medicines market.
So how does the antibody cocktail from Brii Biosciences rate as a Covid treatment? For those in danger of serious illness, the treatment cut the risk of death or hospitalization by 80% in Phase III clinical trials. More importantly, the antibody therapy proved effective against the latest Omicron variants.
Researchers found that the drug reached FDA-mandated standards for inhibiting BA.4 and BA.5 strains of Omicron in in-vitro experiments and clinical cases.
But the new injectable treatment faces intense competition from Covid-19 oral drugs. The neutralizing antibodies are safer but less convenient than the oral drugs because they have to be injected. Moreover, most Covid pills are small-molecule drugs, made of relatively simple chemical compounds, while neutralizing antibodies are more complex biological agents. The antibodies are more expensive to make, and their production takes longer to expand than for the oral options.
By way of example, the U.S. government spent $2,100 per dose on the antibody therapy developed by GlaxoSmithKline in partnership with Vir Biotechnology, while a course of Paxlovid, the oral drug developed by Pfizer (PFE.US), was 75% cheaper at just $529.
Challenges from oral drugs
Right now, competition in the Covid-19 oral drugs market is heating up. The Japanese pharmaceutical company Shionogi has filed for marketing approval in China for its oral Covid drug. Another drug, VV116 from Shanghai Junshi Biosciences (1877.HK; 688180.SH), is about to complete Phase III clinical trials. Meanwhile, Kintor Pharmaceuticals (9939.HK)'s Proxalutamide and Genuine Biotech'sAzvudine have finished clinical trials and are about to be put forward for marketing approval.
As an early mover, Brii Biosciences will be hoping to grab a significant slice of the market with its injected antibodies before oral treatments come on stream.
Before Covid, the company mostly focused on developing drugs to treat infectious diseases and disorders of the central nervous system, but it had not managed to bring any products to market. Among its other medications, the farthest along the pipeline is a drug for hepatitis B, which is in Phase II clinical trials. So, the Covid antibodies drug is likely to be the main revenue earner for the coming years.
The company's financials could do with a booster shot. Brii Biosciences earned around 99 million yuan ($14.65 million) in 2021, mostly from government subsidies and interest payments from banks. Its R&D expenses dropped around 43% to 495 million yuan last year due to lower contracting costs with third parties under its Covid projects. According to Luo, the company has spent more than $200 million to develop and commercialize the antibody treatment.
However, the Chinese government's strict Covid containment policy puts a question mark over the amount of revenue these drugs could actually bring in. Judging from the share price performance, the market lacks conviction about the potential rewards for Brii Biosciences.
Its stock surged as high as HK$48.65 after the new drug was approved last December and the share price recently shot up again, but it remains 70% below the high point reached last year.
The price-to-sales (P/S) ratio of the stock stands at 80 times, compared to the 13 times and 165 times of Shanghai Junshi Biosciences and Kintor Pharmaceuticals, highlighting a wide valuation range among Covid drug developers.
As long as China pursues a "zero-Covid" policy, investors would be well-advised to stay cautious about the company getting any big cash injection from its newly launched drug.
To subscribe to Bamboo Works weekly free newsletter, click here