Appotronics powers up for drive into smartcars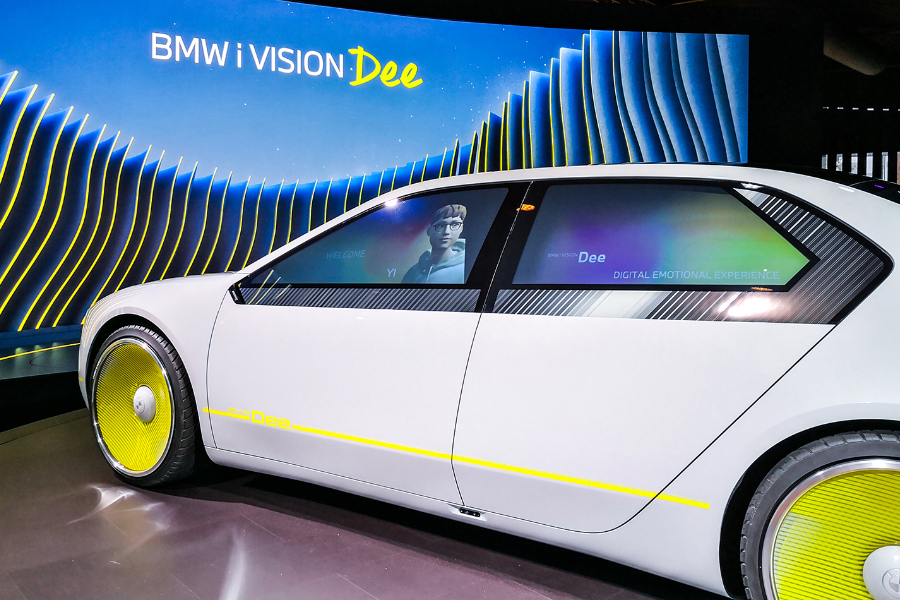 The display laser maker has signed deals with BYD and BMW, and believes smartcar-use products could account for up a 'significant' portion of its sales next year
Key Takeaways:
Display laser maker Appotronics sees big potential in the smartcar business, which is now negligible but could account for a significant portion of its sales in 2024
The company's revenue fell 15.5% in the first six months of this year on weak laser TV sales, but its profit jumped 63% on strong growth for its higher-margin cinema-use laser business
By Doug Young
High-tech TVs may be good for sales, but the future lies in smartcars.
That's the message beaming from display laser maker Appotronics Corp. Ltd. (688007.SH), which is chasing a market of futuristic cars that are fertile ground for its high-tech lasers that do things like dressing up traditional car dashboards and creating customized headlight patterns.
Founded 17 years ago in the Southern Chinese boomtown of Shenzhen, Appotronics got negligible revenue from its auto-use laser products in the first six months of 2023, following its entry into the space just last year. But it believes the business will grow fast, and could account for a significant portion of its revenue in 2024, Chairman and founder Li Yi told Bamboo Works in an interview.
"Starting from next year we see sizable revenue from this. We think it will be significant," said Li, speaking from the Detroit Auto Show where he was meeting with officials from the Big Three U.S. automakers, General Motors (GM.US), Ford (F.US) and Stellantis North America (STLA.US), the company formerly known as Chrysler.
The aggressive drive into car lasers is part of Appotronics' strategic shift away from its consumer-use laser business, which is mostly TVs and made up about half of the company's revenue in the first half of 2023. While such TVs can generate big sales, the competitive nature of the consumer business makes them less profitable than the company's other main businesses in cinema-use and professional display lasers.
The consumer market in China, which accounts for most of Appotronics' laser TV sales, is also headed into a choppy period as the country's economy slows after years of breakneck growth. As that happens, increasingly cautious consumers are reining in their spending on big-ticket items like cars, high-end TVs and even smartphones, according to the latest financial reports by many companies in those areas.
By comparison, the smartcar market is just beginning to take off, both in China and globally, and is expected to be worth a whopping 1.7 trillion yuan ($234 billion) globally by 2025, Li said.
He explained that new energy vehicles (NEVs) powered by fuels like electricity and hydrogen are especially fertile ground for products like laser displays, since many are just starting to develop and are less bound by older supply chains and design constraints typically seen for traditional gas-powered cars.
Appotronics currently has working relationships with leading Chinese NEV maker BYD (1211.HK; 002594.SZ), as well as local telecoms giant Huawei, which is pouring big resources into smartcar technology. Earlier this year it also showcased a concept car using its technology with German auto giant BMW (BMW.DE).
Li said Appotronics had preliminary meetings with the Big Three U.S. automakers before the Detroit Auto Show, and used the event to advance those talks. But he added a potential obstacle to quick progress with that group is its preference for products made locally in North America. By comparison, he added, European car makers are more flexible and willing to buy products currently made at Appotronics lone manufacturing facility in Shenzhen.
Cinema leader
While smartcars may be the future for Apptronics, its present is squarely grounded in its lasers for TVs, cinemas and other professional uses. While the company's laser TV sales fell in the first half of the year from the same period of 2022, cinema-use laser sales rose by 33% year-on-year to 180 million yuan for the period, accounting for 17% of total revenue, according to the company's latest financial report released Aug. 18.
Appotronics' is China's clear leader in laser displays for cinemas, with its technology now used in 28,600 screens nationwide. That segment is currently benefitting as more of China's theaters start spending again to upgrade their technology, following a difficult period when many were frequently forced to close during the three years of the pandemic.
The company's cinema division also does significant business in North America, with clients including the famous Mann's Chinese Theatre in Hollywood, now known as the TCL Chinese Theatre. Outside of China, the cinema business is also actively working with global giant Airbus (AIR.PA) on potentially bringing its technology to aircraft entertainment systems. But Li noted such business moves slowly.
"We are working with them," he said. "To get something new for new airplanes takes a much longer time than anything else. They can be extremely cautious."
Appotronics' sales of professional-use lasers also rose 13.8% to 202 million yuan in the first half of the year, while its light source and light generators business rose 18%.
While laser TV sales were weak and are generally a low-margin business, the company likes them because they give it the scale it needs to develop its manufacturing infrastructure, Li explained. But even in the consumer space, Appotronics is moving from its current 50-50 sales mix between finished TVs and TV components to focus more on components, which are easier to sell to a wider range of major customers and have lower distribution costs.
The weak laser TV sales caused the company's overall revenue to fall 15.5% year-on-year to 1.07 billion yuan year-on-year in the first six months of this year. But the drop in those lower-margin sales actually helped to boost its gross margin to 37.7% for the period, up a sizeable 7.4 percentage points from the year-ago period.
As a result, Appotronics' profit for the first six months of the year actually rose 63% to 74.9 billion yuan.
Investors didn't seem to mind the loss of some lower-margin TV sales and instead focused on the big profit gains and future potential of the higher-margin smartcar business. The company's stock rose nearly 10% in the two trading days after the latest results were announced last month, and have continued to rally since then.
Appotronics' stock currently trades at a lofty trailing price-to-earnings (P/E) ratio of 76, compared with far lower ratios of 19 for Japan's Ushio (6925.T) and 21 for Belgium's Barco (BAR.BR). Appotronics' price-to-sales (P/S) ratio of 4.72 is also well ahead of the 1.25 for Ushio and 1.63 for Barco. While the company is clearly an investor favorite compared with its peers, we should also note that its Shanghai-listed shares aren't available for trading by most global investors.
Have a great investment idea but don't know how to spread the word? We can help! Contact us for more details.
The Bamboo Works offers a wide-ranging mix of coverage on U.S.- and Hong Kong-listed Chinese companies, including some sponsored content. For additional queries, including questions on individual articles, please contact us by clicking here.
To subscribe to Bamboo Works free weekly newsletter, click here