After Heady Start to 2021, Weimob and Baozun Fall Out of Investor Favor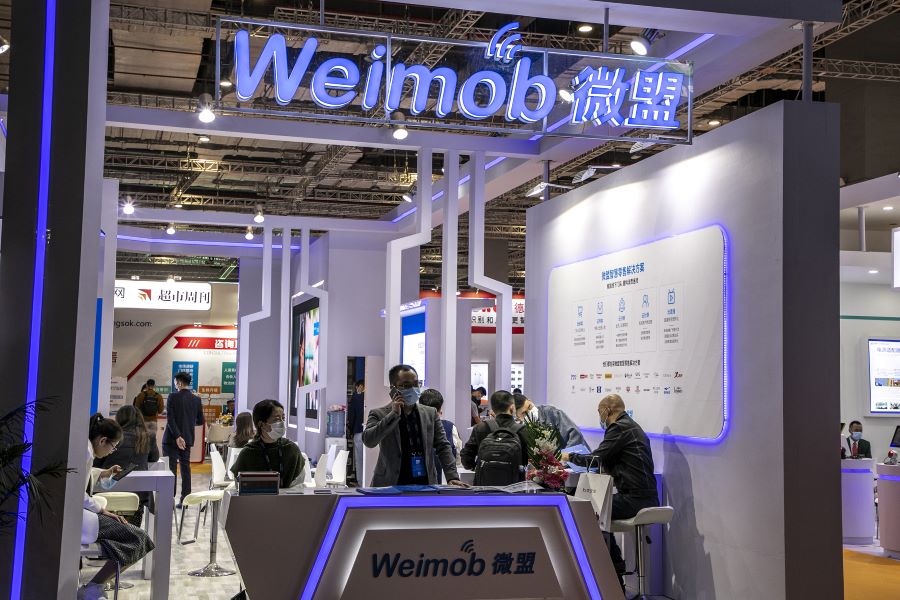 E-commerce software giants' stocks plunge after Credit Suisse gives both the cold shoulder and broader market sentiment sours
Key Takeaways:
Weimob, Baozun shares have been battered by factors unrelated to their fundamentals, including negative moves by Credit Suisse
Analysts believe Weimob could be better positioned than Baozun for return to strong profit growth over the medium- to longer-term
By Eric Auchard
When it comes to U.S.- and Hong Kong-listed Chinese stocks, very little these days seems related to company fundamentals. That's particularly true for companies whose main business is focused on education or big volumes of user data, which are both at the center of separate Beijing clampdowns.
Such disregard for company fundamentals also applies to e-commerce software, where former highflyers Weimob Inc. (2013.HK) and Baozun Inc. (BZUN.US; 9991.HK) have seen big stock gains from early this year wiped out entirely in recent weeks.
Weimob was the first to suffer a massive sell-off last week that had nothing to do with fundamentals and was instead related to a vote of no confidence from one of its longtime major stakeholders, Credit Suisse. Baozun followed days later with a similar negative vote from the same global banking powerhouse.
Weimob and Baozun both give top brands tools to help them reach customers across a range of China's big tech platforms. Weimob is closely tied to Tencent's WeChat, while Alibaba's Tmall generates nearly three-quarters of Baozun's sales. Both companies are trying to diversify from their big partners, though with limited success so far.
The bad news for Weimob began last Tuesday, when Credit Suisse revealed it had slashed its long position in the company to 3.79% from 6.75%, according to a filing with the Hong Kong Stock Exchange. Before that, the global banking giant had been a regular underwriter for several of Weimob's secondary share offerings.
News of the sale sent Weimob's stock plunging by nearly 20% last week, prompting it to issue an unusual announcement saying its operations "remain normal and (its board) has full confidence in the company's future development prospects."
Moreover, the announcement said, Weimob's board was "not aware of any change in the company's regulatory regime or in the business ecosystem" which would have a negative impact on its business. That was an apparent reference to the regulatory uncertainty wreaking havoc on many offshore-listed Chinese stocks these days.
Weimob also reminded the market that it was authorized to buy back as much as 10% of the company's shares, which the board said it would consider doing once it publishes its 2021 interim results around early September.
Weimob, which also counts JPMorgan and Blackrock as major shareholders, is expected to turn to a modest profit in the first half of this year, and analysts expect that positive trend to accelerate in coming years.
The announcement had the desired effect, at least initially, helping Weimob's stock to stage a modest rally off its 2021 lows last week. But the downward trend resumed this week amid a broader China stock selloff. Its Monday close of HK$9.54 ($1.23) makes its record high of HK$33.50 reached back in mid-February seems like a distant memory.
As Weimob was licking its wounds, Credit Suisse came out swinging at Baozun with a massive downgrade of its rating on Baozun stock by two notches last Friday to "underperform" from a previous "outperform." That was the equivalent of a downgrade from "buy" to "sell", and has sent Baozun's stock down by nearly 25% since then.
Credit Suisse pointed to a Chinese boycott of international apparel brands as a major factor hurting Baozun's business. It also warned of "continuously tightening regulation" from Beijing and described a "bumpy road ahead" in spite of the company's otherwise strong execution.
Consumer Boycott
The boycott referred to by Credit Suisse kicked off in March, organized by Chinese consumers in response to western criticism of alleged human rights violations in China's Xinjiang region. Clothing retailer H&M was the main target of that movement, but shoemakers Nike, Adidas and Puma have all been caught up as well.
Baozun is particularly closely tied to major international brands getting caught up in the boycott. For example, it cited Nike as a marquee customer in its latest earnings presentation.
Even before Credit Suisse pulled the rug from underneath Weimob and Baozun, China tech stocks had been feeling pressure amid the broader Beijing crackdown. That crackdown has focused on companies using the controversial "variable interest entity" (VIE) structure that sees them incorporate holding companies outside China. Those holding companies then become the vehicle for listings in New York and Hong Kong.
Both Weimob and Baozun use such a structure and are registered in the Cayman Islands, like the big majority of Chinese companies now listed in New York. Beijing is reportedly considering new rules that would require Chinese companies to get government approval before pursuing that route – something that wasn't needed before.
And thus, with little negative news about their underlying fundamentals, both Weimob and Baozun have seen big rallies early in the year wiped out completely and then some. Both stocks are now down 30% or more year-to-date, versus a large but milder 20% decline for Hang Seng Tech Index, which includes Weimob as one of its 30 components.
For any stock-pickers still looking for deals in the current choppy market, neither Weimob nor Baozun is expected to post much profit growth this year. But Weimob may look slightly better over the medium to longer term.
Analysts see both companies returning to accelerating growth in 2022 and 2023, due in part to a delayed effect in recording revenue for many providers of software as a service (SaaS) like Weimob and Baozun.
Baozun is seen posting profit growth of around 43% in 2022, followed by 31% a year later, according to the consensus view of analysts polled by Refinitiv. Weimob looks even stronger, with its earnings for 2022 expected to triple, followed by 88% growth in 2023.
In the shorter term, Baozun looks more exposed to additional fallout from the Chinese boycott due to its tighter connections with major international apparel brands. Weimob is less vulnerable in that regard because its business model is less directly connected to specific brands.
Baozun offers a full range of e-commerce services to brands, from managing their consumer-facing sites, to helping them with back-end warehousing and delivery. By comparison, Weimob is more marketing oriented, but is expanding its service offerings and moving into newer product areas like apparel, beauty, maternity and convenience stores.
To subscribe to Bamboo Works weekly free newsletter, click here