361 Degrees Still a Sportswear Laggard, But Sees Potential in Kids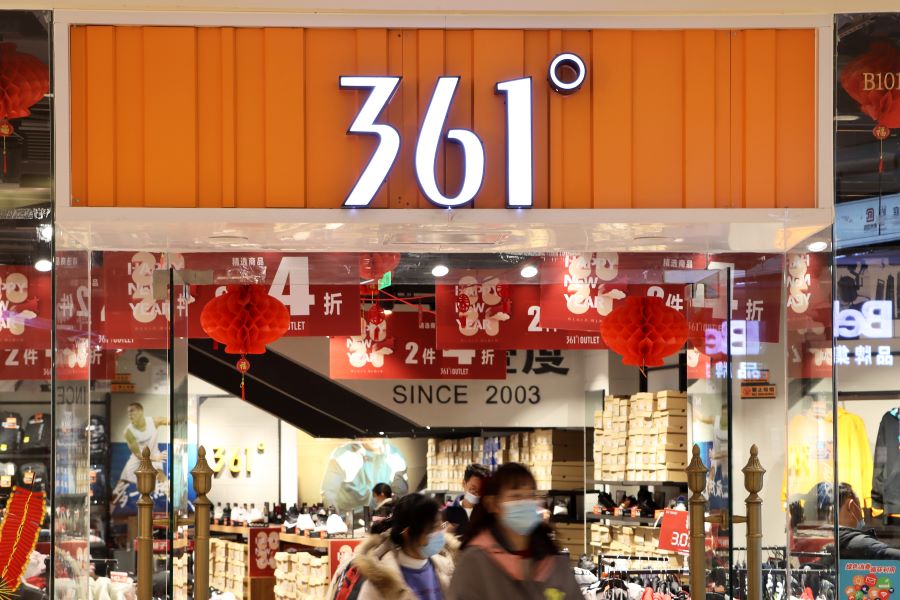 Company forecasts 15% to 20% growth for its separately run kids unit in the third quarter, ahead of 'low teens' growth forecast for its other brands
Key Takeaways:
• 361 Degrees forecasts 'low teens' revenue growth in the third quarter, slowing from the first half of the year
• Company's shares have risen sharply this year on a broader sector rally, but are still undervalued compared to peers
By Thomas Zhang
Hong Kong requires its listed companies to only report financial results twice a year, which means that release of first- and third-quarter reports aren't necessary, even though that's standard practice in most major stock markets. 361 Degrees International Ltd. (1361.HK), one of China's larger homegrown sports shoes and apparel brands, has taken advantage of this quirk by releasing a very brief third quarter update of just two pages.
Needless to say, numbers are scarce. The company said retail sales for its separately-run Kids Brand products grew 15% to 20% during the quarter year-on-year. Its core branded products grew more slowly, at a rate in the "low teens," the announcement said.
That information, despite its paucity, was enough to get investors briefly excited. The company's stock climbed 7.5% on Oct. 20, the day the news came out, though it has given back all the gains since then. Yet at their Wednesday close of HK$3.77, the shares have come a long way since a year ago when they traded below HK$1.
But even after the rally, 361 Degrees commands relatively little respect among its major peers in China's large sportswear market, based on its low valuation.
A look at the company's more detailed semi-annual report released in August revealed similar growth rates to the ones in the third-quarter update. That showed 361 Degrees earned revenue of 3.1 billion yuan ($486.6 million) for the first six months of this year, up 15.7% year-on-year. Its profit rose at more than twice that rate, up 32.9%, to 401 million yuan.
While the figures look decent, they actually pale in comparison with some of its better-known rivals. Sector leader Anta Sports Products Ltd. (2020.HK) raked in revenue of 22.8 billion yuan in the first half of 2021, up 55.5% year-on-year. Li Ning Co. Ltd (2331.HK) posted 65% revenue growth to 10.2 billion yuan. In fact, 361 only managed to outrun the similar-sized Xtep International Holdings Ltd. (1368.HK), whose revenue rose 12.4% to 4.1 billion yuan.
Shares for the entire group have enjoyed a nice run this year, following a several-years cleanup that saw many "right size" store networks that had become bloated and inefficient after years of breakneck growth.
Xtep's shares have roughly tripled since January, while Li Ning is up by two-thirds. The larger Anta is the relative laggard of the group. Its shares are now down slightly from where they started the year, showing that big size doesn't always have an advantage.
So what has been driving this year's rally?
A more detailed look shows the rally dates to around March when frictions between China and the U.S. over cotton grown in China's Xinjiang region led some Chinese consumers to boycott western clothing chains and brands, including H&M, Uniqlo, Adidas and Nike. That boosted business for homegrown rivals like 361 Degrees.
At the time, financial services firm Morningstar reported that April sales of Adidas and Nike through their flagship stores on Alibaba's popular Tmall dropped 78% and 59% from a year earlier, respectively. Concurrently, Li Ning's Tmall sales soared more than 800% for the month.
361 Degrees made its own related headlines in April, when it signed an agreement to buy raw cotton, fabric and other material from the China Cotton Industry Alliance (CCIA). It also agreed to use the group's trademark in its sales and marketing materials, equating to a "buy China" campaign to show its solidarity with domestic cotton growers.
Shares of the Chinese brands would go on to peak in June and July, before giving back some of the gains as retailing patterns returned to more pre-boycott levels.
Closing the Gap
361 Degrees controlled just 2.6% of China's branded sportswear market in 2020, far behind Anta and Li Ning, which took 15.4% and 6.7% respectively, according to market research firm Euromonitor. Nike led the sector with 25.6% share at the time.
With such strong competitors, how does a company like 361 Degrees compete? Some analysts believe that by singling out its Kids Brand, 361 Degrees may be sending a signal of the potential it sees in this area for closing the gap.
According to its latest semi-annual report, the 361 Degree's Kids Brand posted 24% revenue growth to 498.2 million yuan in the first half of the year, well ahead of the overall growth rate. The brand's contribution to overall revenue grew to 16% in the latest reporting period from 14.9% from a year earlier. Its gross profit margin also grew to 42% from 36% a year ago, a better improvement than other parts of the business.
The wider policy environment also looks good. China this year officially allowed couples to have up to three children, compared with the previous limit of two, providing a potential boost to the market for kids products. The broader sports-related market got a separate boost when China issued a national fitness plan for 2021-2025 in August to promote healthier lifestyles.
Whether 361 Degrees can ride the favorable policy tide is less certain. Fitch Ratings believes the company's revenue growth and brand are relative industry laggards, and the company could lose market share in the medium term. Fitch noted retail sales for the core brands of Anta, Li Ning and Xtep all rose by 40% to 90% in the first quarter of 2021, compared with only high-teens growth for 361 Degrees. And as we've just seen with the latest update, that growth slowed further still to "low teens" in the third quarter.
Investors are certainly taking note. Despite its recent stock gains, 361 Degrees now trades at a price-to-earnings (PE) ratio of just 16. Li Ning is quite expensive with a PE of 128, while Anta also looks pricey at 54 and Xtep comes in at 29. By comparison, Nike and Adidas now trade at PE ratios of 43 and 33, respectively.
Despite its underdog status, 361 has still managed to attract some interest from big-name institutional investors. Its top 10 institutional shareholders include Dimensional Fund Advisors and BlackRock, though that pair hold a relatively small combined stake of 3.1% between them. That indicates that the company is on the radar of some funds, which may feel the company is undervalued at current levels.
To subscribe to Bamboo Works free weekly newsletter, click here