Zhong An Intelligent Living Calls on Hong Kong a Second Time in New IPO Bid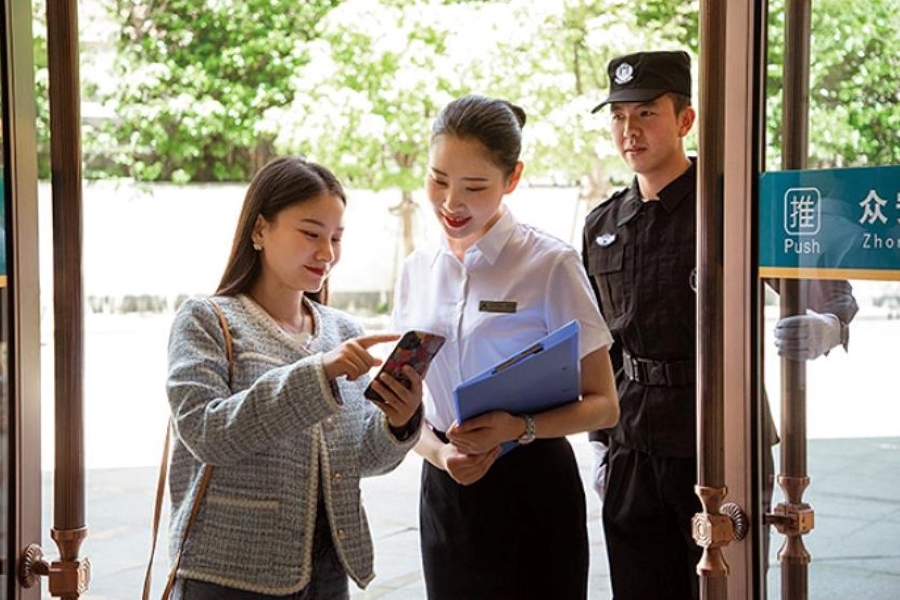 The property management company's latest listing application shows it meets newly raised profit requirements for a Hong Kong listing
Key takeways:
Zhong An Intelligent Living applied for a Hong Kong IPO on Jan. 30, but strong dependence on its parent is a major weakness
A slumping China property market last year, the result of restrictive government policies, has put pressure on management company valuations
By Tina Yip
One of China's most famous real estate entrepreneurs is known for his two different names, the official one on his company's annual financial reports and the one he uses when addressed by the press. While the media usually call him Shi Zhongan, he's usually presented on financial reports as Shi Kancheng.
This wearer of many hats is the founder of Zhong An Group Ltd. (0672.HK), a major Chinese real estate developer whose property arm made its second application for a Hong Kong IPO at the end of last month.
Shi started out as a tax officer, but left the cushy public sector job to try his hand at real estate. He took Zhong An Grouppublic in Hong Kong in 2007. Seven years later, he took China New City (1321.HK) public as well, following its spin-off from Zhong An. Seven years after that his property management company, Zhong An Intelligent Living Service Ltd., filed for a Hong Kong IPO last June, as he prepared to add a third feather to his cap of public companies.
But the third time wasn't so charming. Tight regulatory controls on China's real estate market at that time were leading many developers to slow their construction as sales sagged. That suffering quickly infected property management companies, which often feed off their parents' real estate development activity. Of the 34 property management companies that filed for Hong Kong IPOs last year, only 13 made it to market. Zhong An Intelligent Living wasn't among the lucky group, and saw its application expire on Dec. 24.
Things got worse from there, as the Hong Kong Stock Exchange raised its profit threshold for companies making listings on the city's main board by 60% from Jan. 1. That means companies have to earn profits of at least HK$35 million ($4.9 million) in their latest fiscal year, and at least HK$45 million in the previous two years combined to qualify for new listings.
However, just when everyone thought the welcome mat was being pulled out from under Zhong An Intelligent Living, it reported impressive financials for 2021. Just two days shy of the Lunar New Year on Feb. 1, when people across China were getting ready to celebrate the arrival of the Year of the Tiger, the company filed for an IPO a second time.
According to its application, the company cleared the new thresholds by posting a 38.99 million yuan ($6.13 million) profit in 2021 and around 57.06 million yuan in 2019 and 2020 combined.
Like its peers, the company provides property management and other value-added services to real-estate developers. By the end of last year, it had 74 projects and a total of around 11.8 million square meters under management in two provinces and six cities, mostly second-tier.
Zhong An Intelligent Living is very much reliant on its parent for business. Last year, its revenue grew 28.2% from 2020, reaching 296 million yuan. Property management contributed 205 million yuan, up around 12% and representing 69.4% of the total. Within that slice of its revenue pie, as much as 70% or even more can be traced to business from its parent.
Revenue from value-added services for developers increased by 77.8% for the year to 59.2 million yuan, with 89% of that tied to business from its parent or the parent's joint ventures. Its community-based value-added services grew the fastest, more than doubling last year to 31.3 million yuan. But again, most of the growth was tied to its parent. As a case in point, revenue from helping its parent sell parking spots alone increased by a whopping 4.4 times to 17.2 million yuan.
As China continues to clamp down on real estate speculation, the property management sector has entered a winnowing stage with weaker players being forced from the market. According to data from the country's National Bureau of Statistics, real estate development investment in China grew by a paltry 6% in the first 11 months of last year, with square footage of residential properties sold growing by an even smaller 4.8%. With cash-poor developers reluctant to give further infusions to their property management arms, those companies have been forced to look for their own new revenue sources while also controlling costs.
Shi is hoping to lead the ongoing consolidation, aiming to use his latest IPO proceeds for strategic acquisitions and investment in other property management companies. Meanwhile, Zhong An Intelligent Living is also trying to become more efficient by upgrading its hardware and software. It's also weighing the potential purchase of more robots for 34 of its projects by 2024, which could save it 600,000 yuan in labor costs per year for each project, according to its own estimates.
Polarized valuations
China's property management sector was hot property itself just two to three years ago when many firms were being spun off from their parents, as investors liked the sector's strong liquidity, its asset-light model and bright growth prospects.
But the bloom quickly fell off the rose as China moved to cool the sector after years of breakneck growth. As of Feb. 1, only 10 out of the 63 publicly listed property management and property management agent companies listed in Hong Kong were up over the last six months. One was flat, while the rest were all down considerably.
Even CG Services (6098.HK), a blue chip in the Hang Seng Index, fell by as much as 27% over that time. Other second- and third-tier companies like Shimao Services (0873.HK), Kaisa Prosperity (2168.HK), Sunac Services (1516.HK) and Evergrande Services (6666.HK) dived even more, losing 54% to 66% of their value.
With the exception of Landsea Life (1965.HK), which rose by 41.5% on its listing day, other new listings from the sector over the last half year are trading at or below their IPO prices. Two examples are Beijing Jiaye (2210.HK), which was down by 35.6%, and SCE CM (0606), which has lost 36.2% of its value.
Price-to-earnings (P/E) ratios of these stocks have generally nosedived with their share prices, but are showing some divergence based on their ownership. State-owned ones like China Resources Mixc (1209.HK), China Overseas Property (2669.HK) and Poly Property Service (6049.HK) have strong P/E ratios of 40 to 78 times. But an even greater number of companies whose parents are struggling to comply with recent government regulations have P/E ratios lower than 10. At the end of the day, things don't look good for Zhong An Intelligent Living's IPO pricing.
Using the recently-listed Beijing Capital Jiaye as a reference, with a P/E ratio of around 10 times, Zhong An Intelligent Living could probably snatch a valuation of around HK$480 million, based on its 39 million yuan profit last year. Any attempt at a higher valuation might be punching above its weight, scaring away investors who now have many cheaper options in the market.
But there could also be some light at the end of the tunnel, as word circulates that policy restrictions in China might finally be eased after after two years of rough going. That's sparked a rally for some low-risk non-state-owned companies. Now all eyes will be watching closely to see whether Zhong An Intelligent Living can seize the opportunity to succeed in its second effort at a public listing.
To subscribe to Bamboo Works free weekly newsletter, click here