Zhihu Reaps Rewards from Commercializing Its Services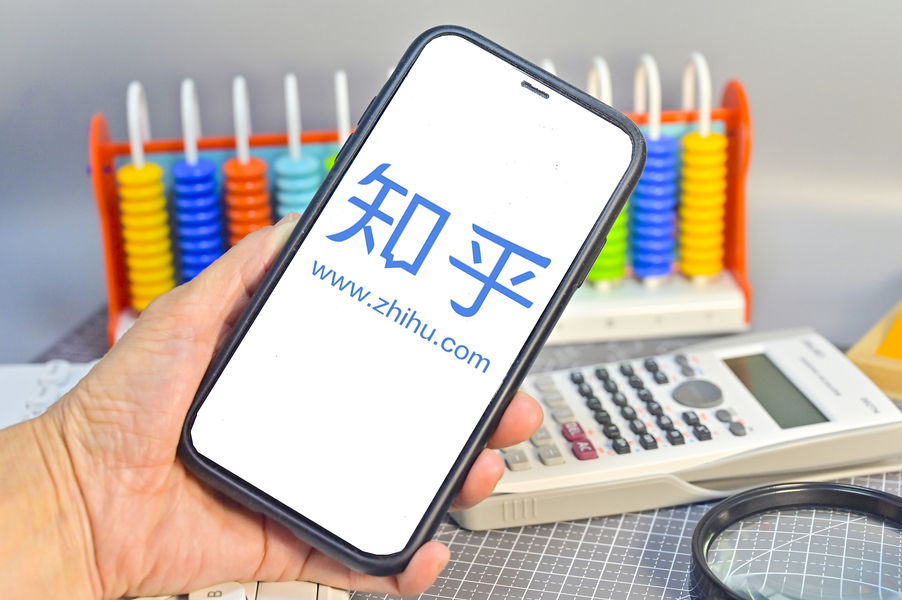 Commercial content solutions revenue for the company sometimes called the 'Quora of China' rose fivefold in the third quarter, becoming its strongest growth engine
Key Takeaways:
Zhihu's revenue doubled in the third quarter on strong performance of its 'three revenue engines'
Management is targeting fourth-quarter revenue of a record 1.03 billion yuan, up more than 20% from previous quarter
By Wut Yee
Zhihu Inc. (ZH.US), an information platform sometimes called the "Quora of China," is challenging market doubters about its ability to commercialize its business, with its latest quarterly results.
The company's revenue reached 823 million yuan ($127 million) in the third quarter, up 29% from the previous quarter and more than double the previous year's figure. An even faster 52% increase in costs from the previous quarter meant the company's gross profit only increased by 12.8% to 424 million yuan, while its loss for the third quarter was 269 million yuan. Higher user traffic was behind the big cost increase, with the company attributing the rapid rise to advertising fees, content related costs and costs of cloud services and broadband.
Despite the rising costs, the relatively strong performance seems to underscore management's confidence that Zhihu can "turn good content into good income."
Founder and CEO Zhou Yuan said on a conference call after the release of Zhihu's results last week that content-centric growth and sustainable business models have driven the company's operating performance to exceed expectations again. In the future, he added, Zhihu will focus on stimulating diverse creative content and strengthening its commercialization efficiency to maintain its momentum.
Zhihu's stock rose nearly 10% before the results were announced, but then it gave back most of that and hovered have around $8.20. The company's growth looks relatively strong from a revenue perspective. Its business model is relatively similar to Bilibili Inc. (9626.HK; BILI.US) and Kuaishou Technology (1024.HK), which also rely on monetization of user-generated content and are all losing money like Zhihu.
Outperforming peers
Zhihu's shares are up about 5% over the last six months, based on its closing price of $8.21 last Wednesday. That's far stronger than Bilibili, whose U.S.- and Hong Kong-listed shares have plunged about 30% over that period, and Kuaishou's whose stock is down by an even larger 57%. More broadly, Zhihu's relative stability contrasts sharply with most Chinese internet stocks that have recorded similar sharp declines over concerns about tighter regulation at home.
That stability may owe at least partly to weak pricing for its IPO in March this year. Zhihu priced its American depositary shares (ADSs) that month at $9.50, representing the bottom of their indicated range, indicating lukewarm investor interest.
When it comes to young internet companies like Zhihu, profit and cost control may not be the best gages for a company's prospects. Instead, investors are more concerned over future potential based on a company's income distribution and revenue growth. Among Zhihu's three main revenue engines, "business content solutions" performed the best in the third quarter, rising five times year-on-year to 278 million yuan, and up 32% quarter-on-quarter.
Zhihu has been working hard in other areas as well in its commercialization drive. In June 2018, it began selling "Super Memberships" with an annual fee of 348 yuan, which gives users access to select knowledge services and other rights.
In the commercialization process, the company has also had to be careful to protect its reputation by providing useful and authentic information to its large user base. Speaking on the earnings call, management said the company launched "Zhihu's Top 100 List 2021" in late October, providing 100 types of products such as clothing, food and housing. Zhihu users can share their real experience and expertise to supplement the company's big data, allowing creators and users to exchange high-quality opinions on the platform.
The company didn't provide any commercialization data or growth indicators for the business lists in its third quarter report, though perhaps some may come in the fourth quarter. The company said it expects fourth-quarter revenue of 1.01 billion yuan to 1.03 billion yuan, which would reflect 20% quarter-on-quarter growth, and continued doubling year-on-year.
5 Million paid members
Unlike many of its peers, Zhihu's advertising revenue growth rate has not slowed recently. The company posted 321 million yuan in third-quarter advertising revenue, up 38.9% year-on-year and up 30% quarter-on-quarter, banking on demand from e-commerce, consumer goods and internet services. By comparison, similar revenues for internet giants Tencent Holdings (0700.HK), IQiyi Inc. (IQ.US) and Baidu Inc. (BIDU.US) have slumped due to weak market demand.
Management estimates advertising and commercial content solutions will account for 70% to 75% of the company's revenue in the fourth quarter; based on that figure, revenue from commercial content solutions could reach about 300 million yuan, and advertising revenue is expected to approach 400 million yuan in the year's final quarter.
After those two revenue streams, the company's "last engine" is paying members. As the largest "question-and-answer online community" in China, Zhihu's number of average monthly active users (MAU) increased by 40% year-on-year to over 100 million in the third quarter, and paid membership more than doubled to 5.5 million year-on-year, resulting in a doubling of revenue for that part of the business to 178 million yuan.
As of Sept. 30, Zhihu has accumulated 459 million pieces of content in multiple formats, of which nearly 400 million were questions and answers, up 43% and 38% year-on-year, respectively.
Among Zhihu's user base, 40% are aged 18 to 25, and the proportion of female users has grown to 47%. Although platform users are mainly young people, middle-aged and elderly people are also showing a growing interest in the platform.
The platform had 3.64 million monthly active creators during the quarter, most of them writing technology, business, film, fashion and cultural content, using Zhihu as their preferred platform. One writer attracted nearly 160,000 users through his story series, which allowed him to earn more than 1 million yuan in revenue in the third quarter, Zhihu said, pointing to what motivates users to provide original content.
While its performance looks solid, other catalysts could also help to boost Zhihu in the coming year. In particular, the company, whose backers include internet giants Alibaba (BABA.US; 9988.HK), JD.com (JD.US; 9618.HK) and Tencent, could get a lift from the upcoming IPO by U.S. peer Reddit, which is expected to list early next year. That could offer a "free ride" for its stock, potentially even lifting it back to the $9.50 price from its March listing this year.
To subscribe to Bamboo Works weekly newsletter, click here