Zai Lab sees profits on the horizon as commercialization accelerates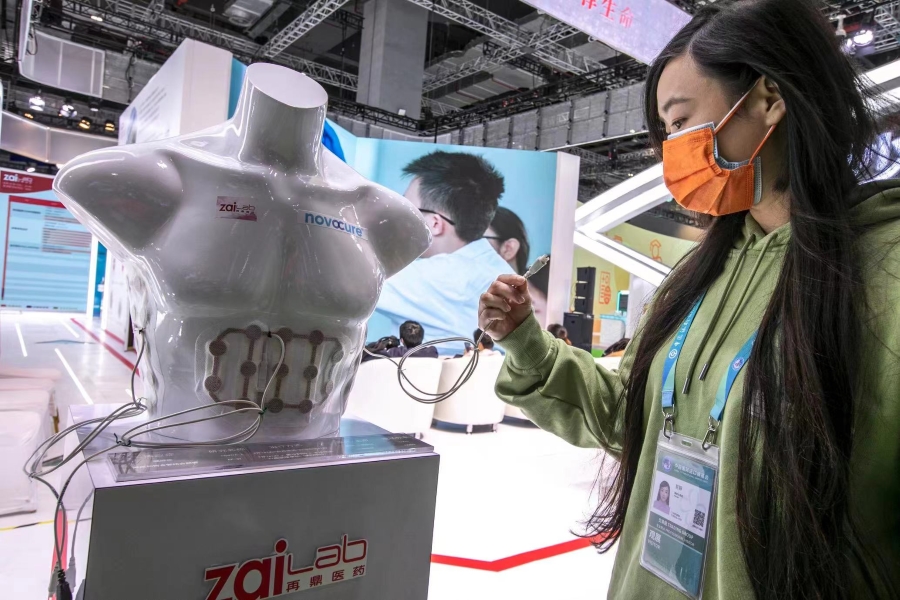 The innovative drug maker's loss narrowed last year, as it forecast potential profitability as soon as 2025 on fast-growing revenues
Key Takeaways:
Zai Lab is set to reach several product milestones this year, as at least eight new products are on track for approval by the end of 2025
With $1 billion in cash reserves, the company has sufficient resources to keep exploring new drugs
By Molly Wen
Zai Lab Ltd. (ZLAB.US; 9688.HK) is known among China's innovative drug developers for its unique asset-light business model. Unlike its peers that invest heavily to develop their own drugs, the company uses a model that lets third parties do most of the heavy lifting, from early-stage drug development, to conducting clinical trials, to the final manufacturing of the drugs.
Such a business model, once criticized for its excessive licensing expense, is helping Zai Lab to rapidly narrow its losses as sales of its approved drugs soar. In its full-year earnings report released earlier this month, founder and Chairman Samantha Du revealed the company is planning to market at least eight additional products by the end of 2025, at which time it could reach profitability.
Zai's latest annual results show its revenue last year rose 49% to $215 million, while its R&D expenses shrank significantly by 50% to $286 million due to lower advance payments for new licensing agreements. That helped the company lower its net loss by 37% to $443 million for the year.
Zai Lab's Hong Kong shares rose slightly by 1.7% the day of the announcement, only to fall by 6.1% the next day, only to surge 10.8% the day after that. That appears to show investors are still trying to decide how to interpret the latest report, and what it means for the company in the years ahead.
More milestones
Zai Lab currently has four products for sale, all obtained through licensing agreements. Among them, its core product, Zejula, used to treat ovarian cancer, previously became cause for concern after its December 2021 inclusion in the catalog of drugs covered by Chinese national health plan. Such inclusion often generates big new sales, but at far lower prices per dose of the drug as the national health plan demands big discounts. Despite that, the latest report showed Zejula sales grew 55.2% last year to $145 million, accounting for 67.5% of total revenue for 2022.
Annual revenue for Optune, Zai Lab's other major treatment that uses specific electric field frequencies to interfere with the mitosis of cancer cells, also increased 21.6% to $47.3 million. On Jan. 5, Zai Lab and partner Novocure Ltd. (NVCR.US) announced that a Phase 3 pivotal clinical study of Optune in combination with standard therapy for non-small cell lung cancer, produced a statistically significant improvement in overall survival compared to standard therapy alone. It added it expects to submit its application for the treatment combination in both the U.S. and EU in the second half of this year.
Zai Lab's two other approved products still have modest sales. The innovative gastrointestinal mesenchymal tumor drug Qinlock generated annual revenue last year of just $15 million, up 28.7% year-on-year. And Nuzyra, which was launched in December 2021 to treat bacterial pneumonia and other diseases, contributed $5.2 million. The two drugs are expected to boost Zai Lab's sales even more this year after being added to China's national health plan catalog in January.
Zai Lab's four currently approved products may be joined by several more this year. Among them, an application for Efgartigimod, for the treatment of myasthenia gravis, was accepted by China's National Medical Products Administration (NMPA) in July 2022, and was approved by the U.S. Food and Drug Administration (FDA) in December 2021. An application to sell Margetuximab, used to treat HER2-positive breast cancer, was also accepted by the Chinese drug regulator in January 2022, and the company submitted another application for its Sulbactam-Durlobactam (SUL-DUR) in China in late 2022.
Status upgrade
Founded in 2014, Zai Lab's asset-light model has rapidly attracted investor attention. The company first listed on the Nasdaq in 2017, and then followed with a concurrent Hong Kong listing in 2020. It has completed 19 licensing transactions to date. Efficiencies from its asset-light model have allowed it to build up a large pipeline of new products and rapidly conduct clinical trials and commercialize its products, making Zai Lab a rising star in China's biotech industry, with a market capitalization that was once above HK$100 billion ($12.7 billion).
Hong Kong listing rules stipulate biotech companies with more than HK$500 million in annual sales and market capitalization above HK$4 billion can remove the "B" mark from the company's name, which designates a high-risk stock. That makes them more attractive to investors by giving them the equivalent of a regular listing on the main stock exchange's board. Zai Lab met those requirements last year, becoming one of six biotechnology stocks to earn such an upgrade.
Investors have previously worried about Zai Lab's asset-light model due to its high down payment costs for licensed drugs, as well as later milestone fees and future revenue-sharing requirements once a drug is approved. By comparison, companies that develop their own drugs have more solid technological capabilities, are more profitable after their products start selling, and can license their products to others for overseas development. But they suffer from longer and costlier R&D cycles, and also have a much higher risk of failure.
In its first-quarter earnings report last year, Zai Lab emphasized its "external collaboration + self-development" model was aimed at achieving short-term goals in the early stage of the company, while also focusing on self-developed drugs over the longer term. So some were surprised when the company suspended two self-developed projects last year. After that, only one, ZL-1102, is progressing quickly in the company's pipeline of self-developed drugs, and is expected to start a global phase 2 clinical trial this year.
The vast majority of Hong Kong-listed innovative drug companies are research-focused biopharmaceutical companies with strong valuations. One of the largest, BeiGene (BGNE.US; 6160.HK; 688235.SH) trades at a price-to-sales (P/S) ratio of 18 times for its Hong Kong shares. Zai Lab is even higher at 19 times. The company's strong pipeline of new products, combined with its $1 billion in cash to keep developing more, may be quickly erasing any doubts about its asset-light business model, hinting at potential upside for the stock.
To subscribe to Bamboo Works weekly free newsletter, click here