Yeahka in Acquisition to Boost In-Store E-commerce Business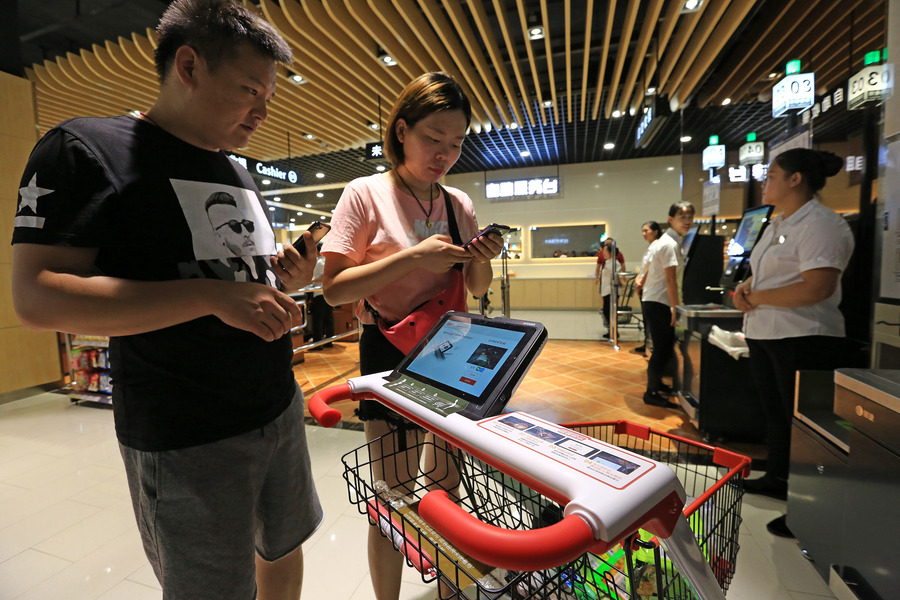 Grappling with intense competition in the payment industry, company bets on technology-enabled services with potential to jumpstart growth
Key Takeaways:
Yeahka is paying 100 million yuan for 60% of consumer e-services provider Qianqianhui, aiming to boost its in-store e-commerce business
Company's in-store e-commerce business earned 45 million yuan in the first half of 2021, following launch last December
By Fai Pui
Chinese mobile payment services provider Yeahka Limited (9923.HK) said this week it has agreed to inject 100 million yuan ($15.6 million) into Qianqianhui, a provider of in-store e-commerce services. In exchange, Yeahka will receive 60% of Qinqinhui's enlarged share capital from the company's parent, Dingding Cultural Tourism (Chengdu) Co. Ltd.
A closer look shows the investment is part of Yeahka's accelerating move into in-store e-commerce services. Dingding Cultural Tourism was only launched in May last year, with Qianqianhui as a subsidiary mainly providing food, travel and other consumer e-commerce services. The unit is growing fast, with more than 6 million paying customers, and total merchandise turnover reaching 93 million yuan last month.
So what exactly are in-store e-commerce services? Such services are aimed at helping merchants improve their performance by better understanding things like customer buying habits. E-commerce merchants can take big data from companies like Yeahka to analyze local consumer preferences, using the results, for example, to introduce discounts to attract customers and increase their sales.
For consumers, Yeahka will customize services to cater to their preferences, promoting repeated future purchases in the process.
Fast Growing
Yeahka launched its own in-store e-commerce service last December. According to the company's interim results the business recorded revenue for the first time and earned a sizable 44.96 million yuan in the first six months of the year, accounting for 12.5% ​​of Yeahka's total revenue for technology-enabled business services during the period.
By comparison, Yeahka's revenue from software as a service (SaaS) digital solutions grew by 1.3 times year-on-year, though the total figure was just 27.34 million yuan in the first half of the year. Revenue from its fintech services was bigger but grew at a slower 18.7% to 42.72 million yuan.
The market welcomed the acquisition, with Yeahka's share price rising nearly 4% the day after the announcement. Huatai Securities said Qianqianhui's business covers more than 200 China cities, and its WeChat public account has 8 million followers, with additional users from its account on the popular Douyin short video service. That big base can help Yeahka to reach more consumers and merchants.
Huatai added the rapid growth of in-store e-commerce services can also help to differentiate Yeahka from other mobile payment companies in the long run, prompting it to give the company a "buy" rating and target price of HK$37.50 ($4.80). The stock gained an addition 6.2% on Friday to close at HK$27.25.
Kenny Wen, a commentator at Everbright Sun Hung Kai Co. Ltd., said he also believes Yeahka is following a general market trend. "Growth potential for the payment business is currently very limited," he said. "Government policy is making it difficult to perform precision marketing, meaning the SaaS business is no longer a market focus. Thus Yeahka management needs to look for new growth opportunities and bring new stories to investors. With consumers demanding more special treatment, I feel optimistic about Yeahka's latest development."
Yeahka listed in Hong Kong in May last year, with internet giant Tencent (0700.HK) as a major backer. The sale of a relatively small 9.87 million shares was oversubscribed by 640 times, with a final listing price of HK$16.64, at the top of its range. After a modest 6% gain on its first trading day, the stock soared as high as HK$80 three months later.
Well-known investor Cathie Wood, founder of Ark Invest, was bullish on the stock at the beginning of the year, helping it to climb even higher to a peak of HK$122.70 in February. However, the shares have fallen back to more realistic levels amid a broader wave of government moves to rein in China's tech and other industries this year. Cathie Wood has sold down her stake, and Yeahka's shares have lately traded at their current levels in the HK$20 to HK$30 range.
'Square of China'
Yeahka is often likened to a Chinese equivalent of U.S. payment services provider Square Inc. (SQ.US), as both companies rely on payment-related big data to help businesses boost their performance. Yeahka trades at a current price-to-earnings (P/E) ratio of about 14.4 times, a price to sales (P/S) ratio of 3.2 times, and a forward P/E ratio of 25.4 times. Square trades at far higher multiples, including a current P/E of 315.5 times, a P/S ratio of 6.4 times, and a forward P/E of 137.8 times.
Yeahka also looks undervalued compared to other peers like Shenzhen-listed Lakala Payment (300773.SZ), and U.S.-listed EVO Payment (EVOP.US). Lakala trades at a current P/E of 18.4 times and forecast P/E of 17.7 times. EVO Payment trades at a current P/E of 56.6 times and forecast P/E of 49.8 times.
Yeahka has previously struggled as it competed with domestic giants including Alipay, WeChat Pay and major banks, and must now find a new way out. Its main income source is currently still one-stop payment services, accounting for about 74% of its revenue in the first half of this year. But its gross profit margin is just 18.8%.
That's far lower than an average gross profit margin of 42.3% for technology-enabled business services. By presenting a fast-growing new opportunity with a wider market, the Qianqianhui acquisition could provide a turning point for the company. Yeahka is betting such technology-enabled business services can become a major new revenue source, helping to jump-start its growth story.
To subscribe to Bamboo Works free weekly newsletter, click here