'World Champion' WM Motor Joins China EV Race to Market With Hong Kong Listing Plan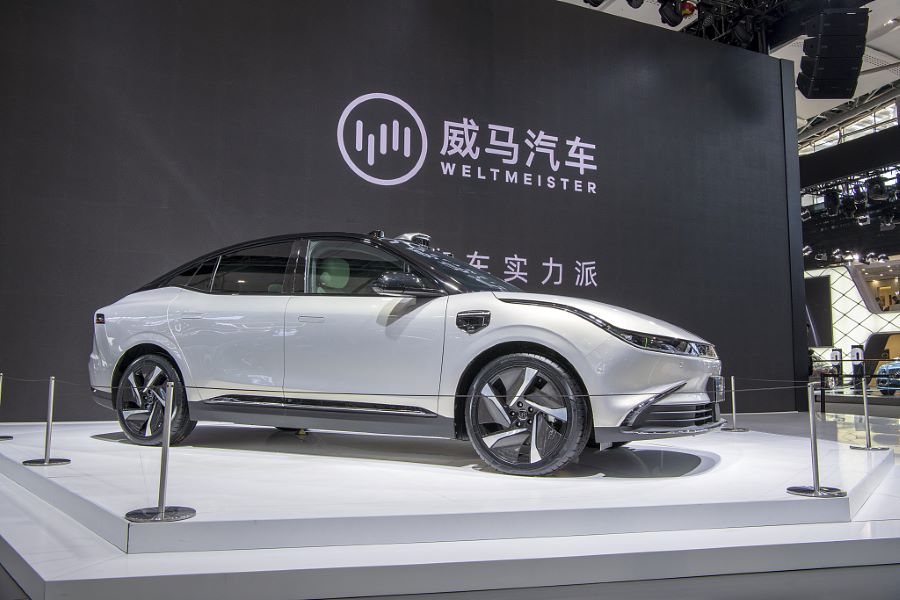 Money-losing Shanghai-based electric vehicle maker seeks $1 billion in new funding as it faces growing competition from crowded field of local rivals
Key Takeaways:
• WM Motor has filed for a Hong Kong IPO to reportedly raise up to $1 billion, competing with a handful of similar listed Chinese EV startups
• The company's sales have surged in the past few years, but so have costs and competition as China aggressively promotes clean technologies
By Rajiv Sekhri
Chinese electric vehicle (EV) maker WM Motor Holdings Ltd. is charging ahead into the financial market with a newly filed plan to raise up to $1 billion through a Hong Kong IPO. But the company may find Hong Kong a crowded space to park its new listing, as it would become the fifth Chinese EV maker to go public in the city.
Perhaps WM Motor, whose German-sounding Weltmeister name means "world champion," realized Hong Kong was becoming crowded as well. Founded in 2015, it originally aimed to list in the less-crowded Shanghai market in 2020, but later shifted gears after dropping that plan for undisclosed reasons.
Despite a potential uphill drive, WM Motor is hoping to make its share sale before the end of this year, according to media reports. Its underwriters are a decidedly Chinese group, consisting of Haitong, CMB International and BOC International.
Seen as a rival to homegrown EV startups like Nio (NIO.US; 9866.HK), Xpeng (XPEV.US; 9868.HK) and Li Auto (LI.US; 2015.HK), WM Motor had plans in its infancy to combine the flexibility of Uber with the technology of Tesla (TSLA.US). The company is led by CEO Freeman Shen, former chairman of Volvo China, with more than 25 years in the car industry. He sat on the board of directors of Volvo's Chinese owner Geely (0175.HK), and also worked for Fiat in China.
Despite its relatively late arrival to financial markets, WM Motor is showing it's no slouch when it comes to creating real products that the market wants. Whether that's enough to make it a "world champion" reflective of its name is another matter that will take time to determine.
The company's unit sales doubled to 44,152 vehicles in 2021 from 2020, leading to a 78% jump in revenue over that period, according to its IPO filing last week. The numbers have been roughly doubling each year, rising from 12,799 units in 2019 to 21,937 units in 2020.
The company ranked fifth by vehicle sales among domestic EV startups in 2021, behind Xpeng, Li Auto and Nio, which each sold more than 90,000 vehicles, and Hozon Auto with 69,674. China's hotly contested EV market is also home to more established players, led by Tesla and the homegrown BYD (1211.HK; 002594.SZ), which is backed by billionaire investor Warren Buffett.
While its revenue has grown sharply, more than doubling to 4.7 billion yuan ($704 million) in 2021 from 1.8 billion yuan in 2019, so has WM's red ink. The company's net loss roughly doubled to 8.2 billion yuan in 2021 from 4.1 billion yuan in 2019. But its gross loss margin has improved over the years, coming in at negative 31.1% in 2021 compared with negative 43.5% in 2020 and negative 58.3% in 2019.
WM Motor previously raised $5.3 billion in eight funding rounds through November last year, according to data from Crunchbase. Shen and his wife currently own 30.8% of the company and are its largest shareholders. Its other backers include property developer Agile Group(3383.HK), with a 6.5% stake, and search giant Baidu (BIDU.US; 9888.HK) with 6%.
Manufacturer from the start
Calling itself the first Chinese EV maker to establish its own manufacturing facilities from the outset, WM expects to launch a total of five models by 2022, targeting China's youth, tech-savvy users and families. It said its EX6 model, launched in 2019, caters to China's increasing number of three-child families, adding it expects to launch one new EV model each year over the next few years. Its M7 model is expected to come out in the second half of this year.
WM Motor has two manufacturing bases, one in the coastal city of Wenzhou in Zhejiang province and the other in the central city of Huanggang in Hubei province, with a total annual production capacity of 250,000 units. Its first model, the EX5 started production in Wenzhou in 2018, with Huanggang launching two years later.
Speaking to media in 2017, Shen detailed plans about not only making a decent mass market car, but also offering customers flexible ownership in an Uber-style future where "electrification, connectivity and sharing" would intersect for the new Chinese customer, especially the younger generation. In aim of that pursuit, WM Motor said in its prospectus that part of its business proposition includes development of modern technologies to enhance connectivity.
As recently as 2017 it planned to use the Weltmeister name as its brand, reflecting the rising challenge startups were posing to more traditional car makers, many of those headquartered in Germany. But it later dropped that idea, and its four models to date don't contain the Weltmeister name or WM acronym. Instead, the company has fallen back on a more recognizable homegrown Chinese name of Weima, which means "powerful horse."
WM Motor's vehicles are distinctly mid-range, priced between 160,000 yuan ($24,000) and 260,000 yuan ($39,000), according to its prospectus. That makes them cheaper than cars from Nio, whose five models cost between 328,000 yuan and 556,000 yuan.
Compared to its competitors, WM's listing is on the late side. China's "little three" EV makers of Xpeng, Li Auto and Nio, already trade in both the U.S. and Hong Kong. All three originally listed in the U.S., but later made second listings in Hong Kong as insurance against the threat of potential delisting by the U.S. securities regulator over a disclosure dispute with China.
A handful of second-tier Chinese EV startups are also looking to overseas capital markets to raise funds. Zhejiang Leapmotor Technology Co. Ltd. filed in March to list in Hong Kong, while Beijing-based CH-Auto Inc. said last month it would list in New York on the Nasdaq through a special purpose acquisition company (SPAC).
At the time of WM Motor's rumored Shanghai listing in 2020, media reports speculated the company could get a post-IPO valuation of $4.3 billion. Nio fetched a bit more than that, valued at $6.4 billion when it went public in 2018 at the bottom of its hoped-for range.
But times certainly have changed since then as investors fantasized about the huge potential of the China market and grew more bullish on EVs in general. The ensuing rally has pushed Nio's market cap up to $32 billion at present, while Li Auto and XPeng aren't far behind at $28 billion and $19.7 billion, respectively.
Li Auto trades at a price-to-sales (P/S) ratio of 4.5 times, while XPeng and Nio trade at 6.2 times and 4.8 times, respectively, giving the group an average of 5.2 times. Considering WM Motor is the fifth largest EV seller by number of vehicles in the country, it could trade at a similar P/S ratio as its peers, which would value the company at about $3.6 billion.
To subscribe to Bamboo Works free weekly newsletter, click here