With Profitability in Sight, Smartphone Recycler ATRenew Goes Local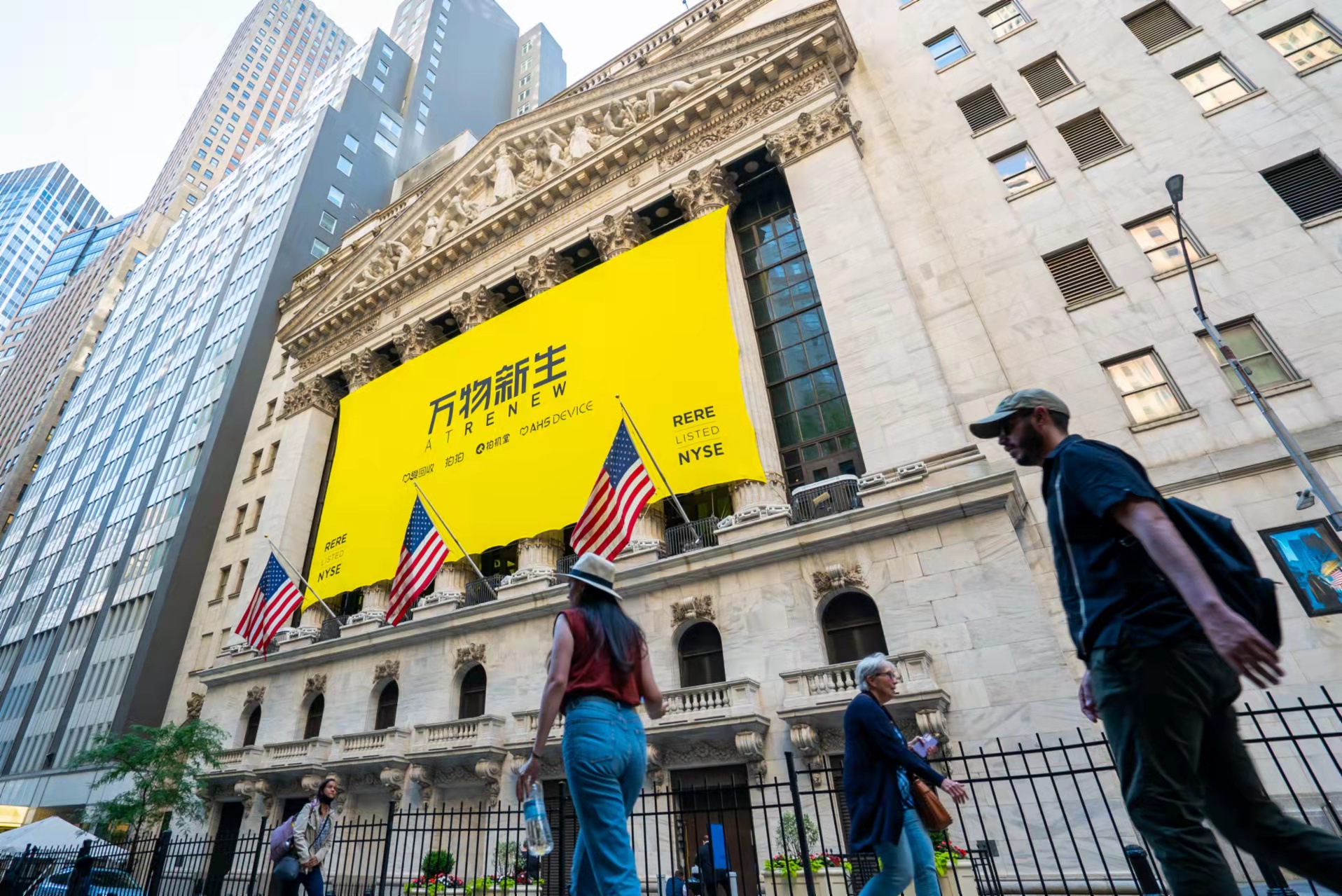 Company targets tripling of gross merchandise volume over the next four years as it aggressively expands a new city-based recycling model
Recycling specialist ATRenew is aiming for more than 100 billion yuan in GMV by 2025, roughly tripling from this year's level
Company said it expects to become profitable on a non-GAAP basis next year
By Doug Young
Hold on to your hats.
Electronics recycling specialist ATRenew Inc. (RERE.US), until recently known as AiHuiShou, is telling the world it's aiming to sharply boost the gross merchandise value (GMV) of used goods passing through its system over the next four years. More precisely, the company said in its latest quarterly results that it's aiming for more than 100 billion yuan in GMV ($15.6 billion) by 2025, representing a roughly tripling from roughly 32 billion yuan this year.
The "secret sauce" behind its ambitious target is a new business model that the company began trialing earlier this year in two cities, which tries to do more recycling and management optimization at the city rather than national level. The new model, which we'll discuss in more detail shortly, also has a heavier focus on sales using brick-and-mortar shops for consumers who often like to test out their second-hand phones before plunking down hundreds of dollars on a purchase.
The company currently conducts a big portion of its recycling online, a large part of that through its major alliance with e-commerce giant JD.com (JD.US), which owns about 34% of ATRenew's shares and helps in its recycling and trade-in business.
This kind of emerging online-offline sales hybrid has become increasingly important for higher-priced consumer items, especially used goods that could contain unseen problems. As we've written previously, ATRenew, whose main focus is used smartphones, tablets, and laptops, is in a good position to address many of those concerns due to its size and national scale, acting as a guarantor of the products it sells.
The company is also well positioned due to its broader synchronization with China's focus on going green, which includes national goals for achieving peak carbon emissions by 2030 and going carbon neutral by 2060. That kind of dovetailing with Beijing initiatives is a key component to successful business in China because it often ensures strong government support and less regulatory risk.
And as icing on the cake, the company also announced it's on the cusp of non-GAAP profitability – something very few Chinese tech companies to list over the past year can say.
While all that sounds good, and analysts are quite bullish on the company, investors are more skeptical. ATRenew's stock has slumped around 20% since it announced its latest results on Nov. 18, and now trade near an all-time low at around half of the $14 price for their IPO shares in June.
Valuation-wise the company is also clearly lacking in respect among investors. Its stock currently trades at a price-to-sales (P/S) ratio of just 1.5, not exactly something you'd expect for this kind of high-growth company.
By comparison, U.S.-based used car trading specialist Carvana (CVNA.US) trades at a P/S of 2.1, while the newly listed rented clothier Rent the Runway (RENT.US) trades at a far higher P/S of 6.6. Uxin (UXIN.US), a Chinese peer that is transforming into a used car specialist using a similar model to ATRenew's, also trades at a significantly higher P/S of 7.3.
The analyst community is more bullish on the company, with two of the four analysts polled by Yahoo Finance rating it a "buy" and the other two calling it a "strong buy." The group sees the company breaking even or posting a slight loss next year, and have given it an average price target of $18.42 – nearly triple its current levels.
City-Level Model
With all that big-picture perspective as background, we'll spend the second part of this space zooming in on the company's new "city-level service integration" business model and a more detailed look at its latest financials.
The city-level model may sound a bit technical, but it essentially means ATRenew wants to do its recycling on the city level, buying used electronics from consumers, testing and reconditioning them, and then reselling them within individual cities. The model presumably is more efficient – and thus more profitable – by keeping everything at the local level and negating the need for lots of moving of goods and personnel around the country.
The model is dependent on having a strong brick-and-mortar store recycling and sales network, which ATRenew has been aggressively building up. Its network of such stores recently crossed the 1,000 threshold, with the company targeting 1,300 by the end of next year. An important part of the buildup will be the opening of stores with franchise partners, which allows quicker expansion at lower cost.
ATRenew began trialing the model in the cities of Langfang in Hebei province and Huzhou in Zhejiang province earlier this year, and is aiming to expand that to 50 cities next year and 100 cities over the next three to four years. That push is what's behind the ambitious 100-billion-yuan GMV target we mentioned earlier.
On the conference call to discuss its results, company executives pointed out the two pilot program cities "significantly outgrew" the company's overall GMV growth in the month of October. They didn't give more specifics, but on a quarterly basis ATRenew posted 56.6% year-on-year GMV growth to 8.3 billion yuan for the three months to September.
That leads us into the company's broader third-quarter results, including top-line revenue of nearly 2 billion yuan, up about 48% year-on-year. Revenue should continue to grow at a similar rate, with the company forecasting a roughly 40% to 43% year-on-year gain to between 2.3 billion yuan and 2.35 billion yuan in the fourth quarter.
The big majority of ATRenew's revenue still comes from product sales of recycled devices, though its newer services business grew at a faster 67% in the third quarter and now makes up 15.2% of its total, thanks to the growing platform transaction volume and more value-added services.
The bottom line was ATRenew posted a 121.7 million yuan loss for the quarter, widening from a 94.2 million yuan loss a year earlier. On an adjusted, non-GAPP basis, which excludes share-based compensation and costs related to an earlier major acquisition, the company posted a 22.5 million yuan loss, versus a 28.1 million loss a year earlier.
And in an encouraging sign, the company said it is close to becoming profitable.
"We are on track to reach profitability in the near future," said CEO Chen Xuefeng, who also uses the name Kerry, on the company's earnings call. "Looking ahead, we anticipate non-GAAP operating profit and are confident in securing non-GAAP profitability for the fiscal year of 2022."
The Bamboo Works offers a wide-ranging mix of coverage on U.S.- and Hong Kong-listed Chinese companies, including some sponsored content. For additional queries, including questions on individual articles, please contact us by clicking here.
To subscribe to Bamboo Works free weekly newsletter, click here