With healthier finances, Clover Bio shifts to flu and RSV vaccines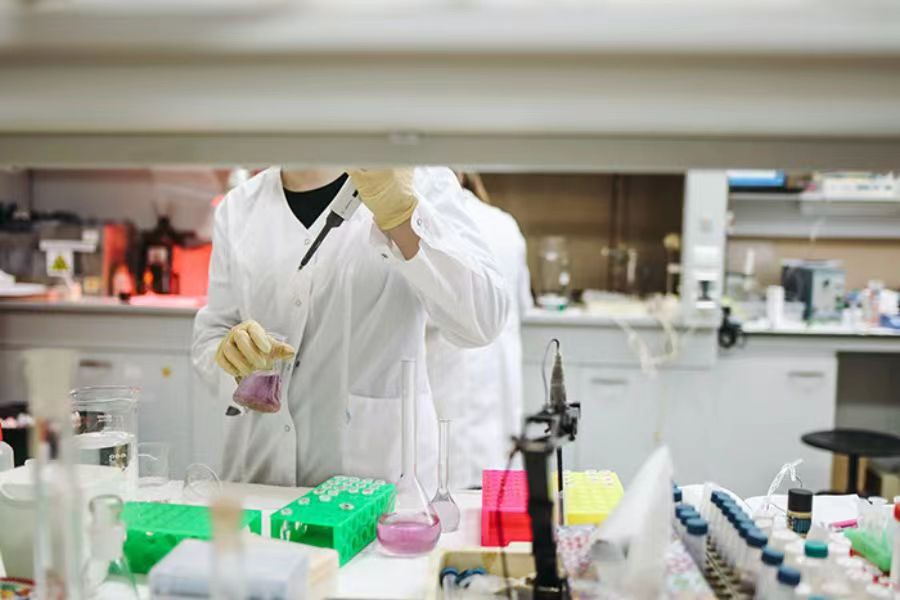 The Chinese vaccine developer rebounded from a deep loss into profit in the first half of the year, boosted by a one-off gain from a Covid research grant
Key Takeaways:
Clover Biopharmaceuticals posted a surge in first-half earnings after a $384 million grant for Covid vaccine development was belatedly folded into its accounts
The company has turned its attention to flu vaccines after being hit by waning demand in the crowded Covid market
By Molly Wen
Once stars of the stock market, China's vaccine companies have been languishing in the shadows despite fresh waves of Covid infections. But one pharmaceutical firm stepped back into the investor spotlight this month thanks to a big payoff from its work during the pandemic.
Last Monday, Clover Biopharmaceuticals Ltd. (2197.HK) set the Hong Kong market alight with a performance update predicting a surge in its first-half earnings, which would incorporate a substantial deferred grant for Covid vaccine research. The company's shares soared 47% on the day the news came out, and went on to rack up a 60% gain over three days.
Then this Wednesday, Clover Bio followed through with the earnings release, announcing a net profit of 650 yuan million ($90 million) for the first half of the year, a sharp contrast to a net loss of about 1.14 billion yuan in the same period last year.
The earnings boost came from a $384 million grant from a global foundation, the Coalition for Epidemic Preparedness Innovations (CEPI), that was originally earmarked in May 2020 for Clover Bio's work on developing a Covid vaccine. The money was incorporated into the latest accounts after the company fulfilled conditions attached to the funding.
Clover Bio was a magnet for capital in the early days of the pandemic, with backing from Hillhouse and Temasek in February 2021 as the biotech joined the race to come up with Covid vaccines. Hopes were high when the company listed on the Hong Kong Stock Exchange in November of that year. With limited R&D funds, Clover Bio chose to go all-in for a Covid vaccine, cutting off three other drug projects in June last year, including a promising core product, and applying for a bank credit of up to $300 million to support its vaccine efforts.
However, by the time the company's self-developed Covid vaccine was approved for marketing in early December 2022, the arena was already crowded with three similar vaccines, and China's Covid containment strategy was about to take a sudden turn.
China lifted its strict Covid controls that December, sending domestic demand for the vaccine plummeting. Meanwhile, the global market for Covid vaccines was shrinking rapidly, although new variants of the virus continue to raise concerns. Moderna Inc. (MRNA.US), the developer of a Covid mRNA vaccine, saw total vaccine sales plunge more than 80% to $2.1 billion in the first half of this year, from $10.5 billion in the first six months of last year.
Clover Bio did not disclose first-half sales of its Covid vaccine in the latest results. But a progress report in early July said the company was developing a new generation of Covid vaccines against the Omicron subvariant XBB.1.5, one of the most dominant strains earlier this year. The vaccine development was predicted to be completed in the second half of 2023.
However, another highly mutated variant – EG.5 – has since become more prevalent, and it is not clear how effective Clover Bio's newest vaccines will be against emerging strains.
Betting on a flu vaccine
Clover Bio has been looking for new growth options as the outlook for Covid vaccines has darkened. The company said it was aiming to be a leader in the broader field of vaccines for viruses affecting the respiratory tract and lungs. Under the strategy it will speed up its independent pipelines and conduct research on new vaccine candidates, focusing on the respiratory syncytial virus (RSV), which is common among children, while also distributing other firms' products.
In February, Clover announced it had signed an exclusive agreement with Taiwan's Adimmune Corp. to distribute its quadrivalent seasonal influenza vaccine AdimFlu-S (QIS), designed to combat multiple types of flu viruses. The company said the product was the first imported vaccine of this kind to be approved for use in mainland China for adults and children over three years old.
But the battle to dominate the flu vaccine market is also intense. As of this July, nine quadrivalent influenza vaccines had been approved in China, from established Chinese companies such as Hualan Biological Engineering (002007.SH) and Changchun Institute of Biological Products, as well as international giant Sanofi (SNY.US). AdimFlu-S, to be introduced by Clover, is lagging in the quadrivalent race as imports are only due to start from the third quarter of this year and the vaccine will then undergo batch testing before being supplied to the Chinese market.
The Covid pandemic has raised public awareness about respiratory infections, potentially creating a vast market for flu vaccines. In the next three to five years, the supply ceiling for China's quadrivalent influenza vaccine will be about 250 million to 300 million annual doses, mainly provided by existing manufacturers who will enjoy a strong first-mover advantage, Soochow Securities said in a research report. But Clover Bio only landed one Covid vaccine successfully, and uncertainty surrounds the scale of its potential profits from the highly competitive market for flu vaccines.
The company could be facing another storm, if it loses its constituent status in benchmark indexes and no longer qualifies for the program that connects stock trading in Hong Kong and mainland China. On Aug. 25, the Hang Seng Indexes Co. Ltd. may announce the results of a review that could remove companies with a market capitalization below HK$4 billion ($513 million) from the Stock Connect scheme. Clover Bio is in the danger zone as its average month-end market capitalization from July 2022 to June 2023 was only HK$2.9 billion, according to a research report published by Huatai Securities in July.
An exit from the mutual access trading scheme could trigger a liquidity crunch. At of the end of June, 20 companies removed from a similar link-up, the Shenzhen-Hong Kong Stock Connect program, have suffered an average 24% drop in their share prices and a 42% reduction in turnover.
Clover was listed at an IPO price of HK$13.38, but its share has been hovering around HK$1 for a long time, sapping investor interest. The profit windfall from the Covid vaccine project has boosted its shares, but the $384 million grant is just a one-time gain. If the process of introducing the imported flu vaccine does not go smoothly, earnings may not be enough to sustain future R&D. After the burst of excitement earlier this month, investors would be wise to take a cautious approach to Clover's prospects in the fiercely competitive vaccines business.
Have a great investment idea but don't know how to spread the word? We can help! Contact us for more details.
To subscribe to Bamboo Works weekly free newsletter, click here