WeWork Imitator Ucommune Labors to Find New Value in Shared Workspaces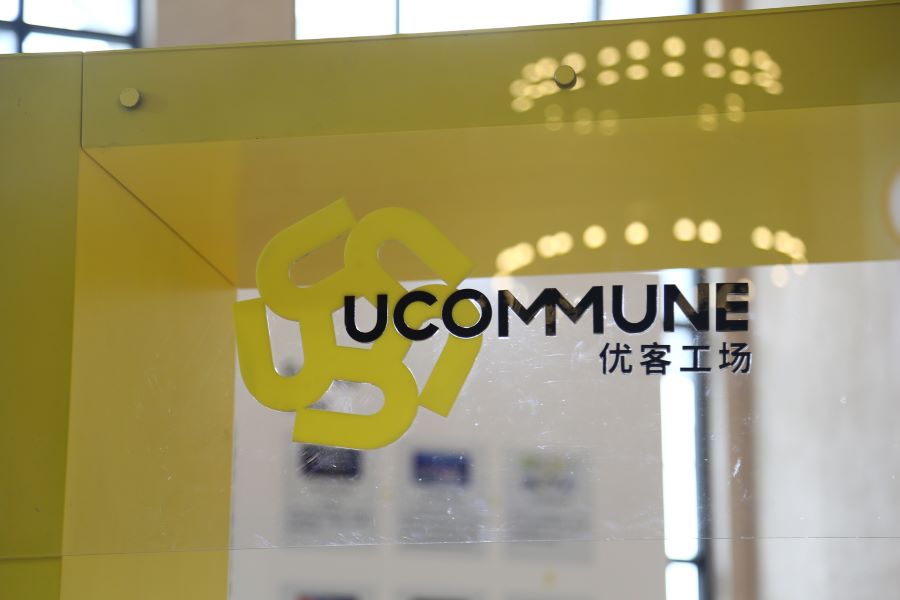 Despite positive results from its early efforts at finding a better business model, company offers no glimpse of when it might become profitable
Key Points:
• Ucommune is focusing on an asset-light and services business model and lightening its own heavy asset load in a bid to become profitable
• Even though it has become profitable on an adjusted basis, there is still a long way to go to prove the shared workspace business model works.
By Wang Chuan
The global pandemic has accelerated the work-from-home trend at the expense of traditional offices. That's made life far from easy for Ucommune International Ltd. (Nasdsaq: UK), China's homegrown version of WeWork, which has issued its first quarterly earnings report since making a backdoor listing on the Nasdaq last year. It spent much of that report trying to show how it plans to emerge from a difficult period in its brief history.
Ucommune's shared workplace concept helps traditional companies escape many of the usual hassles of office life by offering flexible spaces and other related services, like use of meeting rooms, on a pay-as-you go basis. Industry leader WeWork pioneered the concept, with numerous followers like Ucommune jumping onto the bandwagon.
But Ucommune's already profit-challenged finances, combined with more pressure created by work-from-home trends during the pandemic, has left investors worried about the future of this particular business model.
The company's inaugural quarterly report shows its net revenue fell 4.8% in last year's fourth quarter from a year earlier to 279 million yuan ($42.8 million). Its member services revenue fell by an even larger 44.5% to 76.8 million yuan as many of its locations remained closed even as China's pandemic eased. Marketing and branding services net revenue also fell by 16.2% to 110 million yuan.
"At the end of 2019, in response to the market's evolution and a tightening regulatory environment across China's commercial real estate industry, we began to shift our business from a self-operated model to an asset-light model to further augment our operational flexibility," said Ucommune founder Mao Daqing, referring to the company's efforts to find a profitable business model to placate increasingly anxious investors.
The company's asset light model strategy is similar to a franchise model, with the company earning fees from independent landlords who pay for rights to offer Ucommune's branded flexible office space and related services. Such a model allows Ucommune to get rid of the big expenses of operating its own spaces as it takes on the nimbler role of "service broker."
The company's portfolio of asset-light spaces grew from 47 in 25 cities in 2019 to 125 spaces in 46 cities by the end of last year, surpassing its portfolio of 109 self-operated spaces. Over that time its managed area under contract more than doubled to 351,500 square meters from 171,200 square meters, surpassing its self-operated space that totaled 296,200 square meters.
As its asset-light floorspace surpasses self-operated space, revenue from the former part of the business has grown rapidly. The figure more than tripled in the fourth quarter from a year earlier, though was still a modest 10.8 million yuan – equivalent to just 3.7% of its revenue total. That shows the model still has a ways to go.
Looking for Profits
On a call to discuss the results, Mao pointed out the company achieved its first-ever profit on an adjusted basis in the fourth quarter thanks to the asset-light shift. But using American accounting standards the company still reported a 149 million yuan loss for the quarter, though that was 36.8% narrower than a year earlier.
Ucommune forecast it would post first-quarter net revenue of 210 million yuan to 230 million yuan, representing a 17.6% to 24.7% decline from the fourth quarter's 280 million yuan. The company added it expects its losses to continue shrinking under its new business model, even as it declined to give a timeframe for when it might become profitable.
At the same time, Ucommune is trying out new services, including software as a service (SaaS) in its search for new forms of revenue. Its latest report showed that revenue from other services, including interior design, construction and SaaS services, nearly quadrupled to 92 million yuan in the fourth quarter year-on-year, accounting for nearly a third of its total revenue.
In a nod to the growing importance of that part of its business, Ucommune boosted its stake in its Beijing Xiyu Information Technology Co. Ltd. unit, which provides SaaS and internet of things services, to 53.2% from a previous 51.0%. The company's report did not state how much of the other service revenue came specifically from SaaS.
Ucommune's shares rose 4.33% after it announced the results last Thursday, but then gave all that back and closed down 5.81% the next day. Since going public last year, the company's shares have lost nearly 80% of their value.
The WorkWork imitator tried to make a traditional IPO in New York in 2019, but that effort failed after the spectacular earlier collapse of the original WeWork's own IPO. After its failure, Ucommune made a backdoor listing using a special purpose acquisition company or SPAC, an increasingly popular option for companies that can't make traditional listings. Unfortunately for Ucommune, that listing was completed in November last year when the pandemic was still raging around the world.
Its own low-key listing came after WeWork's much higher-profile aborted IPO, making Ucommune the first in its class to go to market. Following its debacle, WeWork is reportedly in the midst of a reorganization and may follow Ucommune by making its own U.S. backdoor listing using a SPAC.
At the end of last year, Ucommune had 234 locations under contract in 54 cities, including 163 that were in operation, offering its 1 million members around 647,700 square meters of office space. By comparison, WeWork, which has been closing properties in response to the pandemic and as part of its overhaul, had 747 locations operating in 118 cities in 36 countries worldwide.
To subscribe to Bamboo Works weekly newsletter, click here