VNET mired in mess of red ink, chairman's dubious stock maneuvers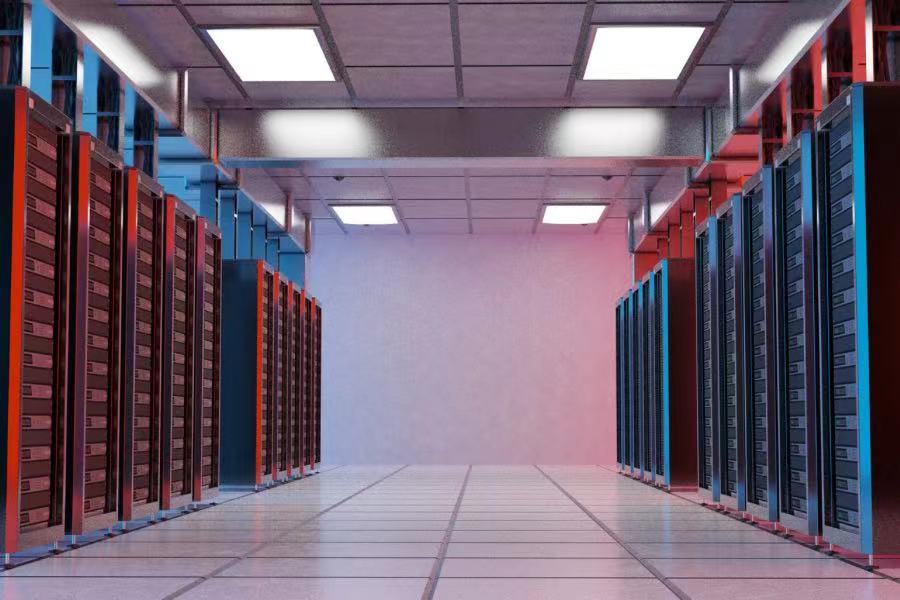 The data center operator's net loss widened in last year's final quarter, while a maneuver by its chairman to retain control of the company may leave many investors uneasy
Key takeaways:
VNET's net loss widened in last year's fourth quarter as its costs grew faster than a mediocre 7.7% revenue increase
The company is facing pressure to refinance its debt, but may have difficulty raising funds after its chairman resorted to a dubious maneuver to retain his control of the company
By Warren Yang
VNET Group Inc. (VNET.US), the weakest of the China's three listed data center operators, could use a deep-pocketed buyer right now to set its messy house in order. But despite earlier interest, suitors won't exactly be lining up to buy the company in its current state. Its financial performance remains uninspiring, for starters. And its chairman has been playing games with his shares in the company, raising a lot of governance questions.
VNET's revenue grew just 7.7% year-on-year to 1.88 billion yuan ($272.7 million) in last year's fourth quarter, the company said in its latest results announcement last Wednesday. Its gross profit actually decreased, indicating that it spent more to generate each dollar of revenue during the three months than it did a year earlier. Such expenditure includes utility bills, which have swelled due to spiking energy costs – a major expense for data center operators. VNET did cut other expenses substantially, but not enough to keep its net loss from widening.
China's economic slowdown as it battled Covid-19 and soaring energy prices have made life hard for all data center operators despite the country's huge growth potential. And things may not improve quickly as China's economy still remains stuck on the ground.
On top of all of that, VNET has a lot of debt relative to its cash flow. The company had about 11 billion yuan in debt at the end of last year, according to Yahoo Finance. That's nearly six times as much as its reported adjusted earnings before interest, taxes, depreciation and amortization (EBITDA) for 2022, meaning the company's debt dwarfs the cash it generated from its operations during the year.
VNET's debt coming due soon includes a large amount of convertible notes it may need to redeem in next year's first quarter unless the holders decide to convert them into shares. But such a scenario seems unlikely since the company's stock has been in a freefall the past couple of years.
"That's something we are keeping a very close eye on and obviously looking to the various alternatives," CFO Tim Chen said on the company's latest results call, discussing the notes coming due.
VNET has a long history of refinancing its debt by issuing convertible bonds or preferred shares. If most holders of the company's currently outstanding convertible bonds ask for their money back next year, the company will most likely need to borrow again to get the necessary funds, since its own cash is insufficient.
But new investors might think twice about giving more money to VNET due to the company's recent financial mess involving co-founder and Chairman Chen Sheng. Last month, the company announced a plan to issue up to 555,000 Class D ordinary shares to Chen, each giving him the right to a huge 500 votes.
Margin call
The plan was announced after Chen faced a margin call on VNET shares he pledged as collateral for a $50 million loan he received. Such use of shares by company founders as collateral for loans is relatively common among Chinese firms. While generally legal, they are often seen as a backdoor way for founders to cash out some of their stake in the company.
But after VNET shares fell below a predetermined threshold in late November, the lender declared last month that it would sell the 76 million pledged shares. Given that one VNET American depository share (ADS) equals six Class A ordinary shares, the lender would recoup a little more than $40 million if it sold all 76 million shares in VNET on the open market at their current value.
Chen had 78.6 million shares in VNET at the end of February last year, giving him 29% voting rights. So, the loss of the pledged shares would wipe out nearly his entire stake in the company. But never mind. When something like that happens, just let the board he leads concoct a new class of shares – which is what the "D Class" shares are – to restore his stake to more than 20%.
It's not clear what Chen's loan was for or whether he had the funds to repay it. But regardless, he seems to have succeeded in cashing out his shares while retaining his control over VNET. The way he did it, essentially using his clout at the company to trample on minority shareholders, won't go down so well with any potential new investors. But VNET needs to raise funds from investors to repay its creditors, including the holders of its convertible notes.
While what happened is quite colorful in the stodgy world of corporate lore, the more serious ramification is that borrowing will become more difficult and costly for VNET. Early last month, Fitch downgraded the company's debt deeper into junk territory, citing refinancing risks. And this month, it withdrew its ratings of the company altogether. Moody's also put the company under review for a possible downgrade last month.
At this point, the best thing that could happen for VNET would be a takeover by a rich investor that can take care of all its financial problems. The company's stock looks like a relative bargain for any such investor at current levels, trading at a price to sales (P/S) ratio of just 0.6 times — well below the 2.2 for GDS (GDS.US; 9698.HK) and 4.4 Chindata (CD.US), VNET's two main better-run rivals.
VNET did receive an unsolicited bid last April from Chinese private equity firm Hina Group with financial backing from the Shanghai branch of Industrial Bank Co. Ltd., which was followed by a competing offer from Chen in September. Hina's bid emerged just days after Chen's loan started showing signs of trouble, suggesting Hina saw an opportunity to buy a distressed business for a bargain price.
But a formal Hina offer has never materialized — and in fact, VNET's shares now trade well below the offer price of $8 per ADS. The stock last closed at $3.20, less than half the offer price, which includes a 12% drop the day after the results announcement. Some other possible acquirers, including MBK Partners in South Korea, have popped in media reports, probably attracted by the company's bargain price. But no one seems in a rush to sign a deal right now, and it's not hard to understand why.
To subscribe to Bamboo Works weekly free newsletter, click here