Vipshop's strong results overshadowed by troubling outlook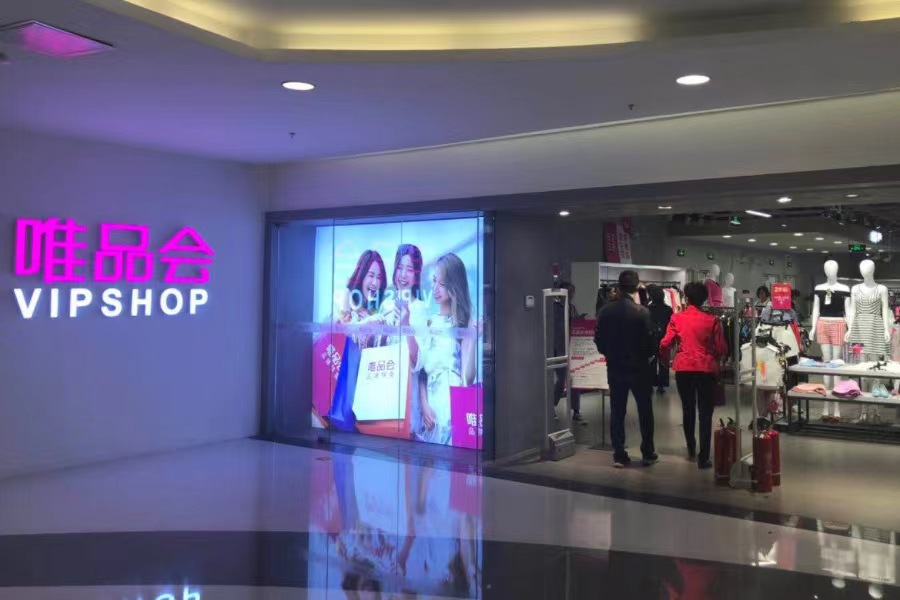 The online discount retailer's second-quarter results beat analyst expectations, but its third-quarter forecast was far gloomier as the Chinese economy sputters
Key Takeaways:
Vipshop's revenue increased 13.6% in the second quarter, and its net profit jumped 64%
The company expects its revenue growth to slow sharply to 5% at best in the third quarter amid mounting signs of trouble for the Chinese economy
By Warren Yang
The investor mood for Vipshop Holdings Ltd. (VIPS.US) is oddly gloomy.
The discount e-commerce company's latest quarterly report looked quite rosy — until you get to the part forecasting a decidedly downbeat outlook for the current quarter that runs through September. Vipshop's apparent caution coincides with the latest warning signs about the Chinese economy, a combination that weighed on investors who, in different circumstances, might have otherwise cheered the company's latest quarterly results.
Vipshop's total net revenue increased 13.6% year-on-year to about 28 billion yuan ($3.8 billion) in the second quarter. Its profitability improved even more thanks to cost reductions, which led to a 23% increase in its gross profit and an even greater 64% gain in its net profit. Both the revenue and net profit beat analyst expectations.
But that's where the fun ends.
Vipshop said it expects its third-quarter revenue to increase just 5% at best from a year earlier, or to not grow at all in a worst-case scenario. That would be a sharp slowdown not only from the second quarter, but also from the first, when the company's revenue grew 9%, signaling it was on a promising path to recovery from the prior year's Covid 19-inflicted slump.
The company is bracing for weaker revenue growth partly because the current quarter is a slow season for apparel sales, a key revenue driver for Vipshop, founder and CEO Eric Shen said on a conference call to discuss the latest quarterly results. But the same seasonality must have had a similar effect in last year's third quarter as well, so it doesn't quite explain why things are not looking up now compared to a year earlier when the Chinese economy was still reeling from the pandemic.
Shen went on to say return rates for apparel purchases tend to be higher than for other products, and increasing caution among consumers isn't helping. Woes among consumers first showed up earlier in the year with sharp declines in sales for big-ticket items like cars, PCs and smartphones. But now the mood appears to be trickling down the food chain to less expensive items like apparel as well.
"When they place their orders, they have to think over and over and then the return rate would be trending higher," Shen said.
The explanation makes more sense in light of the quickly deteriorating Chinese economy. The world's second-largest economy got off to a good start in the first quarter of this year, growing faster than expected after China canceled most of its tough Covid restrictions at the end of 2022. But the momentum quickly fizzled, as signs of trouble popped up with growing frequency. In one of the most troubling of those, the unemployment rate for youth – one of Vipshop's biggest customer groups – hit a fresh record each month in the second quarter, prompting the National Bureau of Statistics to suspend releasing the data starting with July.
Other key data the bureau reported for last month, from retail sales to industrial production, all missed analyst projections. Worse yet, consumer prices declined in July, putting China into the unusual position of facing deflation at a time when the rest of the world is grappling with high inflation rates. None of that looks too encouraging.
Ticking bombs
The economic gloom is also manifest in a growing number of larger ticking bombs in the corporate sector. For one, major property developer Country Garden (2007.HK) recently defaulted on bond payments as it faces huge losses. Many worry the company may be one of many dominoes to ultimately fall in China's sagging property sector, creating a drag on the whole economy.
In another ominous sign, Zhongrong International Trust, a state-backed trust firm, also missed payments for its wealth management products to three listed companies earlier this month. This is no small matter as it suggests that China's financial sector may also be facing liquidity problems.
Troubles in the important real estate sector alone can be bad enough, and an ailing financial system just makes matters all the more worrisome.
Investors seem more focused on these worries than on past results reported by Vipshop or any other company, for that matter, even if those results are from the very recent past. Vipshop shares dropped 8% on the day it reported its second-quarter earnings last week. It wasn't alone among its peers in facing such reaction. Shares in sector heavyweight Alibaba (BABA.US; 9988.HK) have been in a freefall since it reported second-quarter results that came in above analyst expectations, and the story has been similar for JD.com (JD.US; 9618.HK).
Vipshop's emphasis on discounted goods can go a long way if the Chinese economy goes south and consumers curb their spending. Vipshop has focused on the discount market since its founding in 2008 by purchasing excess inventory from major brands at low prices and selling the goods at discounts, similar to brick-and-mortar outlet retailers. Following the company's initial success, a large number of imitators, like Fclub, Jumei, Mogujie and Juanpi, sprung up, though most have vanished or are struggling.
By contrast, Vipshop has reported a net profit every quarter since 2013. Such profitability is a valuable virtue for this kind of Chinese company as many of its peers have trouble cutting losses despite fast revenue growth. And in the current climate, even the fast revenue growth from previous years is quickly becoming a distant memory.
Vipshop shares are down sharply from a peak they reached in 2021, but are still up many-fold from their IPO price from 2012. They trade at a trailing price-to-earnings (P/E) ratio of about 11, a fair multiple considering its rapidly slowing growth. But the figure is still far smaller than the 20 for Alibaba and 18 for JD.com.
Unlike many of its money-losing budget peers, Vipshop would probably be able to stay in business even if the Chinese economy enters a prolonged slowdown. People would still need to buy basic necessities like clothing, and, if anything, they would seek discounts like the ones Vipshop is known for. But at the end of the day, investors want growth – both in revenue and especially in profits. That's not easy to achieve for any company when economic tides turn against it.
Have a great investment idea but don't know how to spread the word? We can help! Contact us for more details.
To subscribe to Bamboo Works weekly free newsletter, click here