Trust is key to encouraging whistleblowing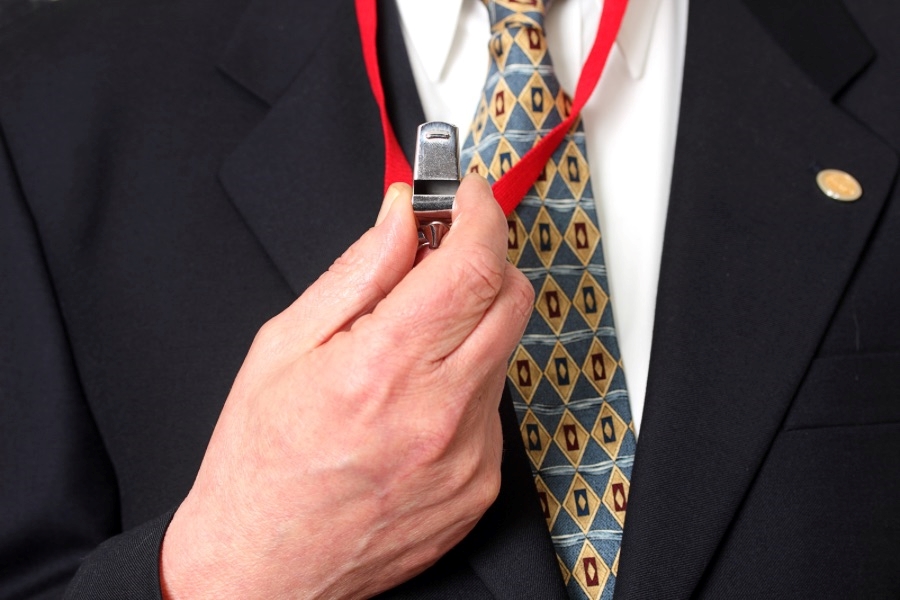 A listed company's whistleblowing policy depends most on trust levels among employees and outsiders towards the mechanism
By A. Au
In April, an anonymous letter about property developer China Resources Land Ltd. (1109.HK) circulated on the internet, accusing Ernst & Young (E&Y) of lacking independence in its audits of the company. The reasons cited included possible transfers of business interests between the two sides, such as CR Land's suspected sale of properties at a low price to E&Y executives, which both sides later denied, criticizing such conclusions as grossly contrary to the facts.
The anonymous letter appeared about two weeks after CR Land switched auditors from E&Y to KPMG, saying E&Y had served for the maximum period as CR Land's auditor, in a case of intriguing timing, to say the least.
To ensure employee integrity, avoid secret deals and protect their own interests, many listed companies have set up whistleblowing policies. But often before a company even receives an employee report or starts to handle a complaint, such internal information is disclosed in the media, like the case with CR Land. While that may show the media is too powerful, it may also reflect that many employees don't believe in their companies' whistleblowing systems and would rather "blow the whistle" outside in an attempt to use the media to exert pressure on the company.
From a corporate governance perspective, whistleblowing policies are an important part of internal control and risk management systems, as they can assist companies in uncovering internal corruption, misconduct or major mistakes. But it's also important that such whistleblowing systems be unbiased and independent to prevent them from shielding executives to hide their shortcomings.
No matter who accusations are aimed at, and how influential the subject of such claims is within the company, even if he or she is chairman of the board, companies need to take such reports seriously to avoid making the system exist in name only.
The Hong Kong Stock Exchange's "Corporate Governance Code" and related listing rules amendments, which came into effect in January last year, offer a good example.
According to those guidelines, listed companies must establish a whistleblowing system to promote and support policies and systems for enforcing anti-corruption laws and regulations. For example, employees and others who deal with the company, such as customers and suppliers, should be able to raise concerns about possible improprieties to the listed company's audit committee, both covertly and anonymously.
Many internal problems and related risks for listed companies are inevitably discovered by insiders through whistleblowing. Listed companies should set up risk management committees, consisting of dedicated risk managers, to deal with reports of misconduct from both internal and external sources, complementing traditional audit, remuneration and nomination committees.
Encouraging whistleblowers
Here's one example: Let's say a company's procurement department needs to purchase a batch of materials, but the employee responsible takes bribes or other benefits from a supplier to give it an edge to win the bidding. In such cases, other employees or suppliers can lodge a formal complaint with the company through the reporting mechanism set up by the risk management committee. For listed companies with no risk management committee, the audit committee will generally handle such complaints.
Maintaining confidentiality is critical to encouraging employees to be brave enough to file such reports without fear of retaliation. For example, CLP Holdings (0002.HK) states in its company policy that if someone retaliates or threatens to retaliate against a whistleblower, the company has the right to take appropriate action against them, including the potential for immediate dismissal. The company also notes that management supports and encourages employees to raise concerns without fear of retaliation, and ensures that all those who make truthful and appropriate complaints are treated fairly. It also ensures that employees are not unfairly dismissed, victimized, or improperly disciplined even if the allegations are ultimately unsubstantiated.
Chinese society generally holds the view that avoiding trouble is best. The most important steps to encouraging whistleblowers are: improving the whistleblowing system; ensuring the identity of whistleblowers is kept confidential; and reporting progress of the investigation to whistleblowers at regular intervals to deal with the matter as fairly as possible. High trust levels result in internal recognition of whistleblowing systems by employees, making them feel more natural in the work environment and reducing misconduct.
Have a great investment idea but don't know how to spread the word? We can help! Contact us for more details.
This commentary is the views of the writer and does not necessarily reflect the views of Bamboo Works
To subscribe to Bamboo Works weekly free newsletter, click here