Teahouse Operator Nayuki Gets Scalded in Food Safety Scandal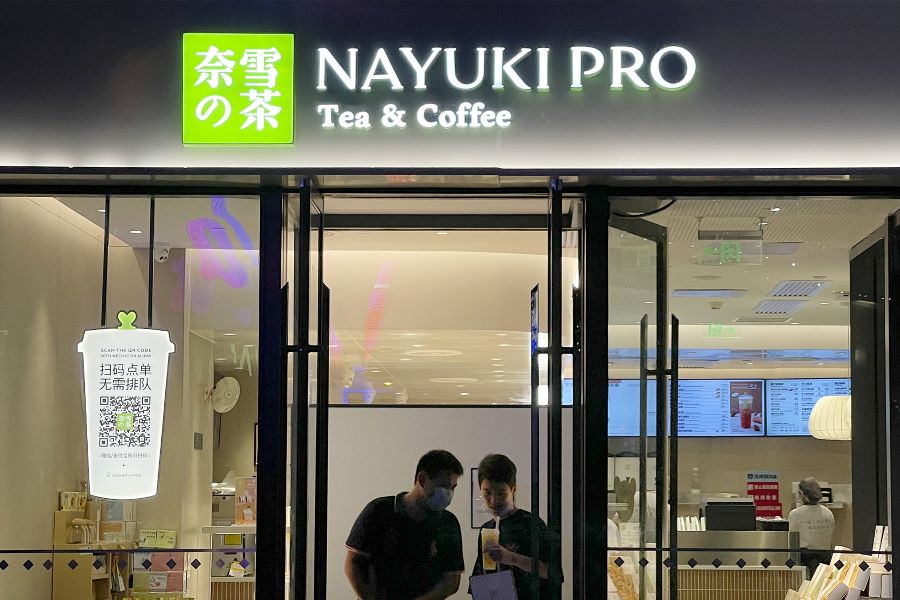 Premium tea seller's shares sink 10% after report finds cockroaches at two shops, but then bounce back in following session
Key points:
Shares of premium tea seller Nayuki plunged after state media report found cockroaches, other violations at two Beijing shops
Rebound in shares a day later shows how such investigative scandals, while often exposing real problems, are relatively common and reflect latest government priorities
By Doug Young
Move over, Boston Tea Party.
The historic event at Boston Harbor is getting some 21st century competition from China, where the recently listed premium tea seller Nayuki Holdings Ltd. (2150.HK) is coming under fire over a media report that found cockroaches in two of its Beijing shops.
We'll get into the sordid details shortly, which are literally crawling all over the Chinese internet today. After all, there's nothing like a salacious scandal as perfect clickbait.
But before we do that, we'll begin by pointing out that this kind of media report is a classic type of risk seen far too often in China, and can really hammer a company's stock. Of course, this kind of investigative scandal also occurs in more mature western markets. But it's far more common in China, for reasons we'll discuss shortly.
We'll begin with Nayuki's stock, which shed 10% on Tuesday, nearly touching an all-time low since its June IPO made it the first of a new generation of premium Chinese tea houses to go public. But the stock bounced back strongly and was up about 6% in Wednesday morning trade, perhaps as investors considered whether this was just another of an endless stream of Chinese food safety scandals that inevitably blow over after a month or two.
Shops like Nayuki's differ from their traditional counterparts by offering tea with a wide range of flavored additives, from milk to fruit and cheesy foam. They also offer the relative classic with chewy bubbles, often served on ice instead of in the usual hot way.
The latest "tea party" began with a Tuesday report (link in Chinese) by two writers from the Xinhua news agency, one of the leading authoritative voices from China's large state-media complex. At least one of those reporters went undercover to work at a Nayuki shop in Beijing's popular Xidan shopping district, where he discovered cockroaches the size of a fingernail.
The report went on to say the reporter alerted his manager, who brushed off the whole thing by saying, "it's nothing," adding the presence of cockroaches was normal in certain parts of the shops. Further time in the shop revealed that some of the fruits used in drinks were overripe, and that some workers weren't following standard sanitation procedures.
China's freewheeling privately-owned online media quickly jumped on the story, and additional reports showed that the market regulator in southern Guangdong province, where Nayuki is based, had opened an investigation into the matter.
Nayuki was quick to issue a statement showing contrition and saying it was looking into the matter – standard practices for both foreign and Chinese-owned companies that get "ratted out" in this kind of investigative report.
"The Group is committed to food safety and product quality requirements in its day-to-day business operation," it said. "Immediately after becoming aware of the publication of the press articles and the food safety assessment conducted by the relevant government authorities, the company has established a special task force to investigate the matters raised in the press articles."
It added that the two Beijing shops that were the subject of the original article had suspended operations pending an investigation.
Not Alone
Nayuki is hardly alone in this kind of media-generated scandal. In fact, another such scandal erupted the same day with much-wider consequences, as it affected an entire industry. In that case, shares of companies from China's vast gaming universe plunged after an editorial in a state-run publication called the Economic Information Daily said the companies were harming China's youth by offering them "spiritual opium" and "electronic drugs."
The article was later taken down and reposted without those sensitive terms, which harken back to China's opium addiction issues of the 19th and early 20th centuries. But the damage was already done, with shares of leading companies including Tencent, NetEase and Bilibili all plummeting after the article's publication.
So, what does all this mean?
The bottom line is that China's state-run media is a sort of watchdog over society, in some ways similar to the role played in the west. But whereas western media are mostly independent and choose their own agendas, the Chinese media tend to take their signals from Beijing. Thus, if food safety is a high priority issue for Beijing, then it would be quite normal to see both local and national state media start to chase the kind of story just published on Nayuki.
Another element further complicates this picture, namely corruption. China's media have been the source of numerous scandals themselves over the years for blackmailing companies with the threat of writing negative stories unless they receive a payment. One extreme case occurred in 2014, when the website of the 21st Century Business Herald, one of China's leading business publications, was exposed for extorting money from companies preparing for IPOs by threatening them with negative stories unless they made "hush" payments.
Then there's the related issue of media writing glowing, positive stories about companies that pay fees for such coverage. But that's another story for another day.
The bottom line is that this kind of scandal is relatively common in China. In the case of Nayuki, it's quite possible the Xinhua reporters had other motives for writing their story besides simply exposing bad sanitation. But regardless of the reporters' motivation, all companies must take such reporting seriously and show both contrition and that they are taking action to remedy the problems.
At the end of the day, most of these scandals do seem to blow over and life largely returns to usual after a few weeks. Owners of Nayuki stock might keep that in mind as they decide what to do next.
The company is still losing money, but expanding fast, as it chases its larger rival Hey Tea in the large – and also extremely competitive – market for premium teas. Its current price-to-sales (P/S) ratio looks relatively attractive at 5.8, roughly half of popular restaurant operator Jiumaojiu International's 10.6, though higher than hotpot operator Haidilao International's 4.6.
To subscribe to Bamboo Works free weekly newsletter, click here