Tat Hong Stretched by Rising Labor Cost, Awaits Carbon-Neutral Building Boom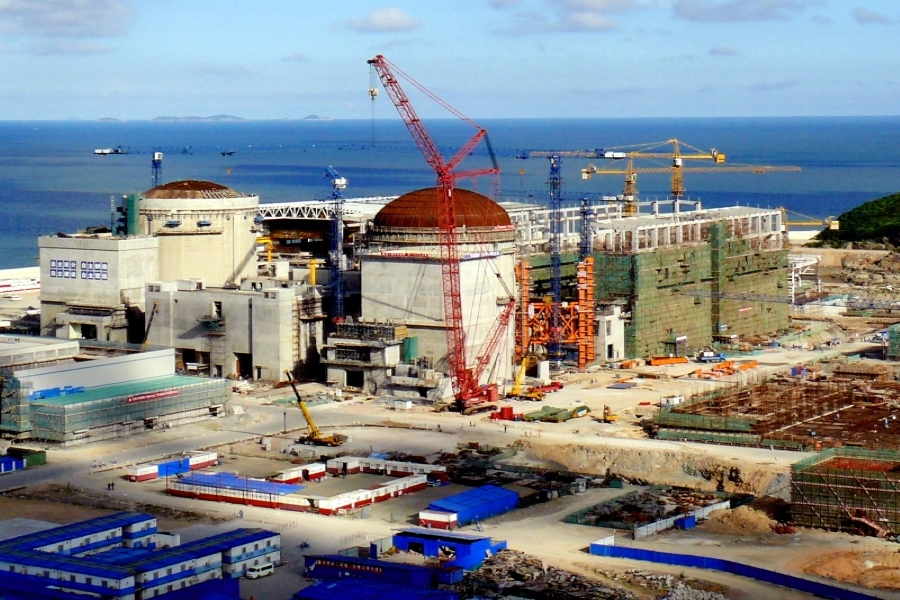 The construction equipment provider's profit fell in its latest reporting period, stretched by rising labor costs, but its current large-scale contracts are reason for optimism
Key Takeaways:
Tat Hong's profit fell by 37.8% in the six months through September
The company announced a special dividend of HK$0.03 per share in a move to placate investors
By Jony Ho
The term "tower crane" may be unfamiliar to most. The term refers to a fully rotating jib crane with a "tower structure" that can move building materials quickly in rising, traversing and criss-crossing patterns. As such, these seemingly unimportant cranes are an important tool for moving items around at large-scale building sites.
While it may be somewhat off the radar, the industry could play an important role in China's sustainable development as the nation strives to reach its goals of peak carbon emissions by 2030 and achieving carbon neutrality by 2060. That process is likely to require many of these types of cranes to support the construction of necessary green energy sources like nuclear and wind power.
Nine to 10 new nuclear power plants were launched in China last year, with Tat Hong Equipment Service Co. Ltd. (2153.HK), the first tower crane company to list in Hong Kong, having won seven of the biddings. The company is also expected to benefit from both the installation of new wind power stations and the necessary maintenance of 100,000 wind power stations in China over the next 10 years.
However, the company's interim results announced last Friday showed its gross profit had decreased by 19% in the six months through September to 120 million yuan ($18.8 million) due to increasing labor costs. Its net profit fell 37.8% to 38.5 million yuan, or 0.03 yuan per share.
The group tried to soothe investors with a special dividend of HK$0.03 ($0.0038) per share, marking the second such dividend offering since its listing in January this year.
The dividend did little to boost the company's shares, however. Following the announcement, Tat Hong's stock rose 1.74% on Monday to close at HK$1.17. But the stock is down 40% from its post-listing peak of HK$1.92, and is now trading 32% lower than the IPO price.
The group said the special dividend represented a show of gratitude for shareholder support, and was meant to provide investors with better returns. In the prospectus for its listing early this year, the group had said it planned to distribute 30% of its annual net profit as dividends, after also taking into consideration its operating performance, cash flow and general financial situation.
The special dividend was equal to 83% of Tat Hong's earnings for the period, making it far higher than the earlier promised rate. Despite its one-time nature, rather than being a regular interim dividend, the payment appears to reflect the company's willingness to share the majority of its profits with shareholders during periods of profit decline.
550 million yuan in contracts
Tat Hong's latest report showed it had 210 million yuan in cash and cash equivalents at the end of September, up 40% from the 150 million yuan at the end of March. Given its stable cash flow, some might consider its expense of a modest 29 million yuan for the dividend to please shareholders as a good use of cash.
The company's decline in profit can be chalked up to two main factors. Firstly, while its revenue increased by 1.2% year-on-year to 416 million yuan, its cost of sales grew by 12.6% to 296 million yuan. Tat Hong explained the difference by saying its number of subcontracted workers had increased by around 20% to 3,295 people, causing related costs to rise 23%.
The need for more workers may reflect momentum as the industry recovers alongside China's rebounding economy. Chairman and non-executive director Ng San Tiong stated in the report that the group has increased its investment in tower cranes and related parts in the past six months, and has improved its related manufacturing and processing capabilities for cranes and auxiliary structures. At the end of September, it expanded its business through the management of 1,257 tower cranes to meet growing customer demand. As projects increase, it expects the need for manpower to naturally grow and rising costs are likely to follow.
The profit also declined due to business not yet having been logged as revenue in the company's financial statements. At the end of September, the company had 287 ongoing projects with a contract value of 572 million yuan, and another 37 on hand with a total value of 143 million yuan. Contracts valued at some 550 million yuan will be credited in the next 12 months, perhaps explaining why Ng was confident the company can achieve impressive results in the next few months.
Lower valuation
Management was also optimistic about the company's longer-term prospects. CEO Yau Kok San said he believes the development of the Guangdong-Hong Kong-Macao Greater Bay Area and China's "carbon neutral" goals will further stimulate demand for large- and medium-sized tower cranes, providing a steady income source for the group.
The company could also benefit from a new industry trend toward prefabricated construction being used to simplify working processes and comply with environmentally friendly construction standards. Since prefabricated components are much heavier than traditional building components, this type of construction often has requirements for high loading cranes. This, in turn, should create more demand for the medium- and large-tower cranes that form Tat Hong's main business.
Since "tower crane stocks" are relatively rare in Hong Kong, a good stand-in for comparison purposes could be other medium-sized machinery equipment makers. Lonking Holdings Ltd. (3339.HK), Hao Tian Int'l Construction (1341.HK), First Tractor Co. Ltd. (0038.HK) and ZMJ Group Co. Ltd. (0564.HK) fit that description, with market values of between HK$1.4 billion and HK$8.9 billion. Their price-to-book ratios (P/B) range from 0.69 times to 1.49 times, and price-to-earnings ratios (P/E) vary from around 3.8 times to 20.5 times.
In comparison, Tat Hong's latest market value is around HK$1.35 billion, with a P/B ratio of approximately 0.74 times, representing the lower end of the scale. The company's P/E ratio of around 8.7 times also makes it look cheap when compared with three of its peers. Assuming its future contracts and related profits will ultimately be booked, and considering its potential to benefit from environmental protection policies, there could still be some room for growth in the company's valuation.
The Bamboo Works offers a wide-ranging mix of coverage on U.S.- and Hong Kong-listed Chinese companies, including some sponsored content. For additional queries, including questions on individual articles, please contact us by clicking here.
To subscribe to Bamboo Works free weekly newsletter, click here