Tagging Facebook, Chat Operator Yalla Discloses New 'Metaverse' App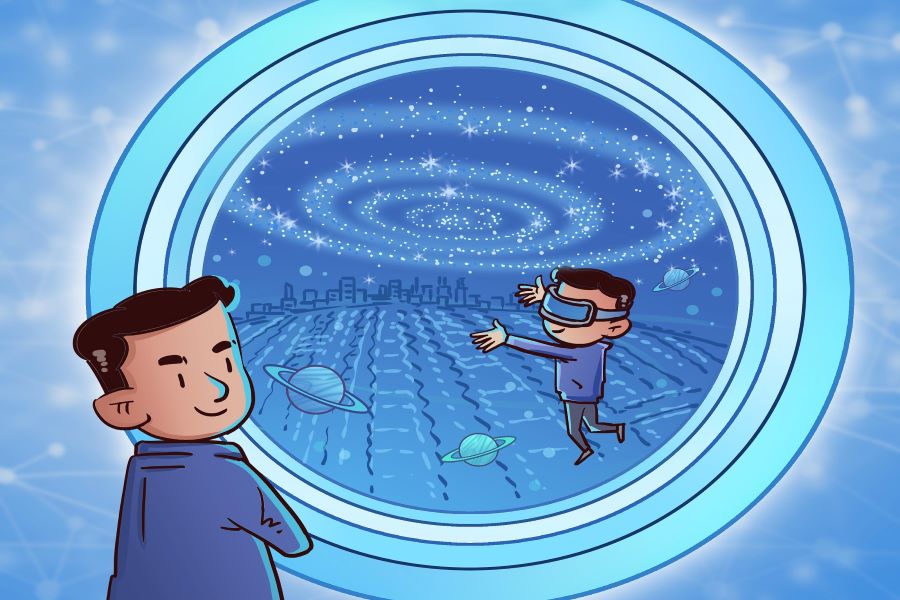 Social media company likened to 'Clubhouse of the Middle East' said it could launch its 'cutting-edge social app' as soon as the first quarter of 2022
Key Takeaways:
Yalla discloses it is working on a cutting-edge 'social metaverse' app that could launch as soon as early 2022
Company makes announcement as it reports its revenue and profit doubled in this year's third quarter, sparking a rally for its shares
By Doug Young
It's been a roller coaster ride for Yalla Group Ltd. (YALA.US) in the year since the audio chat app operator became the first United Arab Emirates-based tech unicorn to trade in New York. That ride took a sharply positive upturn last week, when the company's shares surged more than 30% over two trading days surrounding the announcement of its latest quarterly earnings.
That was just the latest of many twists and turns for the stock since its October 2020 IPO. Yalla is aiming to carve out a niche as a social media company focused on voice-centric chats, leading some to call it the "Clubhouse of the Middle East," even though the company likes to point out it's older than Clubhouse and has a stronger focus on leisure users.
That comparison was behind a turbocharged rise early this year when the original Clubhouse caught the world's fancy. That period saw a spectacular rise in Yalla's shares as they surged from their IPO price of $7.50 to as high as $41.35 – a more than fivefold increase – over the course of less than five months.
But the ride wasn't over just yet.
From there the stock has moved steadily downward, most likely on some profit taking, but also in step with a broader decline for China tech stocks over that period. The company is based in the UAE, but has a major development presence in the Chinese city of Hangzhou.
Some might argue any comparisons to Chinese social media companies – which must strictly police their content – are unfair, since Yalla's services are all based in developing markets starting with the Middle East, and now moving into Latin America and Turkey. But investors don't always make such distinctions.
Regardless of the cause, Yalla's shares moved steadily downward from the February peak, until getting their recent boost from the latest earnings report. The latest rally put the company squarely back into Unicorn territory, lifting its market value to just shy of $1.1 billion, as its stock hovers just above its IPO price.
So, what got investors so excited this time?
The answer probably owes to several factors. The results themselves were relatively impressive, showing the company is turning profits, strongly growing revenue and expanding beyond the Middle East with steady gains in the newly-launched Latin America and Turkey markets. At the same time, the company's stock does seem quite undervalued compared to other social media companies in more mature western markets.
The stock trades at a price-to-earnings (PE) multiple of just 10, based on analyst predictions for this year, and that figure drops to just eight based on forecasts for next year – hardly what you'd expect for a high-tech social media firm whose revenue is expected to grow nearly 40% next year.
By comparison, the industry giant formerly known as Facebook, now called Meta Platforms (FB.US), trades at a PE of 24 based on forecasts for this year, even after that stock has taken its own recent beating on negative publicity about putting profits before public welfare. Snap (SNAP.US) and Twitter (TWTR.US) trade at eye-popping multiples of 147 and 136, respectively, while even China's Twitter-like Weibo (WB.US) trades at a higher PE of 15.
Facebook Friend
All that said, we'll spend the second half of this space looking at the company's latest results that show generally solid growth and a global expansion moving ahead in steady fashion. But first we'll start with what looks like the company's attempt to seize some of the momentum created by Facebook's recent name change, which the U.S. giant said better reflects its vision of a future "metaverse" where users can interact between many kinds of apps and platforms in the cyber realm.
The company currently does most of its business by offering voice-chat apps similar to Clubhouse's, as well as online games. But it teased a new upcoming product in its latest earnings announcement, saying it was "working on a cutting-edge social app, which will feature the first-ever social metaverse." It elaborated a bit more on its earnings call, though without giving too much away.
"Long before the metaverse concept began trending this year, our team was researching new types of social networking opportunities to provide users with a higher level of freedom and more immersive social experiences," Chairman Yang Tao said. He added the app now in development could go live to Middle East users early as the first quarter of next year.
So perhaps the association with Facebook was at least partly responsible for the stock's rally, which actually began with an 11% jump the day before the announcement, and continued with another 15.8% gain the day the results were disclosed. The stock has given back some of the gains since then, but is still well ahead of pre-announcement levels.
Besides the new product announcement, Yalla's numbers were broadly positive. Its revenue more than doubled year-on-year to $71.3 million for the three months through September, almost certainly helped by the large numbers of people who have turned to social media apps to stay in touch during the pandemic. It forecast year-on-year revenue growth would slow to 39% to 49% in the fourth quarter, due to strong growth in the year-ago period.
In a noteworthy divergence, the company's paying users grew at a slower, but still healthy, 51.3% to 7.7 million during the quarter – an indication it was getting more money from each user, most likely from improved offerings and growing familiarity with its apps. Its overall base of average monthly users – the big majority now in the Middle East – grew 81.9% to 25.9 million.
The company also disclosed that its Latin American service, Yalla Parchis, had 768,000 average monthly users in the third quarter following its launch in the first quarter. It also launched a service in Turkey the same quarter, though it didn't give user numbers for that. It said on the call the average user for the Turkey service, 101 Okey Yalla, now spends more than 60 minutes per day on the platform.
The bottom line also looked solid, with the company swinging to a quarterly net profit of $25.3 million from a $31 million loss a year earlier. On a non-GAAP basis, which excludes costs related to share-based compensation, the company's profit more than doubled to $33.2 million.
The Bamboo Works offers a wide-ranging mix of coverage on U.S.- and Hong Kong-listed Chinese companies, including some sponsored content. For additional queries, including questions on individual articles, please contact us by clicking here.
To subscribe to Bamboo Works free weekly newsletter, click here