Skepticism Greets Rare Disease Drug Maker CANbridge in Hong Kong IPO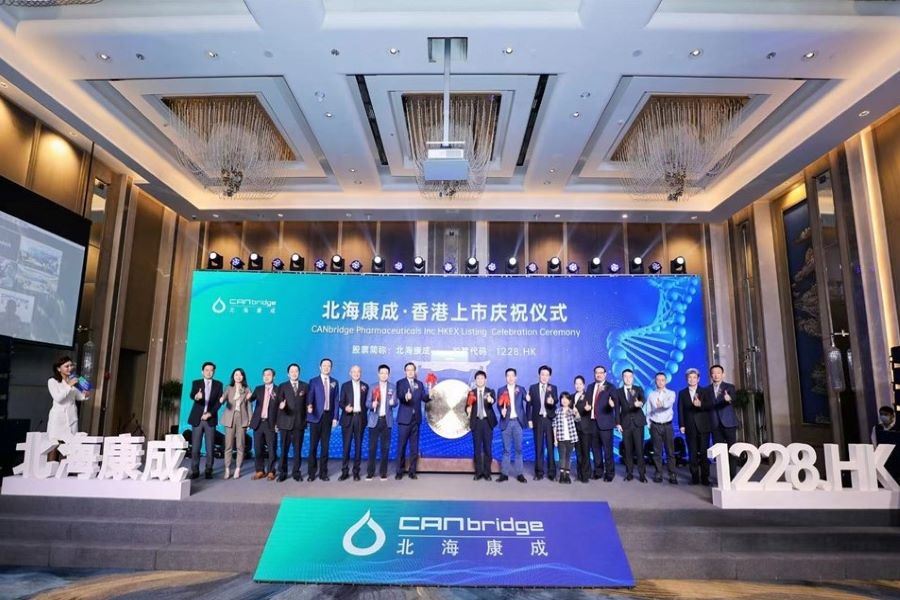 Company's shares tumble 27% in trading debut a week ago, but have stabilized since then on hopes for strong growth of China's market for drugs to treat rare diseases
Key Takeaways:
CANbridge Pharma's shares lost more than a quarter of their value on their Hong Kong trading debut a week ago, but have stabilized since then
Company has three drugs approved for sale, though revenue remained modest at about $1 million in first quarter of 2021
By Shirley Lau
In terms of a promising future, the newly listed CANbridge Pharmaceuticals Inc. (1228.HK) seems to tick many boxes: it targets the niche but potentially lucrative rare disease drug market; it is bringing in revenue; and it has some devoted investors. But stock traders apparently need more reassurance before committing to this latest listing by a long stream of Chinese biotech firms.
Last week, CANbridge, which develops and sells drugs to treat rare diseases and targeted cancers, raised HK$604 million ($77 million) by selling 56 million shares in its Hong Kong IPO for HK12.18 per share. But they tumbled nearly 27% to HK$8.90 on their first trading day Dec. 10. Since then, the stock has stabilized, hovering under the HK$9 mark, indicating perhaps the company thought just a tad more highly of itself than the investment community.
Founded in 2012 and based in Beijing, CANbridge is hitting the market at a reasonable time when one considers its own progress and broader development of the rare disease market at home and abroad.
It recently won approval for two of its new drugs in China, including investigative new drug (IND) approval in July from China's National Medical Products Association (NMPA) for CAN106, a humanized monoclonal antibody that treats multiple diseases associated with dysregulation of the complement system that is part of the body's immune system. The drug has also made progress abroad, winning approval from Singapore's Health Sciences Authority in December last year.
CANbridge was also approved in September last year for the marketing in China of Hunterase, an enzyme replacement therapy for treating Hunter syndrome, a rare inherited disorder where the body doesn't break down sugar properly.
Hunterase is one of the company's three products already on the market, alongside breast cancer drug Nerlynx and supersaturated calcium phosphate rinse Caphosol. Apart from the trio, CANbridge, which targets some of the most prevalent rare diseases as well as rare oncology conditions, has a pipeline of 10 other drugs in various stages of development.
Unlike many of its listed peers whose drugs have yet to come to market, CANbridge is notable for having some income. Its revenue grew from a modest 1.47 million yuan ($230,000) in 2019 to 12 million yuan in 2020, represents a whopping 718% year-on-year increase, albeit still quite modest. The high growth rates continued in the first quarter of 2021, as its 6.56 million yuan for the period represented a nearly 800% increase year-on-year.
Yet the company's research and development costs still far outweigh its small but fast-growing revenue. As a result, CANbridge has logged combined losses of about 1.2 billion yuan over the last two and a half years and, as stated in its IPO prospectus, there will be more losses in the near future.
In the past, drug makers in China and elsewhere had little incentive to invest the time and resources to develop rare disease medicines, also known as orphan drugs. But things have begun to change in recent years, with the Chinese government promulgating a variety of policies that suggest it is now paying more attention to rare diseases.
Rare Disease Recognition
In May 2018, five Chinese governmental authorities, including the State Drug Administration, issued a list featuring 121 rare diseases and also set up a rare disease patient registration process, marking the first time China recognized rare diseases on a national level.
In March 2019, a preferential value added tax (VAT) policy took effect that subjected 21 drugs for treating rare disease to a 3% tax rate – one of the country's lowest. And in August that year, the National People's Congress Standing Committee adopted a revised law enabling speedier approval of orphan drugs and allowing healthcare institutions to legally buy certain urgently needed orphan drugs from overseas.
The orphan drug sector is generally believed to have enormous growth potential, with rising awareness of rare diseases and greater R&D investment in the area as technology advances. Despite the small number of people who suffer from rare diseases, the global orphan drug market is expected to grow from $161.4 billion in 2020 to $547.5 billion by 2030, representing a compound annual growth rate (CAGR) of 13.1%, according to market research firm Prophecy Market Insights.
Apply that optimistic outlook to the vast China market, and the local picture appears even rosier. The Chinese Center for Disease Control and Prevention says China has the world's largest number of patients with rare diseases. And according to CANbridge, the number of people in the country suffering from one or more rare diseases may exceed 100 million. It added the country's orphan drug market is expected to expand from $1.3 billion in 2020 to $25.9 billion in 2030, representing a CAGR of 34.5%.
Such estimates are debatable, not least because there is still no official definition of rare disease in China. Some Chinese researchers have also found that available domestic data for rare diseases are limited and lack accuracy. Greater clarity in the future may bring more enthusiasm from stock investors for a company like CANbridge.
Yet perhaps more significant for CANbridge is the company's heavy reliance on licensed products. None of its three products now on the market are self-developed: Hunterase was developed by South Korea's GC Pharma, Caphosol is licensed from Britain's EUSA Pharma, and Nerlynx was developed by America's Puma Biotechnology (PBYI.US).
Licensing existing drugs from foreign companies for sale in China and other Asian countries is often the fastest way for new Chinese pharmaceutical firms to grow. But by selling licensed products only, CANbridge has put itself in a rather vulnerable position.
That vulnerability was on display earlier this year when Puma took back the exclusive rights it had granted to CANbridge to develop and commercialize Nerlynx in Greater China by terminating their 2018 licensing agreement and paying Canbridge a one-off $20 million termination fee. At the same time, Puma amended a 2019 licensing agreement with France's Pierre Fabre, expanding the French company's geographical scope for Nerlynx from an original range of Europe, Turkey, the Middle East and Africa, to also include Greater China.
CANbridge was not completely booted out of the deal, though. It subsequently signed an agreement with Pierre Fabre to distribute and market Nerlynx in Hong Kong, Macau, and Taiwan. That right will expire at the end of 2022, with an option to renew.
Aware of the vulnerability of relying on drugs developed by others, CANbridge is currently developing its own differentiated pipeline of drug assets, including core product CAN008, a glycosylated CD95-Fc fusion protein for treating brain tumor glioblastoma. Two months ago it dosed the first patient in China after receiving approval for trials in patients with the tumor.
If investors are relatively conservative toward CANbridge, the company's numerous cornerstone investors are much more positive about its future. Its biggest external investor WuXi Biologics (2269.HK) has been particularly keen, contributing to at least two of CANbridge's fund-raising rounds between 2017 and 2019 and also participating in the IPO.
These investors are patiently waiting for CANbridge to deliver, and so is the stock market.
To subscribe to Bamboo Works free weekly newsletter, click here