SF Intra-city buys back shares, as parent's stalled Hong Kong IPO languishes
9699.HK
2191.HK
002352.SHE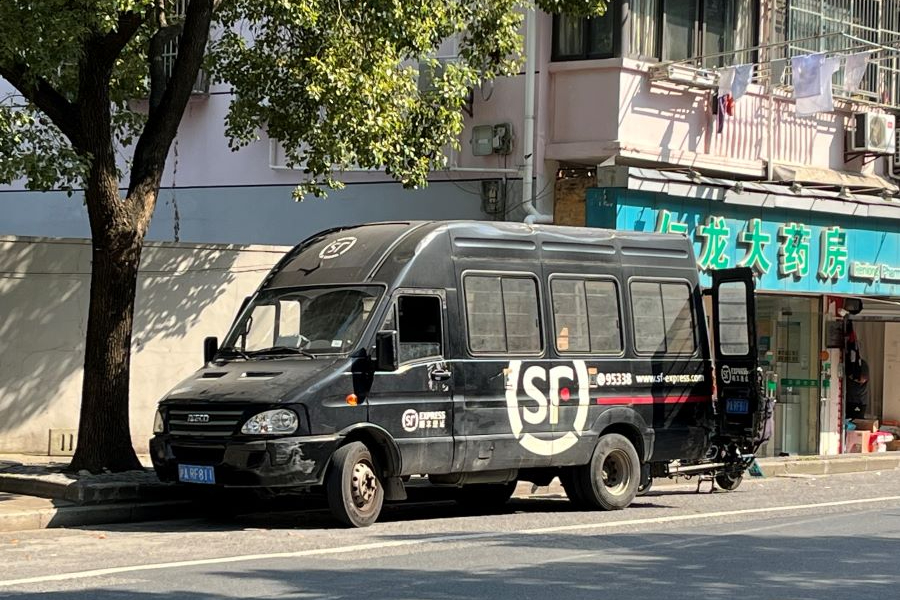 Shares of two separately listed units of logistics giant SF Express both trade well below their 2021 IPO prices, as their parent's plan to list in Hong Kong is going nowhere fast
Key Takeaways:
A $26 million share repurchase plan has failed to lift the price of China's largest intra-city delivery company SF Intra-city, which is a spinoff of logistics giant SF Express
Shares of another SF Express spinoff, Hong Kong's first logistics REIT, are also well below their IPO price
By Edith Terry
When Hangzhou SF Intra-city Industrial Co. Ltd. (9699.HK) announced a HK$200 million ($25.6 million) share repurchase plan last week, it gave a standard explanation, saying the move would "demonstrate the company's confidence in its own business outlook and prospects." In a similarly often-seen response, especially in the current weak market, the stock has barely budged since then.
The anemic stock market, reflected by a 25% drop in the benchmark Hang Seng Index from its January peak, is a direct result of China's sputtering economy, which is weighing on nearly all stocks. Companies like SF Intra-city are particularly vulnerable due to their reliance on spending by consumers, who are becoming more cautious in the uncertain economic environment.
SF Intra-city is China's largest third-party company providing on-demand intra-city delivery services, linking 380,000 merchants and 18.5 million consumers across sectors that include groceries, retail, e-commerce and other local services. It began operating independently of its parent, logistics giant SF Holding Co. Ltd (002352.SZ), in 2019, and raised HK$2.15 billion in a Hong Kong IPO two years later. Its shares peaked at nearly three times the current level before being dragged down by Covid losses.
Like many other companies, SF Intra-city's business has begun to bounce back with the end of China's Covid restrictions at the end of last year. Its revenue rose 28.8% to 5.75 billion yuan ($786 million) in the first half of the year, while its gross profit more than doubled to 383.4 million yuan, according to its interim results released in August. It also returned to the black with a half-year profit of 30.3 million yuan, reversing a 143.9 million yuan loss a year earlier.
SF Intra-city is one of two listed offspring of SF Holding. The other is SF Real Estate Investment Trust (2191.HK), operator of three premium logistics centers, which raised HK$2.6 billion in its IPO that became Hong Kong's first logistics real estate investment trust (REIT) in 2021. Much like its sister company, SF REIT started off strongly as a publicly traded company, only to flounder under China's strict Covid controls last year. Its shares are about 40% below their offer price, despite strong revenue and profit growth.
SF Intra-city is the larger of the pair by market cap, with a HK$6.6 billion valuation that's more than twice the HK$2.1 billion for SF REIT. But it's the opposite when it comes to investor favor. SF Intra-city currently trades at a price-to-sales (P/S) ratio of just 0.52, while its smaller sibling trades at a frothy 4.7, perhaps reflecting SF REIT's unique position as a publicly traded logistics real estate company. JD.com-backed (JD.US; 9618.HK) Dada Nexus (DADA.US), which offers intra-city delivery services, trades at a P/S ratio of 0.68, which is slightly ahead of SF Intra-city.
Both SF offspring are controlled by Wang Wei, founder of SF Holding Co., also called SF Express, which made a backdoor listing in Shenzhen in 2017. The company filed for a second listing in Hong Kong in August, with Goldman Sachs, Huatai Securities and JP Morgan as underwriters.
Logistics leader
SF Express is one China's leading logistics companies with a market value of 193 billion yuan. Its preliminary IPO prospectus for the Hong Kong listing showed it covered 208 countries and regions and owned 95 aircraft and 176,000 vehicles. Like its offspring, its Shenzhen-listed shares have slumped by one-third this year despite posting strong revenue and profit growth last year.
Often called the "FedEx of China," SF Express' share sale could raise up to $3 billion, giving it more fuel in its bid to become a global contender that can compete with market leaders like UPS (UPS.US), Deutsch Post AG (DHL.DE) and FedEx Corp (FDX.US).
Wang is chairman of both of the two smaller listed SF companies, and owns about 60% of each. He was China's third richest man in 2017 when he sported a black windbreaker with his company's logo, blue jeans and running shoes, as he rang the bell at the Shenzhen Stock Exchange for SF Express' backdoor listing. He started the business in the South China city of Shunde near Hong Kong in 1993 with six men and a van doing parcel delivery. At that time the delivery business was still illegal for private companies.
The son of college professors, Wang's family moved to Hong Kong when he was a child, and his parents had to start from scratch because their degrees were not acknowledged in the city that was then a British crown colony. In a rare interview with the People's Daily in 2011, Wang admitted that he had started his business in a gray area, like many entrepreneurs of his generation when China was just starting to widely adopt market-style reforms and allow private businesses.
One of the biggest costs for all three listed members of the SF family is labor. Of SF Intra-city's 5.3 billion yuan in cost of revenues in the first half of the year, 5.2 billion yuan came from labor outsourcing costs.
Neither SF Express or SF REIT break out their labor costs, but such costs are also likely quite high. After all, somebody needs to drive SF Express' 176,000 vehicles, ranging from trucks to scooters, that are a fixture on streets across China. SF REIT's labor costs come from the large workforces need to operate its warehouses.
The main factor holding back SF Express from moving ahead with its Hong Kong IPO, and depressing its two offspring's shares, is undoubtedly the current lack of market appetite for China stocks, especially ones with a high consumer exposure. Another factor may be rising wages for SF Express' thousands of employees, which are also gradually making China less competitive as a manufacturing base.
Have a great investment idea but don't know how to spread the word? We can help! Contact us for more details.
The Bamboo Works offers a wide-ranging mix of coverage on U.S.- and Hong Kong-listed Chinese companies, including some sponsored content. For additional queries, including questions on individual articles, please contact us by clicking here.
To subscribe to Bamboo Works free weekly newsletter, click here