RLX gets smoked in fourth quarter, but sees clearer air ahead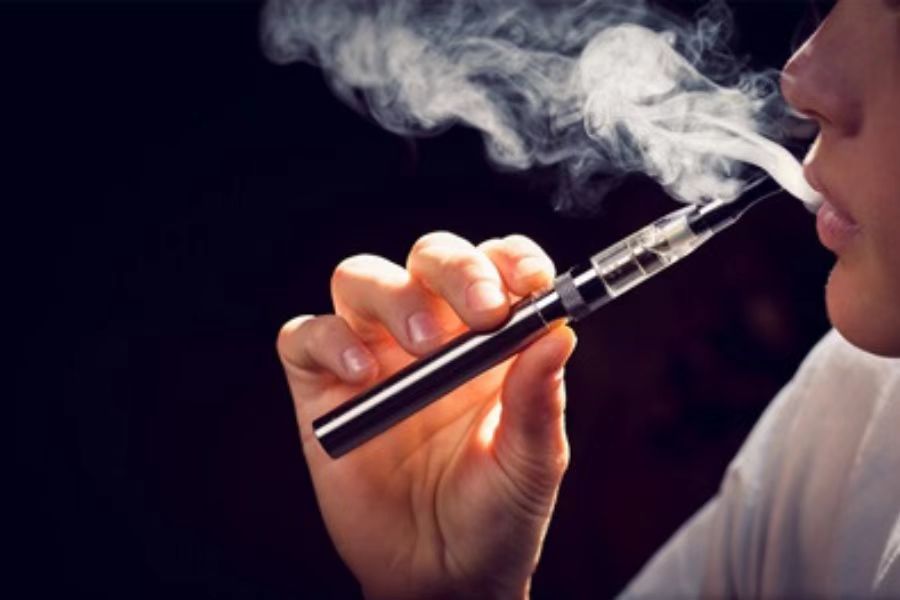 The leading Chinese vaping company's revenue plunged 82% in the last year's final quarter, as it took a double blow from new regulations and widespread Covid disruptions
Key Takeaways:
RLX's revenue plunged 82% in the fourth quarter, capping a year when it was hit by a steady stream of new regulation and a 36% excise tax
The vaping company's stock trades at a premium to its peers, as analysts see its situation stabilizing and revenue declines moderating this year
By Doug Young
After getting severely burned for much of last year, Chinese vaping companies and their investors are looking forward to clearer air in 2023 under a new, well-defined regulatory regime for the young industry.
That appears to be the key takeaway from industry leader RLX Technology Inc.'s (RLX.US) latest financial report released early last Friday. Rather than dump the company's shares after it said its revenue plunged 82% in last year's fourth quarter, investors actually bid up the stock by 15% following the report's release.
The fourth-quarter revenue plunge is about equal to the decline in RLX's stock price since its January 2021 IPO, showing just how far it has fallen over the last two years amid all the changes in its industry. The stock was down by even more late last year, but has rallies about 170% from its all-time low last October.
There's quite a lot happening in this case, so we'll begin by reviewing the confluence of factors behind the huge revenue drop at the end of last year.
Like many other countries, China suddenly decided it was time to start regulate vaping and began announcing a number of new rules last March and April. All companies were required to get licenses to manufacture and sell their products, including rechargeable and disposable vaping devices, vaping cartridges and vaping liquids.
New product standards were also introduced, meaning companies had to abandon all of their previous products and develop completely new lines to conform with the standards. That element shows up in RLX's product development costs, which soared more than seven-fold to 130 million yuan ($18.8 million) in the fourth quarter from just 17.8 million yuan a year earlier.
The other major new regulation required vaping companies to only sell tobacco-flavored products. That was a huge change, since other types, such as fruit flavors, previously accounted for about 90% of the market. Last, but not least, China's tobacco regulator – which also happens to be closely tied with its state-owned tobacco monopoly – rolled out a 36% excise tax on all vaping product sales.
The new regulations went into effect on Oct. 1, and the excise tax kicked in a month later on Nov. 1, creating a "perfect storm" of new regulation and added costs in the fourth quarter. Then there were China's extensive Covid-control measures that resulted in widespread lockdowns and store closures nationwide in October and November. That's important for RLX, since the company derives all of its sales from brick-and-mortar shops after China banned online sales of vaping products in 2019.
The 82% revenue decline for the quarter seems quite understandable with so many changes occurring all at once, as does RLX's summary statement in its latest report.
"2022 was a year full of unprecedented challenges," said co-founder and Chairman Wang Ying, who also uses the English name Kate. "A combination of Covid-related disruptions and the introduction of a substantial package of industry regulations and policy updates throughout the year impacted the e-vapor sector and our operations."
Better times ahead?
The positive share reaction to what otherwise looks like a very dire report seems to indicate investors believe that better times lie ahead for the company. The number of analysts covering the company has dropped quite sharply, with only three attending its investor call. Two of those polled by Yahoo Finance believe RLX's revenue will decline about 25% this year from 2022 levels, which would mark an improvement over last year's 37% decline.
Investors have given RLX a premium over other vaping stocks, probably because it's China's clear leader in a sector that, while diminished, will have a clearer future now that all the new regulations are in place. Its shares trade at a price-to-earnings (P/E) ratio of 19, compared with about 14 for Huabao International (0336.HK) and Smoore International (6969.HK), which both make and sell vaping device components to both Chinese and non-Chinese customers.
Not surprisingly, China Tobacco International (6055.HK), the international arm of China's tobacco monopoly, trades higher than all the vaping stocks with a P/E ratio of 23, reflecting the premium for its direct ties to the industry's regulator.
Next we'll dive into the latest financials in RLX's report, which mostly reflect the many factors we've previously described. The 82% revenue decline to 340 million yuan followed smaller declines throughout the year, resulting in the 37% annual decline.
The company's operating expenses more than doubled to 620 million yuan for the quarter from 232 million yuan a year earlier, which included the big jump in R&D spending. But much of the increase was due to share-related compensation, and excluding that factor, the company's operating expenses actually fell 23% year-on-year for the quarter.
Its gross margin improved to 43.6% for the quarter from 40.2% a year earlier, even as RLX took a hit from the introduction of the new excise tax on Nov. 1. That seems to show the company is being run quite efficiently as it transforms to the new reality. RLX reported a loss of 250 million yuan for the quarter, reversing a 537 million yuan profit a year earlier. But excluding share-based compensation, it reported a 250 million yuan non-GAAP profit for the quarter, down by roughly half from the 537 million yuan a year earlier.
While the Covid restrictions that hurt its fourth-quarter sales are now in the past, one other element to consider is the presence of some non-tobacco flavored products that remain on the market despite officially becoming illegal on Oct. 1. RLX says those products are hurting its sales for now, but added it expects China to gradually clamp down on such products over the year ahead.
The bottom line seems to be that the fourth-quarter marked the peak of an extremely difficult period for RLX and its peers. The company could well be set for a strong rebound in the year ahead now that the regulatory air is finally clear and Covid restrictions are in the past, even if it still faces a long road to return to its previous size.
To subscribe to Bamboo Works free weekly newsletter, click here