Premium Tea Superstar HeyTea Brews Up Frothy Valuation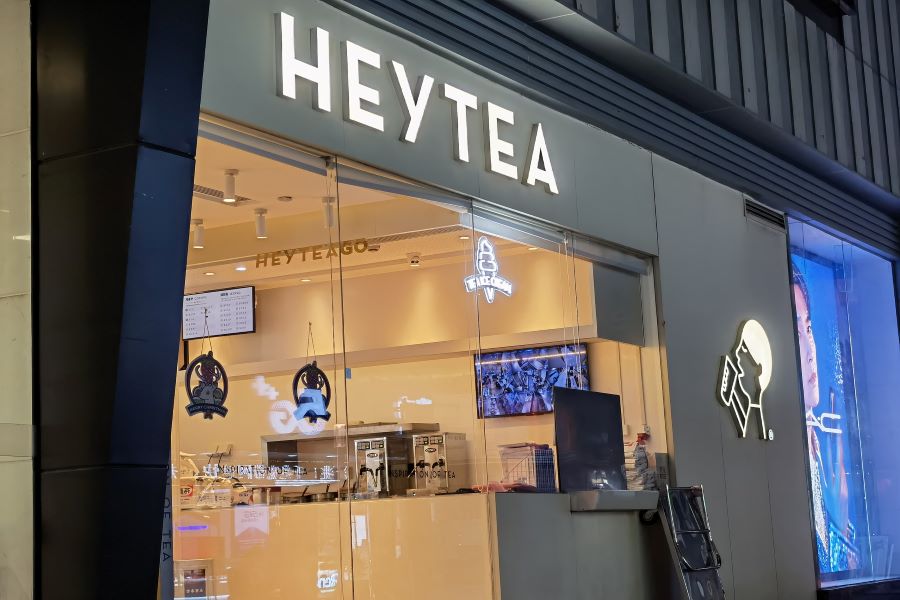 'Celebrity' tea shop operator was worth $9.3 billion after latest funding that raised $500 million
Key points:
HeyTea's latest $500 million fundraising and $9.3 billion valuation represent a significant premium to recently listed smaller rival Nayuki
Premium tea represents recent trend of 'celebrity' shops where people go as much to be seen and take photos as to drink flavored teas
By Doug Young
The apex of summer is a good time for a closer look at premium iced teas, which are in the headlines with the latest major fundraising by "celebrity" chain, HeyTea.
More precisely, China's leading chain for upscale tea has just brewed up a fresh $500 million in new funding, with leading names including IDG, Tencent, Hillhouse Capital, Coatue and Sequoia all scrambling to buy into the nation's latest food and beverage craze, according to media reports.
This fundraising comes just weeks after HeyTea's biggest rival Nayuki Holdings Ltd. (2150.HK) raised an even larger HK$5.1 billion ($656 million) in a Hong Kong IPO that made it China's first premium tea maker to list. But Nayuki's IPO has already lost much of its froth, with the stock down by nearly a third in the three weeks since its trading debut.
We'll return shortly to HeyTea, Nayuki and the broader market for premium teas in China. But first we'll take a very brief trip through history to see how we got to this point.
Tea is arguably China's most famous drink, with a history dating back thousands of years. Until quite recently, it was almost always consumed hot, and came in a wide range of varieties that fell mostly into the categories of green and black teas.
Foreigners made some early variations on the traditional tea formula over the years, including iced, lemon and milk varieties, even as China largely stuck to its tried-and-true formula of hot tea with few or no additives. But all that began to change about a decade ago when milk teas and then teas using chewy tapioca bubbles began to go mainstream.
It's probably no coincidence that the rise of these tea variants coincides with the arrival of upscale coffee houses led by Starbucks, which began to make drinking such beverages as much an "experience" as a way to quench one's thirst. Imitating their pricey coffee peers, tea makers began to go upscale as well with a variety of new flavorings like caramel syrup and cheese foams, many served cold rather than in the traditional hot form.
HeyTea has its origins in that movement, founded in south China's Guangdong province in 2012. From its original store in the city of Jiangmen the chain had grown to about 820 stores as of July this year, according to one media report. The company's hip-and-trendy outlets have become "celebrities" in their own right, to the point where they sometimes have big lines outside of people just as eager to have their photos taken inside as to drink the big cups of flavored tea typically costing about the same as a cup of Starbucks coffee.
At the center of the craze is a Chinese tea market that was worth about 410 billion yuan ($63.4 billion) in 2020, accounting for about a third of China's non-alcoholic beverage market, according to third-party data cited in Nayuki's recent IPO prospectus. Premium teas like the ones made by HeyTea and Nayuki fall into the "freshly made tea drink" subcategory, which is growing the fastest and is expected to make up 42% of the market by 2025, up from just 16% in 2015.
In the Spotlight
Of course such trends come and go quite quickly in today's China, which means one of the big challenges for HeyTea, Nayuki and their peers will be staying relevant whenever the flavored premium tea craze inevitably fades.
But for now, at least, HeyTea's star is shining quite brightly. Its latest funding values the company at about 60 billion yuan, or about three times Nayuki's current value. Financial information on HeyTea is scant since the company is private. But on the basis of store count, HeyTea's current stable of 840 shops is about 22% bigger than the roughly 650 shops Nayuki was on track to have by the middle of this year.
That would seem to imply that HeyTea commands a significant premium compared with the smaller Nayuki in terms of company valuation. Though here we should note that all the information about HeyTea's latest fundraising comes from local media reports and not the company itself. Those reports were quite detailed, leading us to think they are probably roughly accurate, even though a HeyTea spokeswoman said the company doesn't usually announce new fundraising.
Here we should also note that valuations given for this kind of private company in China are also notoriously inflated, and it does seem like a value twice that of Nayuki – rather than three times – might be more reasonable for HeyTea at this point. The company has previously said it has no plans to go public this year, so we may have to wait a while longer to see how the broader market really values this kind of company.
All that said, we'll close out with a closer look at Nayuki and its post-IPO performance, which should provide some clues on how HeyTea and the premium tea market might develop in the future.
As we've already said, Nayuki's shares have fallen by nearly a third from their IPO price of HK$19.80 to close on Thursday at HK$13.68. That's not all that surprising since Nayuki is losing money. Its same-store sales are also declining as it moves beyond the most prime locations to less-desirable ones in an extremely crowded and competitive market.
Nayuki's revenue is still growing, up about 22% to 3.1 billion yuan last year. But that's mostly because it is expanding very quickly, with 300 new stores planned for this year to complement its existing 500 at the end of 2020. On a same-store basis, the company's daily sales have dropped from 30,700 yuan in 2018 to 27,700 yuan in 2019 and just 20,200 yuan last year during the Covid-19 outbreak, according to its prospectus.
In terms of valuation, two good comparisons might be trendy restaurant operators Haidilao and Jiumaojiu, which trade at price-to-sales (P/S) ratios of 7 and a lofty 13.8, respectively. Nayuki trades at a P/S of 6.8, which actually looks quite reasonable when one considers its losing money, compared to Haidilao and Jiumaojiu that are both actually profitable.
We'll have to wait for more financials before we can say too much more about HeyTea and whether its latest premium valuation is justified. A 2022 IPO does seem quite likely, as the company and its investors will want to take advantage of the premium tea craze before it inevitably peaks and starts to fade.   
To subscribe to Bamboo Works free weekly newsletter, click here