New school day dawns for New Oriental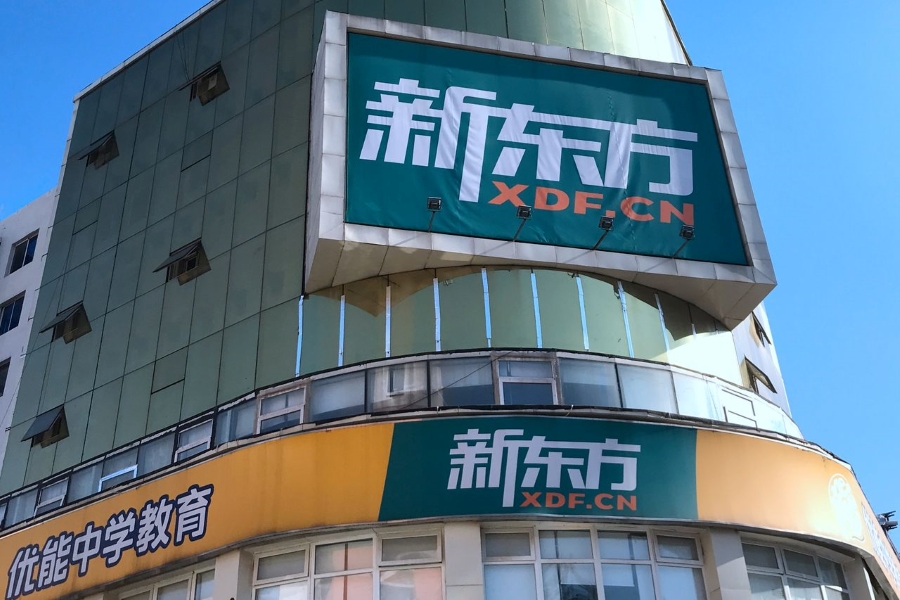 The former private education services provider's latest results show its core education business is bouncing back from a major government crackdown two years ago
Key Takeaways:
New Oriental's revenue rose 22.8% in its latest fiscal quarter, as it swung back to the black with an $81.65 million profit
The company's test preparation and overseas study consulting businesses grew, while its intelligent learning systems and devices business also performed well
By Molly Wen
When the powers that be close one door, they often open another.
That's the latest lesson coming from education and training services giant New Oriental Education & Technology Group Inc. (EDU.US; 9901.HK) in its latest quarterly earnings report. The company and many of its peers suffered a sudden loss of much of their business two years ago after China banned private companies from providing most after-school tutoring services for K-12 students.
But the country's loosening of its stiff Covid restrictions starting late last year has fueled a huge jump in demand for study abroad programs, which took a big blow over the past three years during the pandemic. That recovery, combined with similar rebounds in other forms of education not affected by the crackdown, have come as welcome relief to the ailing private education sector.
"We continued to make solid progress in all key business lines given a favorable environment of recovery as the pandemic subsides," New Oriental's founder and Chairman Yu Minhong said in the company's latest results released last week for its third fiscal quarter through February.
New Oriental's revenue for the period rose 22.8% year-over-year to $754 million, well ahead of the 14% to 17% growth it forecast just three months earlier, primarily due to strength for its newer education businesses, as well income from its recently launched livestreaming e-commerce business.
The strong revenue helped the company return to the black with an $81.65 million net profit for the latest quarter, reversing a $122 million loss a year earlier.
New Oriental also turned up its "lower cost and higher efficiency" strategy during the period, helping to lower operating costs and expenses by 9% to $688 million. Those savings were primarily due to a 25.4% drop in general and administrative expenses to $216 million as a result of a reduction in the company's number of facilities and employees.
The company said the good times will keep coming, predicting its revenue will grow by an even stronger 53% to 57% year-over-year in the next fiscal quarter through May to between $802 million to $823 million.
Investors were excited to see New Oriental finally back in growth territory after five quarters of revenue declines. Its stock jumped 9% the day of the announcement in New York, and surged by an even larger 14.1% in Hong Kong over the next two trading days to close near a 52-week high last Friday. Investor confidence is clearly returning to the company after a difficult period.
Education business revival
New Oriental's original education business, minus the tutoring services banned in the crackdown, showed clear signs of picking up with the end of China's strict Covid restrictions last December. Chairman Yu said revenue from test preparation and overseas study consulting services grew about 13% and 5 %, respectively, in the latest reporting quarter.
Citigroup attributed strong demand for studying abroad for the growth in the company's test preparation and overseas study consulting services businesses. New Oriental's operating margin returned to positive territory at 8.8% for the quarter, representing a huge improvement from the negative 23.0% margin in the same period a year earlier.
Following the 2021 crackdown, New Oriental divested its K-9 tutoring business in all subjects, which was previously its biggest breadwinner, and shifted to services for college students preparing for exams and study abroad. Meanwhile, it has also been nurturing new revenue sources such as training outside core K-12 curriculum subjects, as well as intelligent learning systems and livestreaming e-commerce.
As of Feb. 28, it had launched courses outside the now-banned core K-12 curriculum subject matter in more than 60 cities, with 218,000 students enrolled during the quarter, according to its latest results. Such courses focus on other types of education like arts, science and sports, and also offer study tours and education camps.
Its newer education businesses also include intelligent learning systems and devices, which leverage New Oriental's years of teaching experience, as well as its accumulated data and technology, to provide customized digital learning solutions. At the end of February, its intelligent learning systems and devices were deployed in about 60 cities with 108,000 active paying users.
The two newer education businesses now contribute the majority of the New Oriental's education business revenue, with retention rates of more than 60% and overall profit margins of more than 10%, said CFO Stephen Yang on the company's earnings call.
New Oriental's number of offline schools and learning centers also rebounded slightly to 712 at the end of February from 708 three months earlier. The company plans to add a handful of new learning centers in several major cities and expand classrooms in some existing learning centers, Yang said
E-commerce on the decline?
New Oriental's latest results did not include detailed contributions for East Buy Holding (1797.HK), the company's livestreaming e-commerce unit that made headlines last year with some early initial success. CEO Zhou Chenggang only said that East Buy yielded "millions of yuan in revenues" and had built up a loyal customer base in the first three quarters of its fiscal year.
In January, East Buy released its own financial report for the first half of its 2022-23 fiscal ended last November, which covered sales after the launch of its livestreaming e-commerce business. In the six months, the gross merchandise volume (GMV) of its livestreaming e-commerce business reached 4.8 billion yuan ($695 million), with 70.2 million paid orders on Douyin, the Chinese version of TikTok. During the period, the company's overall revenue reached 2.08 billion yuan, up 263% year-on-year, while it returned to the black with a 585 million yuan net profit, compared with a net loss of 109 million yuan a year earlier.
But after launching with a bang, East Buy's livestreaming e-commerce business seems to be losing steam. A research report by Tianfeng Securities, citing industry data, showed East Buy's GMV in January fell 16% from the previous month, followed by a 5% sequential decline in February and another 9% drop in March. As a relative newcomer to the highly competitive livestreaming e-commerce space, East Buy may be losing traffic due to high turnover of its show hosts, as well as reputational damage due to product quality or quality control issues.
New Oriental's New York shares currently trade at a price-to-sales (P/S) ratio of 2.8 times, slightly lower than peer TAL Education's (TAL.US) 2.9 times. Its strong revenue growth could be at risk if East Buy's e-commerce business can't maintain its early strong momentum. But its newer education businesses look like a more solid bet, drawing on an area where the company has a clear edge over many of its younger rivals.
To subscribe to Bamboo Works weekly free newsletter, click here