New Horizon's Sales Surge as China Promotes Early Cancer Detection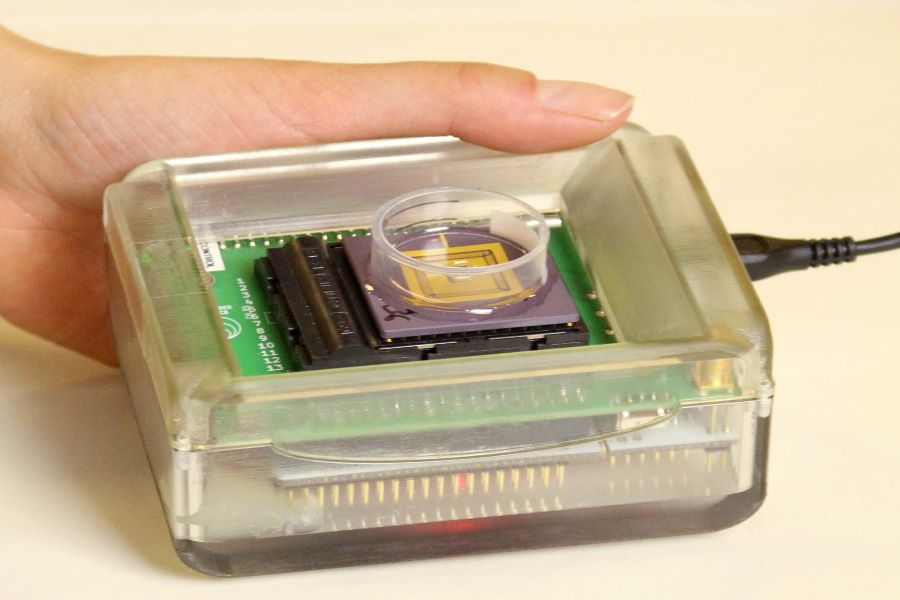 Company's first-mover advantage in at-home colorectal screening and China's focus on early detection have turbocharged sales, though valuation remains frothy
Key takeaways:
New Horizon's first-half revenues jumped more than fourfold, assisted by government early cancer testing drive
Stock volatility could owe to frothy valuation, as well as unclear timeline for profitability
By Richard Barbaroza
New Horizon Health Ltd. (6606.HK), a Chinese maker of self-administered tests for colorectal cancer, has reported a more than fourfold increase in revenue in the first half of 2021, buoyed by the government's recent campaign for early diagnosis of the disease.
The company, which was founded in 2015, has seized on its first-mover advantage with two self-administered tests that are the only ones of their kind in China. But despite its surging sales, New Horizon's shares have tumbled since June after an initial surge following their February Hong Kong IPO.
These days the stock has become quite volatile as investors try to figure out how to value a company that is clearly benefitting from being first out of the gate for its product type in China, but also one whose sales are still dwarfed by much larger competitors.
The company is one of a handful of Chinese startups, which also includes Burning Rock Biotech and Genetron Holdings, focusing on devices that can detect cancers in their early stages when they often show few symptoms and are more easily treatable.
That includes colorectal cancer, China's fourth most common cancer, which has a 5-year survival rate of nearly 100% if caught early, according to a May report by AEI Research. By comparison, such cancer when detected late at stage IV has a far smaller 5-year survival rate of only 10.8%. While colorectal cancer screening in China is available, the nation's penetration rate for such tests was only 16.4% in 2019 for at-risk groups. The U.S. rate was far higher at 60.1%, according to the International Agency for Research on Cancer.
Aiming to improve the situation, Beijing has launched its own cancer prevention targets under the Healthy China 2030 plan, which states that the overall 5-year survival rate for cancer should be no less than 43.3% and 46.6% by 2022 and 2030, according to AEI Research.
New Horizon has seized on those targets by becoming the first company in China to receive approval from the National Medical Products Administration (NMPA), the nation's medical regulator, for its two self-administered cancer diagnostic products: ColoClear and Pupu Tube.
Pupu Tube was approved in March 2018 and is a stool-based Faecal Immunochemical Test (FIT) colorectal cancer screening product designed to detect hemoglobin biomarkers associated with colorectal cancer. The test sells for less than 100 yuan ($15.43), making it appealing for those unable or unwilling to get a traditional colonoscopy that is far costlier and more invasive. The user takes the sample and can receive the results almost immediately at home, with China's market estimated at 633 million people.
ColoClear is a non-invasive FIT-DNA test that detects DNA and hemoglobin biomarkers associated with colorectal cancer and precancerous adenoma and was approved for use last November, becoming the only such test currently approved in China. The test requires users to take their own stool sample and return it to the company for testing, with results available in five days. It targets a high-risk colorectal cancer population in China that the company estimates at 120 million people.
The government has helped companies like New Horizon by including their screening tests on recommended lists, and holding events like the first-ever national cancer screening awareness day in April this year. That's provided a nice boost for test manufacturers by raising awareness both among the general population and medical practitioners.
Seizing the Opportunity
New Horizon has smelled the opportunity with its unique position in the market, and is moving quickly to establish itself before rivals enter with competing products. In the first half of this year, the company more than doubled the size of its marketing team to 270 people – roughly half its total workforce – causing its cost of sales to jump more than 130% to 19.2 million yuan, according to its interim report released last Friday.
The company's expanded marketing drive over the last six months has included new partnerships with global behemoths such as Covid-19 vaccine maker AstraZeneca, as well as JD Health, Ping An Healthcare and China's post office. Those efforts have helped raise awareness of colorectal screening and boosted penetration for direct sales to consumers.
All the effort has yielded strong growth for the company's top line revenue, though the figure is still relatively small. New Horizon reported 43.9 million yuan in revenue for the six months ended June 30, compared with 10.5 million yuan for the same period last year. Pupu Tube accounted for two thirds of the total, and ColoClear most of the rest.
Shipments of ColoClear jumped nearly fivefold in the first half of the year compared with the same period of 2020 to approximately 121,500 units. Those for the Pupu Tube reached about 1.9 million units, a more than sixfold increase year-on-year.
The company's net loss dwarfed its modest revenue, swelling to 2.89 billion yuan from 552.9 million yuan a year earlier. It attributed the ballooning figure mostly to nonoperational charges related to lower value of its preferred shares, which contributed 2.76 billion yuan to the company's loss during the period.
New Horizon's shares rallied strongly in the four trading days after the results announcement, gaining nearly 30% over that period.
But the shares have offered a far more mixed performance since it raised HK$2.19 billion ($281 million) in its Hong Kong IPO early this year. At its current level, the stock is nearly double its IPO price of HK$26.66, but about half of its all-time high reached in June.
The volatility could owe partly to a lofty price-to-sales (P/S) ratio, which gives an indication of how much investors are willing to pay per dollar of sales. That figure stands at a sky-high 194 for New Horizon, compared with a far more normal 2.3 for Genetron and 4.4 for Burning Rock, according to data compiled by Yahoo Finance.
The high ratio indicates investors are clearly looking for strong revenue growth from the company, perhaps even more than what it reported, which was big on a percentage basis but still relatively small in absolute terms.
By comparison, Genetron, which was established in 2013 and makes in vitro diagnostics (IVD) devices to detect liver cancer, is far bigger. Its first-half sales of 232.5 million yuan dwarf New Horizon's, though it also has yet to turn a profit.
Likewise for Burning Rock, which currently sells a next-generation sequencing (NGS) test that gives a genetic profile of patients, enabling physicians to more accurately select appropriate therapies for late-stage cancer patients. Burning Rock previously posted first-quarter revenues of 106.6 million yuan – more than double New Horizon's total for the entire first half of the year.
To subscribe to Bamboo Works free weekly newsletter, click here