Missing the Covid boat, Junshi stumbles back to old business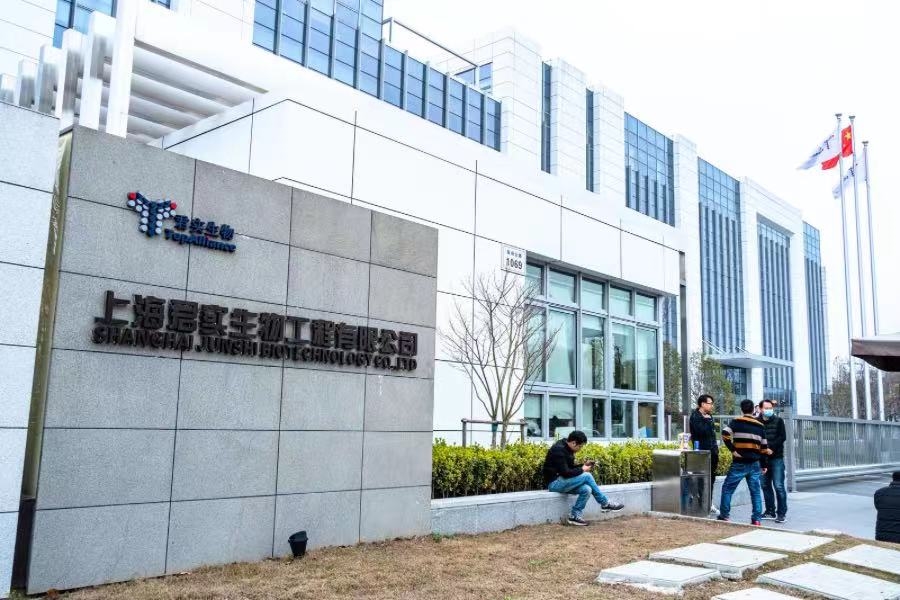 Despite developing an oral drug to treat Covid, the biotech company's revenue fell sharply and its net loss widened by nearly 40% in the first quarter
Key Takeaways:
Junshi Bioscience's revenue fell 60% in the first quarter, as poor performance for its new oral Covid drug failed to offset the loss of big gains from licensing deals in the year-ago period
The company will return to the drawing board by refocusing on its products in development and adding new indications for existing products
By Emily Chan
Call it the Covid boom that never came.
Shanghai Junshi Biosciences Co. Ltd. (1877.HK; 688180.SH) was expecting a revenue bump from its oral Covid drug that won approval from China's drug regulator at the start of the year. But the lift never came as the pandemic faded and other similar products entered the market, forcing Junshi back to its drawing board of pre-Covid drugs.
The company kicked off 2023 with a 59.5% revenue decline to 255 million yuan ($37 million) in the first quarter, extending a 64% revenue drop for all last year, according to its latest quarter results. Its bottom line didn't look any better, with its net loss widening 37.1% to 543 million yuan.
Approval for its oral Covid drug VV116 on Jan. 29 after more than two years of development got many investors excited, as the drug came to market not long after a wave of infections swept China with the nation's ending of its strict Covid restrictions. But the drug failed to gain much traction, and is unlikely to become a blockbuster as the pandemic fades.
The company's most recent quarterly revenue came mainly from domestic sales of its other products. The big majority came from its core product, PD-1 Toripalimab "Tuoyi," for the treatment of various malignant tumors, whose sales jumped 77.8% to 196 million yuan. The company's revenue decline in the latest quarter also owed to big gains a year earlier from money paid under licensing partnerships with global companies Eli Lilly (LLY.US) and Coherus BioSciences (CHRS.US).
Junshi's shares fell 5.7% in the four trading days after its results were announced at the end of April to close last Friday at HK$28.95, continuing a downward trend this year. The stock trades at a price-to-sales (P/S) ratio of about 8.6 times, about half of BeiGene (BGNE.US; 6160.HK; 668235.SH) at 18.5 times, and also lower than Innovent Biologics (1801.HK) at 10.8 times, indicating investors are relatively conservative on the company.
Before its independently developed main breadwinner Tuoyi became the first domestically developed PD-1 monoclonal antibody approved in China, Junshi labored for most of its life under heavy R&D costs, low revenue and expanding huge losses. Tuoyi's approval in 2019 marked a turning point, finally providing a solid recurring revenue source by racking up 774 million yuan in sales in its first year.
The company's "golden days" followed in 2020 and 2021, when its revenue reached 1.59 billion yuan and 4.02 billion yuan, respectively, largely due to the two licensing agreements with Eli Lilly and Coherus.
Big collaborations
Junshi and Eli Lilly began their collaboration in 2020 just as the Covid pandemic was sweeping the world. The Chinese company exclusively licensed Lilly to make and sell the Covid neutralizing antibody JS016, jointly developed by Junshi and the Institute of Microbiology at the Chinese Academy of Sciences, outside of Greater China. Lilly agreed to an initial payment of $10 million and milestone payments of up to $245 million, plus a double-digit percentage of net sales. The deal increased Junshi's revenue from new licensing to 405 million yuan in 2020, accounting for more than 25% of its total that year.
The partnership with Coherus followed a year later in February 2021, with Coherus acquiring an exclusive license for Toripalimab in the U.S. and Canada for an initial payment of $150 million and milestone payments of up to $380 million, plus a 20% share of product sales. At the same time, the company also recorded significant milestone revenue in 2021 as Lilly won approval for JS016 in the U.S. for the urgent treatment of patients with mild to moderate Covid. The two major agreements helped Junshi's revenue from licensing deals soar to 3.34 billion yuan in 2021.
But the bloom quickly began to fall from those roses.
In January 2022, the U.S. drug regulator narrowed the scope of emergency licensing applications for JS016, saying it had no strong efficacy for treating Omicron, then the dominant Covid strain. That led to a significant drop in Junshi's revenue from that deal.
Coherus paid a one-time fee of $35 million last year to license another Junshi product, its recombinant humanized anti-TIGIT monoclonal antibody (TAB006/JS006), and committed to pay cumulative milestone payments of up to $255 million and 18% of sales revenue. But that wasn't enough to stop Junshi's revenue from plummeting 63.9% to 1.45 billion yuan last year, representing its first sales contraction since 2019.
Investors were hoping VV116, the oral Covid drug, would become a new growth engine for Junshi after more than two years of development, offsetting the loss of revenue from the licensing deals. But the product had missed its best window of opportunity by the time it was approved in January this year, as the first wave of mass Covid infections had already passed following China's relaxation of its anti-Covid policies in December. As a result, VV116 recorded a paltry 11.5 million yuan in sales during the first quarter, far less than the 880 million yuan spent on its development.
Despite the setbacks, mainland Chinese analysts are still generally positive on Junshi. Sinolink Securities said the company's first quarter results were within its expectations, and that PD-1 Toripalimab is likely to make further advances overseas and become a new growth driver as new indications get added.
Sinolink also pointed out that Junshi has a rich pipeline of products, with 30 in clinical trials and more than another 20 in preclinical stages, including a PARP inhibitor monotherapy for patients with FIGO stage III/IV epithelial ovarian cancer, fallopian tube cancer and primary peritoneal cancer, all of which met primary study endpoints in their mid-phase 3 clinical analysis.
Meantime, its PCSK9 monotherapy for primary hypercholesterolemia and mixed PCSK9 monoclonal antibody for primary hypercholesterolemia and mixed hyperlipidemia have also met primary study endpoints in two phase 3 clinical studies. The company expects to soon file a marketing application for the former, and has already submitted one for the latter. Accordingly, Sinolink maintains a "buy" rating on Junshi and forecasts its revenue will reach 2.28 billion yuan this year, up 57% year-over-year.
Guosheng Securities pointed out that Junshi currently has four products for sale. In addition to the more popular Tuoyi and VV116, its Adalimumab injection, which was approved last year to treat rheumatoid arthritis, ankylosing spondylitis and psoriasis, also recorded sales of 29.08 million yuan in the first quarter. At the same time, Guosheng noted the company's administrative expenses decreased by 36.7% year-on-year for the quarter, reflecting its cost reduction strategy is kicking in, prompting the brokerage to maintain a positive outlook on the company.
To subscribe to Bamboo Works weekly free newsletter, click here