Miniso Exports Its Impulse Shopping Experience to Italy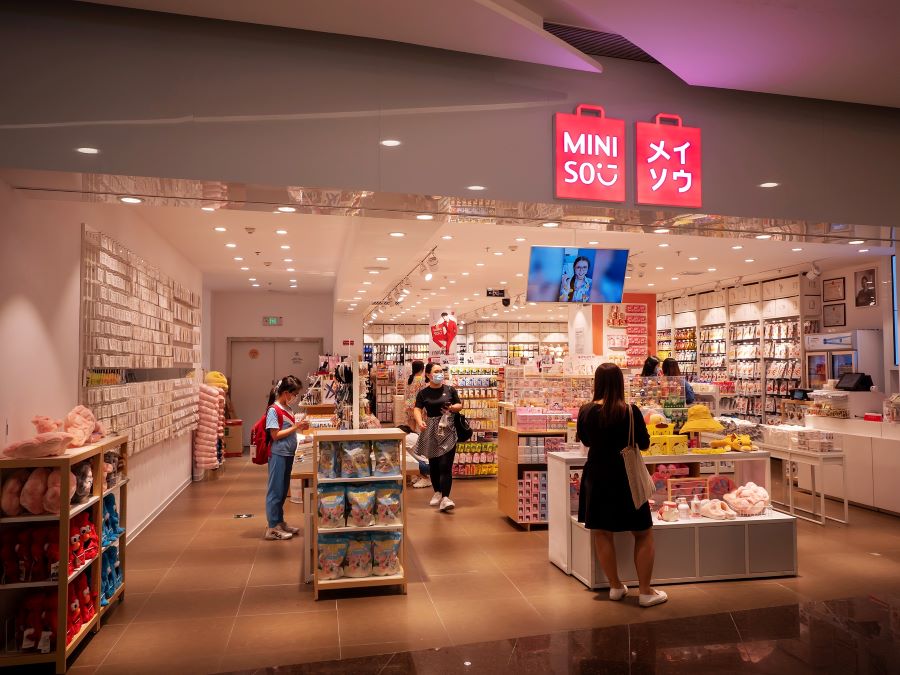 Japanese retail imitator opens its first shop in Rome ahead of expected rebound in its large global operations
Key Takeaways:
Miniso's latest move into Italy is part of a rapid global expansion for its chain of small, flashy stores targeting impulse buyers
The company's high valuation compared reflects its bigger growth potential, and its positioning as a hybrid retail-entertainment shopping venue
By Doug Young
Branded variety retailer Miniso Group Holding Ltd. (NYSE: MNSO) deserves credit for staying the course throughout the global pandemic, even as Covid-19 wreaked havoc on its business that relies on shopping at its brick-and-mortar stores. In keeping with that approach, the company has just announced the latest step in its global expansion, with the opening of its first store in Italy.
Timing hasn't been kind to this company, whose flashy chain of little stores selling a wide range of knickknacks and doodads looks suspiciously like a highly scaled-down version of famous Japanese retailer Muji. The company made its New York IPO last October at the height of the global pandemic when many of its large pool of international stores were still closed or operating on limited hours.
Still, Miniso is keeping its eye squarely focused on the future with this latest expansion, laying the groundwork for what it hopes will be a strong recovery once the pandemic recedes.
The company announced its official entry to Italy on Monday with the opening of a store in central Rome and three more to come by the end of this month. Miniso pointed out it was forced to limit customers in the small space to no more than 14 due to pandemic-control measures, adding that people were lined up outside to take a look.
We should probably be slightly skeptical here, since it would be quite easy to pay people to form such a small line, which Miniso backed up by providing a photo. But there's always the curiosity and pandemic-related cabin fever factors to draw a small crowd. And the 14-person limit is so low that it wouldn't take too much to attract that kind of small crowd anyhow.
Those minor facts aside, let's step back and look at Miniso's somewhat unique business model. The company is chasing a group of mostly impulse buyers lured into its attractive stores while outside doing other things. In that sense, these stores might be better compared to entertainment venues like movie theaters, where people go just to get out of the house and have fun.
That's quite different from a more destination-style store like a Walmart or Carrefour, where people go to buy specific things and which are under growing pressure from e-commerce.
The second key element of Miniso's business model is its use of franchise partners to open most of its stores, both inside China and for its growing global presence. In the case of Italy, its partner is also a clothing distributor that supplies several local chains. That lowers both the company's costs and risks to let it focus on designing stores and maintaining the right product mix for each market.
Last there's the price factor, with 80% of the products at the new Italian store priced "within the 7 euros range," according to the announcement. That means one or two items costs about the same as the price of a movie ticket, reinforcing the notion that a trip to Miniso can be seen as a form of low-cost entertainment masquerading as shopping.
Global Expansion
Unlike other Chinese retailers that do most of their business at home, Miniso has been one of the few that has found quite a bit of success outside China. The company says it operates in 80 countries and regions outside its home market, though its prospectus last year shows it still gets about two-thirds of its revenue from China.
Its latest earnings report showed its international store count was about 40% of its total of 4,514 shops as of Dec. 31, unchanged from a year earlier, though the non-China ratio was growing before that. Much of the global expansion has been focused on developing markets, making the move into Italy slightly more significant due to its status as a more lucrative developed market. At the time of its IPO last October, the company was getting just 1.3% of its revenue from Europe.
Miniso took a big pandemic-related blow in the final three months of last year, with revenue down 18.1% to about 2.3 billion yuan ($352 million). Revenue for its international operations tumbled by an even bigger 51.3% to 463 million yuan as much of the world was under Covid-related restrictions. Miniso added that revenue from China, where the situation had largely returned to normal by the end of last year, was roughly flat year-on-year.
Looking ahead, the company gave a strong forecast for the current quarter, predicting revenue would rise between 35% and 47% year-on-year. That's not too surprising considering most of its China stores were closed in two of the first three months of 2020 as severe restrictions were imposed on the country's retailers at the height of its Covid outbreak.
In terms of bottom line, Miniso managed to eke out a small profit in the final three months of last year as most of its stores in China returned to more normal conditions, after it posted a large loss in the previous quarter.
The company's stock moved steadily higher after its IPO last year and was once as much as 75% ahead of its listing price on bullishness about its relatively unique positioning and growth story. The shares have given back some of that since then, but are still up by nearly 40% from their listing price.
Analysts see the company returning to a profit this year that would give it a relatively high price-to-earnings (PE) ratio of nearly 90, though that number would drop to about 40 based on profit forecasts for 2022. By comparison, bigger, more established retailers like Walmart currently trade in the 15-30 range, reflecting their slower growth potential.  
To subscribe to Bamboo Works weekly newsletter, click here