Mild Manner Coffee Takes on Starbucks in China With 'Street Coffee'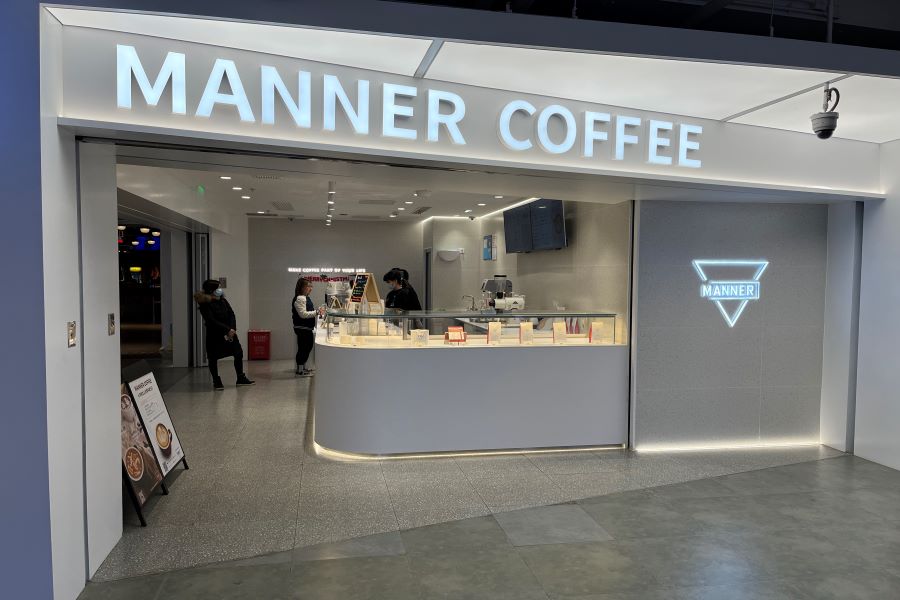 Newer chains like the ByteDance-backed startup are using small-store format to change the big game in China's vibrant coffee market
Key takeaways:
Manner Coffee is at the forefront of a new generation of boutique Chinese coffee chains that are attracting major investment dollars
Newcomers are challenging Starbucks with small-store format that slashes rent, labor costs
By Jose Qian
China's booming coffee business has made it the second most important market for global giant Starbucks (SBUX.US), behind only its home U.S. market. But it's also providing fertile ground for new and innovative players catering to local preferences. One of the latest in that group is Shanghai-based-boutique chain Manner Coffee, which, together with other similar homegrown names, are reshaping country's coffee-drinking landscape.
This year alone has seen 16 financing events in China's coffee sector, with more than 5 billion yuan ($784 million) pouring into the space. Major fund recipients include Manner, M Stand and Seesaw, which have collectively raised more than 3 billion yuan. Even the scandal-tainted Luckin Coffee (LKNCY.US), which was delisted from the Nasdaq last year after being exposed for massive fraud, is once again attracting investor attention.
Founded in 2015 by Han Yulong and Lu Jianxia, a couple from the coastal city of Nantong north of Shanghai, the first Manner shop was a 2-square-meter doorway canopy on a small backstreet in Shanghai's central business district. Dubbed as a seller of "street coffee" priced between 10 yuan and 20 yuan per cup, equal to $3 or less, Manner quickly became popular among young office workers for its less expensive, quality brew.
"The price of coffee is much higher in China than in other countries, and the overall income level of Chinese people is relatively low, and coffee is considered a high-end beverage in China, which is actually unreasonable." Han, a former veterinarian, said in an interview in 2018.
That year, his coffee startup received its first round of 80 million yuan from private equity firm Capital Today. Between December 2020 and June 2021, Manner completed four more funding rounds from smaller names like H Capital and Coatue Management. Its larger backers include Singaporean sovereign wealth fund Temasek, Long-Z Investments, which is affiliated with internet giant Meituan, and tech giant ByteDance, owner of the globally popular TikTok.
The outpouring of investor cash has fueled the company's recent rapid expansion, giving Manner a market value estimated at more than $2 billion.
After expanding slowly in its first three years, Manner's store count rose from just eight at the end of 2018 to 194 this year, with 165 in Shanghai and the rest in Beijing, Shenzhen, Chengdu and other cities. It plans to keep expanding outside of Shanghai by opening up to 100 new stores a year.
Bloomberg reported in October that Manner was considering a Hong Kong IPO as soon as next year, although Han denied the report. Several other companies from China's new generation of premium beverage makers reportedly have similar plans. Leading premium tea chain HeyTea has reportedly hired UBS to potentially underwrite a Hong Kong listing next year, while Goodme and Lelecha are also considering their own IPOs.
Booming consumption
Manner and the other up-and-comers are thriving on a China coffee market that is growing at a healthy 15% per year. Annual per capita coffee consumption has reached 326 cups in first-tier cities like Shanghai and 261 cups in second-tier cities, approaching the level of developed coffee markets.
Shanghai, generally considered China's most international city, has the most coffee shops in the world, according to the Shanghai Coffee Consumption Index report, published by Rising Lab, a research arm of Shanghai business media group Yicai. The report states that Shanghai has nearly 7,000 coffee shops. That compares to 3,826 in Tokyo, 3,233 in London, and just 1,591 in New York.
More than half the coffee shops in Shanghai are considered boutique or artisanal, while major chains like Starbucks and Costa account for 35%, the report added.
Since entering China in 1999, Starbucks has been selling not only coffee, but an American lifestyle experience. By the end of the third quarter of its latest fiscal year, the U.S. giant had 5,135 stores in China, with plans to raise that to more than 6,000 by the end of fiscal 2022. Its savvy marketing, including the lifestyle experience concept, means that many of its shops are often full throughout the day, even as many of its homegrown rivals are far less crowded.
That said, Starbucks reported its same-store sales in the Chinese market grew by just 19% in its fiscal third quarter, down sharply from 91% growth in the previous quarter, due in part to weak year-ago figures from stores affected during early stages of the pandemic in 2020. The company forecast that growth would slow further still to flat year-on-year in its current quarter, showing that new players may be starting to bite into Starbucks' lunch.
Luckin, for example, has reshaped China's premium coffee market by making things more convenient for consumers, providing app-only ordering from minimalist stores that reduce labor and rental costs. Manner uses a similar approach with its own brand of minimalist stores that offer quick ordering and limited seating.
Luckin's stock sank 80% in April last year after it admitted to a 2.1 billion yuan financial fraud, which led to its subsequent delisting from the Nasdaq. Despite that, the company continues to publish financial results, which show it is still a major force in the market as its net revenue roughly doubled year-on-year to 2.35 billion yuan in this year's third quarter.
"This earnings announcement is an important milestone as it enables us to return to normalized financial reporting," Luckin chairman and CEO Guo Jinyi said in a statement. The total number of Luckin stores increased to 5,671 in the third quarter, similar to Starbucks.
Although well behind Starbucks and Luckin in total store count, Manner stores in Shanghai are profitable, according to media reports. The up-and-comer is also way ahead of the competition with its average store valued at $15 million, more than three times the value of a single Starbucks store and 30 times richer than Luckin.
While coffee prices are the same for everyone, rent and labor costs have become a differentiating factor that has attracted investor attention.
In that regard, Manner's Shanghai stores have attained their profitable status in part through extremely low rents for street-level stores that can be as small as 3 square meters. Such low rents have allowed Manner to control costs, with the average cost for opening a store at a modest 150,000 yuan.
The success of Manner and Luckin with their "small stores + more quantity" formula is already becoming a trend in China. Even Starbucks has joined that trend by rolling out its smaller "Starbucks Now" concept stores in the market, showing China is not only a follower but could also emerge as a trendsetter as well in the global premium coffee market.
To subscribe to Bamboo Works free weekly newsletter, click here