Meitu's Latest Earnings Report: Debutante, or Fading Beauty?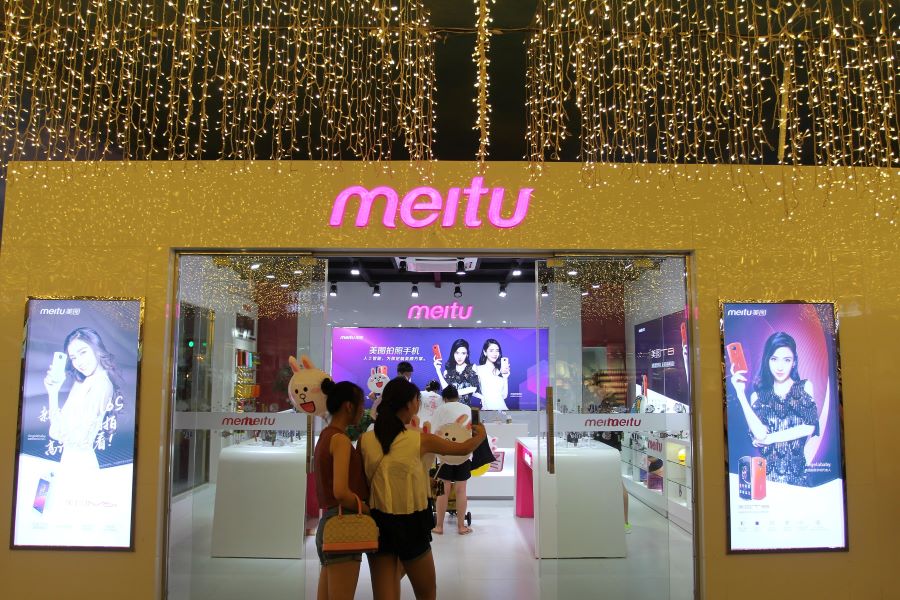 Beauty app operator edges closer to profitability as user numbers fall in shift to quality-over-quantity approach
Key takeaways:
Meitu is focusing its resources on people who spend money on its app rather than simply boosting its user base
The shift could finally help it achieve profitability this year for its core operations.
By Doug Young
The latest earnings report from beauty app Meitu Inc. (HKEx: 1357) contains a lot of moving parts, reflecting a company still in search of elusive profits more than four years after its IPO. Investors clearly have mixed feelings on this company, whose shares have shown recent new life thanks to some promising new developments but still trade at less than a third of their listing price.
The company is trying to convince the world that it can be profitable by focusing on quality over quantity in terms of its user base. It's also finding new revenues by tying up more with China's vibrant pool of internet celebrities, who can help to sell products to Meitu's core beauty-obsessed users. But those new revenues are less profitable than Meitu's other sources since its celebrity partners demand a cut of the spending.
Then there's the company's latest growing bet on virtual currency. This particular move looks somewhat dubious, perhaps designed to generate some quick bucks to pull it into the black.
We'll examine each of those areas shortly and where they might be leading Meitu, which wowed investors in 2016 with its app that lets users modify selfies to make themselves look more beautiful and then share their idealized images with friends. The app was quite popular at the time and seemed like a natural partner for a wide range of related retail partners like makeup and skin care product makers.
Fast forward to the present when the company's appeal is stagnating, or perhaps even fading. The key figure in this regard is its user base. Chinese companies are famous for inflating such figures, and many western peers might argue rightly that one paying customer is worth 1,000 casual users who do nothing but pump up the numbers.
At least superficially, the numbers don't look too good for Meitu. The company's monthly active users (MAU) totaled 261 million at the end of last year, down 7.6% from a year earlier, according to its latest results released after market close on Thursday. The company tried to blame India for the decline, after a number of Chinese apps were banned there last year, including ByteDance's TikTok, on national security grounds
But a deeper dive into the company's report shows its user base in mainland China, which accounts for nearly two-thirds of its total, also fell by 6.1% to about 163 million. That said, 163 million is certainly nothing to sneeze about, and Meitu did take the opportunity to point to its recent quality-over-quantity approach.
"In particular, we have combined the expertise of our marketing team and data team to build an analytic platform to track the return on investment of our user acquisition efforts, such that we can effectively monitor and allocate our marketing budget to acquire users that are more likely to convert into paid subscribers, hence driving revenues and profitability," the company said.
Still Some Skeptics
While the quality-over-quantity strategy certainly makes sense and should probably even be applauded, investors still look skeptical. Meitu's stock fell 7.4% on Friday after the results were announced, though they bounced back slightly on Monday. We should also note that even after the Friday selloff, the stock is up by about two-thirds from where it was trading for much of 2020 after a rally that began about two months ago.
Meitu was a leader at the time of its IPO, when it realized it could act as an intermediary between its users and beauty care product makers in non-advertising tie-ups to generate new revenue. Such tie-ups, through things like online beauty workshops and more recently by tapping a new generation of internet celebrities, are all the rage in China now. While that development has validated Meitu's early bet, it has also made it far more difficult for the company to stand out in a very crowded field.
Meitu's top-line revenue grew by about 24% in the second half of last year to 637 million yuan ($97 million), marking an improvement from 20% revenue growth in the first half of the year. Its loss also narrowed by 3.8% to a 25 million yuan in the latest half-year period. Both trends look positive, and could perhaps foreshadow the company finally achieving its first-ever profits this year.
The largest of its individual revenue sources, online advertising, sagged by 9.5% for all of 2020, in line with broader trends in China that saw advertising drop during the pandemic. Two more encouraging areas were its premium subscription services, which rose 140% to 206 million yuan for all of last year, and its services using online celebrity partners to sell products, which rose 177% to 262 million yuan for the year.
Last but certainly not least is the company's somewhat unusual foray into cryptocurrency, which it first disclosed earlier this month. Meitu pumped $90 million into such investments in the bitcoin and ether cryptocurrencies through two large transactions in March. While companies often invest their idle cash in stocks, bonds and other currencies in hopes of earning some extra money, this does look like quite a large bet in an area that's very speculative.
At the end of the day, Meitu still has quite a large user base that looks like a natural fit for makeup and other health and beauty product makers. While that base is currently shrinking, the company is making a strategic shift by focusing its resources on customers who actually spend money on the app. The gage for success will be whether the company can finally reach profitability this year for its core business, regardless of whether it makes or loses money on its recent cryptocurrency bets.
To subscribe to Bamboo Works weekly newsletter, click here