Luckin ignites China-style 'coffee war' with fiery Moutai latte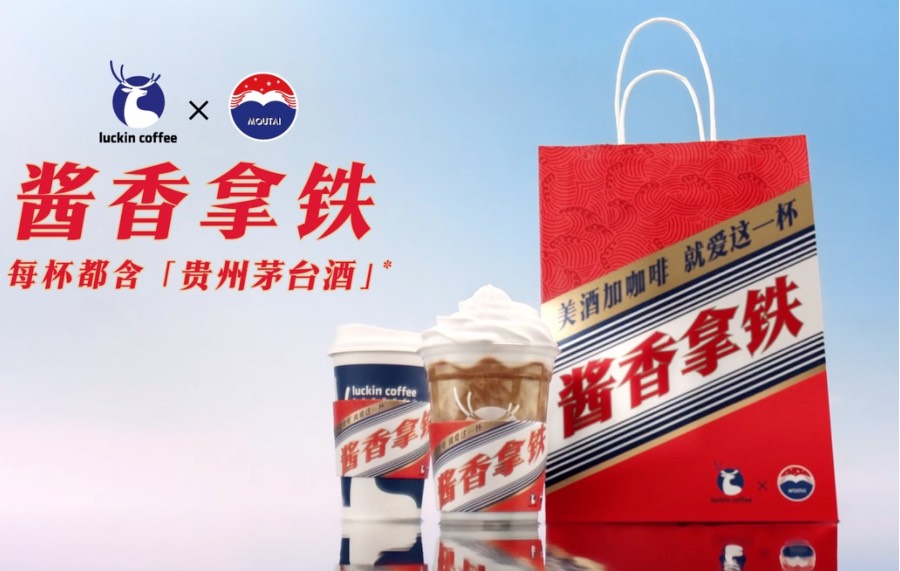 The formerly scandal-tainted company's shares rose 5% after its launch of a new drink co-branded with China's most famous traditional liquor maker
Key Takeaways:
Luckin Coffee launched a fiery latte flavored with Moutai, China's most famous distilled liquor, selling more than 5 million cups the day the product went on sale
Luckin's shares rose 5% the day the promotion kicked off, though they are currently traded in the U.S. over-the-counter pink sheet market that is susceptible to sudden swings
By Kevin Guo
What happens when a brash coffee up-and-comer joins hands with China's best-known liquor brand? The latest alliance between Luckin Coffee and Moutai is answering that question, serving a fiery brand of java that brewed up sales of 5.42 million cups and over 100 million yuan ($13.7 million) on its first day. The surge, helped by online buzz and thousands of "likes," sent Luckin's own U.S.-listed stock surging the day of the debut, adding over $400 million to its market value.
The meeting of old and new occurred on Sept. 4, when Luckin Coffee Co. Ltd. (LKNCY.US) and Kweichow Moutai Liquor Co. Ltd.(600519.SH) jointly launched their "Moutai-flavored latte" costing 38 yuan per cup, equal to about $5.20, or as low as 19 yuan with coupons. Moutai is a household name in China, known for its white-lightning brew that's as expensive as its alcohol content is high, often costing hundreds of dollars per bottle.
But is Luckin really adding the pricey Moutai into its coffee? To ease any doubts in this well-oiled campaign, Luckin released a video on the product's release night documenting just how these special lattes are made.
But you would be wrong to assume that the product is a simple mix of Moutai and coffee. According to local media reports, the lattes are actually made using a "Moutai liquor-flavored thick milk," supplied by Ningxia Cezanne Dairy, whose website describes itself as a modern dairy founded in March 2010 with its own big financial credentials. The company says it has conducted six funding rounds since 2016, with big-name backers including Boyu Capital and Tomato Capital.
That all-star lineup helped to light a fire under Luckin's U.S. listed stock the day of the Moutai latte's debut, taking the shares to their highest level in more than three years as investors lapped up the latest promotion.
This was hardly the first time Luckin found itself in the media spotlight. More than three years ago, the company made global headlines for far darker reasons due to a financial fraud scandal, leading to its eviction from the Nasdaq and roasting by the media. After later settling with the U.S. securities regulator, including payment of a huge fine, the company has completed a major overhaul and seems to be making quite the surprise comeback.
Its latest stellar results confirm that, showing Luckin's revenue rose 88% in the second quarter to 6.2 billion yuan ($855 million). That helped it post a net profit of nearly 1 billion yuan for the quarter.
Heated competition
The coffee business in China has gone into overdrive since Starbucks (SBUX.US) opened its first store in Beijing in 1999, spawning a new generation of shops catering largely to a crowd of image-conscious young urbanites. The internet has quickened the trend by adding a tech element, with some stores like Luckin only selling brew through their apps.
China was home to more than 23,000 chain-run coffee shops in 2022, with more than 700 chain brands selling freshly ground coffee, according to a report released in May by Anson International. Luckin and Starbucks led the group, significantly ahead of the other brands, as evidenced by their deep saturation of China's largest cities.
The rivalry between the top two never seems to cool. Founded in 2017, Luckin is a latecomer to the China coffee table. But it used the internet and cost-effective products to make up for lost time, taking market share from Starbucks and listing on the Nasdaq less than two years after its establishment.
In terms of store count, Luckin is the unequivocal leader. It announced the opening of its 10,000th store in the Southern city of Xiamen in early June, and its latest financials showed it had 10,836 stores at the end of June, including 7,188 self-owned and 3,648 franchised. By comparison, Starbucks' current China store count stands at "only" about 6,500, according to its website.
New entrants to China's coffee market keep popping up. One of Luckin's fiercest new rivals is Cotti Coffee, which was set up last year by Luckin's two disgraced founders who left the company after the fraud scandal. Although it's still very young, Cotti has grown at lightning speed and opened its 5,000th store in Beijing on Aug. 4, according to local media reports.
The original Luckin and its Cotti copycat have engaged in cutthroat price and marketing wars for share at the lower end of the market for premium coffee-on-the-go. Just three days after Luckin's Moutai coffee came out, reports emerged that Cotti would launch its own new product jointly working with a rice brand that went viral on the internet. On Monday, Cotti's official Weibo account announced the imminent launch of a new "rice-milk latte."
Surging shares
Luckin's shares, which are still traded over-the-counter after their Nasdaq delisting, rose 5% to $33.60, their highest level since March 2020, after announcement of the Moutai tie-up. The stock has staged a huge comeback since its scandal, and is now up 2,300% from its low point in June 2020.
It's worth noting that as an over-the-counter pink sheet stock, Luckin's share price is more volatile than stocks on the main Moutai-flavored latte board due to lower trading volumes. At Tuesday's close, Luckin shares were trading at about $33.34, giving it a market value of about $9.17 billion. The stock now trades at a relatively high price-to-earnings (P/E) ratio of 37, compared to 29 times for Starbucks. 
The Moutai tie-up's successful launch may have sparked the big surge in Luckin's share price, said Xu Zhongxiang, founder and chief investment officer of Kingstone Rayliant. He added there is currently lots of money chasing Chinese stocks, which also may have helped to fuel the interest.
"However, Luckin, being in the pink sheets, is also susceptible to sudden price swings due to lack of liquidity in the market. That means many investors swoop in at the sight of the slightest changes," Xu explained.
While Luckin shares have benefitted from its new partnership, the same isn't true for Moutai, whose stock fell by the end of the week of the announcement. Then again, Moutai's stock is already quite inflated, and at times has been China's most valuable publicly traded company. And even if the hype didn't boost its stock, Moutai can at least take solace in knowing it gained some new respect from China's younger set that has traditionally eschewed such traditional liquors.
Have a great investment idea but don't know how to spread the word? We can help! Contact us for more details.
The Bamboo Works offers a wide-ranging mix of coverage on U.S.- and Hong Kong-listed Chinese companies, including some sponsored content. For additional queries, including questions on individual articles, please contact us by clicking here.
To subscribe to Bamboo Works free weekly newsletter, click here