Luckin Comeback Percolates at Full Steam With Reported Global Expansion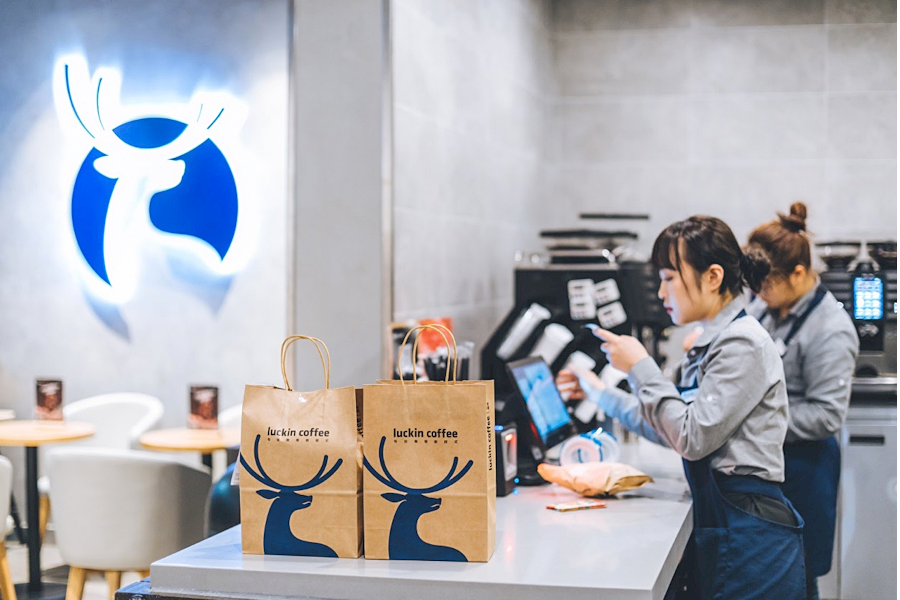 Media reports say the scandal-tainted coffee chain is looking to expand into Southeast Asia as it continues to rapidly open new stores at home
Key Takeaways:
Luckin is considering an expansion into Southeast Asia and is already recruiting store managers in Singapore, according to media reports
The scandal-tainted coffee chain was profitable in last year's third quarter as its revenue jumped more than 65% year-on-year
By Warren Yang
Luckin Coffee Inc. (LKNCY.US) is roaring back to reclaim a place in the Chinese coffee shop, less than three years after a huge accounting scandal pushed it to near-collapse. The way things are brewing, the company could even pull off a re-listing in New York much sooner than anyone anticipated – capping what would be a remarkable turnaround after its earlier fall from grace.
Business is booming for the company, whose shares still trade over-the-counter in New York, as it aggressively opens new shops in its home China market. And it appears that Luckin may be preparing to serve up its special brand of high-tech, minimalist coffee shop overseas, with its first stop in Southeast Asia, foreign media reported this month. Luckin hasn't commented on the reports. But in a sign it may already be moving in that direction, the company is recruiting store managers in Singapore, the reports said, citing online job postings.
The reports emerged as Luckin's latest quarterly results showed the company not only continues to grow quickly, but has found a way to do so profitably. Its revenue jumped more than 65% year-on-year to 3.9 billion yuan ($574.5 million) in last year's third quarter, as its store count increased 38% to about 7,800 at the end of September from a year earlier. The company is China's largest chain by that metric, ahead of No. 2 Starbucks (SBUX.US), which opened its 6,000th China store at the end of September.
Most importantly, Luckin made a net profit in the July-September period, a nice turnaround from the loss-making third quarter of 2021. The profit included a one-off gain, but most of it was derived from operations, enabling the company to generate a net positive cash flow.
At the end of September, the company held the equivalent of $781 million in cash, cash equivalents and short-term investments. And Luckin was debt free as of the end of the third quarter, after it fully redeemed bonds that were restructured a year ago in the aftermath of a massive accounting fraud that was discovered in early 2020.
What's rather remarkable is that Luckin, which caters mostly to a takeout coffee crowd, managed to post rapid revenue growth last year, even as many of its rivals suffered declining sales due to China's strict Covid controls. The company was forced to temporarily close stores in Shanghai, Beijing and other cities at different times in last year's second quarter, but still managed 72% year-on-year revenue growth for the period as locations that remained open and new shops more than offset the losses.
Founded in 2017, Luckin has transformed from an up-and-coming Starbucks challenger, to pariah after admitting to fabricating 2.2 billion yuan in sales in 2020, to its current form as comeback kid. The earlier accounting scandal made global headlines, sparking a shareholder class action lawsuit and a large fine from the U.S. securities regulator, forcing the company to restructure its debt. Luckin was also booted from the Nasdaq in June 2020, barely a year after its IPO.
Clearing the way for new growth
A new management team resolved the company's major legal and regulatory problems after costly settlements and lengthy court proceedings. That freed up Luckin to focus on expansion using a new, less capital-intensive model focused on franchised rather than self-operated stores.
Luckin's rapid expansion has been confined to China so far, tapping the nation's growing middle class of young urban professionals increasingly embracing the beverage. But the industry is also fiercely competitive, with both foreign and local chains vying to capitalize on Chinese consumers' growing taste for coffee. One of the newest arrivals is Cotti Coffee, which was launched by former Luckin executives last year, with an ambitious plan to open 10,000 outlets by the end of 2025.
Luckin's strategy that requires customers to order drinks via app only allows it to control costs through the use of technology. Its rental costs are also low due to the minimalist format of its stores, which mostly have little or no seating and don't require large spaces. But the company suffered in its early days due to its use of heavy discounts to attract customers.
As things heat up in China, it makes sense for the company to look abroad for new growth opportunities. In 2019, before the scandal, Luckin signed a preliminary joint venture agreement with Kuwait's Americana Group to enter the Middle Eastern and Indian markets. But that plan went down the drain after the accounting scandal.
More recently, pictures of a Thai coffee shop with a similar logo to Luckin's circulated online last year, making it look like the company was finally going overseas. But the shop turned out to be a Luckin knockoff.
One could argue the copycat store's existence means that someone was already betting Luckin's brand could thrive in the market. After all, Thailand is a popular destination for Chinese tourists, who look set to return with a vengeance with China's recent dropping of travel restrictions. The same is true for other Southeast Asian countries like Indonesia and Singapore, which are also popular with Chinese tourists and are often first stops on the global map for outbound Chinese brands.
But Luckin will ultimately need to attract local coffee drinkers as well to succeed in such markets. That means a big question is whether the company's winning strategy in China can be exported to other places where many coffee drinkers may not be as tech savvy as their Chinese counterparts and might prefer to drink in a leisurely setting like what Starbucks offers. Each of these markets also has plenty of competing local franchises and cafes.
Such potential challenges aside, Luckin does seem back on track at home. Of course, some may continue to be skeptical about its rapid turnaround, and rightly so, due to its past. Its latest results contain elements that almost look too good to be true. But that said, it's also hard to believe the company would risk manipulating its books again as it seeks to show the world it has reformed and tries to re-list.
Investors seem to be giving the company the benefit of the doubt. Luckin shares have more than doubled in the past year to exceed their IPO price, fetching a price-to-earnings (P/E) ratio of about 36, comparable to Starbucks' 38. Luckin's comeback so far has been just as dramatic as its demise. If it can keep brewing such success, a return to Nasdaq won't be as improbable as once thought – if it can convince Nasdaq officials and U.S. regulators it has really changed its ways.
To subscribe to Bamboo Works weekly free newsletter, click here