Luckin Coffee profits get added kick from liquor-laced lattes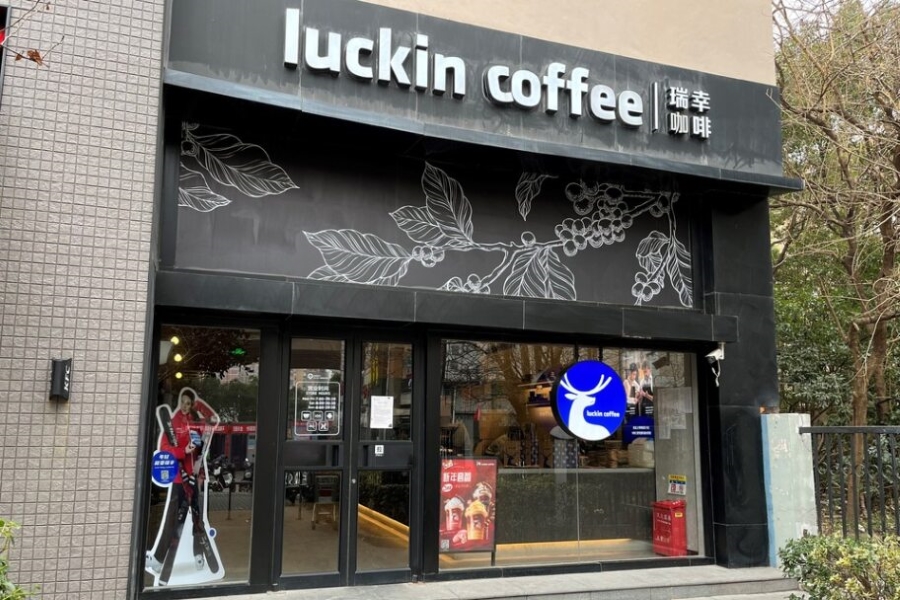 With a boozy new brew, the once scandal-tainted coffee chain has boosted its quarterly earnings and store numbers despite a brutal price war
Key Takeaways:
Luckin Coffee's revenue and profit both jumped more than 80% in the third quarter, helped by the runaway success of its coffee flavored with Chinese Moutai spirits
The company's co-founder and CEO, Guo Jinyi, said Luckin would carry on indefinitely with a 9.9 yuan per cup promotion, adding more fuel to China's coffee price wars
By Fai Pui
Luckin Coffee Inc. (LKNCY.US) has brewed up strong profits this earnings season with the help of a special ingredient – China's most famous fiery tipple.
The coffee chain took the beverage market by storm in early September when it released a specialty brew flavored with Moutai, a Chinese distilled spirit that is typically served at banquets and other prestigious occasions.
The liquor-infused latte has proved to be a winning formula for Luckin, helping to power the company's financial comeback from an accounting scandal more than three years ago.
The boozy blend was jointly launched with Kweichow Moutai Liquor (600519.SH), whose spirits carry a savory note sometimes compared to soy sauce. The partnership has offered consumers an affordable taste of the prized Moutai liquor within a milky coffee.
Luckin's alcohol-laced latte was priced at 38 yuan, but coffee lovers could lay their hands on a cup for just 19 yuan using discount coupons. When the product launched on September 4, more than 5.4 million cups were sold in a single day, yielding turnover of more than 100 million yuan ($13.8 million). After that campaign, Luckin launched a collaboration with the classic animation franchise "Tom and Jerry", attracting younger customers with a co-branded coffee for only 9.9 yuan a cup.
Luckin's creative tie-ups have appealed to a new generation of consumers who are willing to splash out on novelty, generating increased demand and online traffic that have helped to fuel the company's rebound.
In its third quarter to the end of September, Luckin's revenues, profits and store numbers all rose sharply. With an extra kick from the "Moutai Latte", overall revenues rose 84.9% to 7.2 billion yuan in the quarter from the same period a year earlier. Of that, revenue from self-operated stores rose 79.3% to 5.14 billion yuan, while income from franchised stores doubled to 1.84 billion yuan. With turnover on the rise, net profit also jumped 86.9% to 988 million yuan.
After a post-scandal overhaul lasting nearly two years, the resurgent coffee chain is sticking to its strategy of rapid expansion. Luckin opened 2,437 new stores in the third quarter, taking its total by the end of September to 13,273, of which 8,807 were self-operated and 4,466 were franchised outlets, consolidating its status as a market leader.
However, the expansion has its downsides. As the chain has grown, so has its cost pressures. Material costs surged about 120% in the third quarter, accounting for 44% of total revenue, while rental expenses rose 85% to a level equivalent to 19.8% of revenue. However, the biggest increase came in sales and marketing expenses, as heavy investment in brand promotions pushed costs 141% higher to reach 5.34% of total revenue.
Still, the cash-hungry marketing campaigns have reaped rewards for Luckin, which welcomed 30 million new customers in the third quarter. A monthly average of 58.48 million customers placed orders in the period, more than double the total in the third quarter of 2022, taking cumulative transacting customers to more than 200 million.
Although price cuts eat into gross margin, Luckin is likely to remain locked in the discounting battle with a rival firm that was launched by two of its ousted founders. Charles Lu and Jenny Qian set up their competing venture, Cotti Coffee, in October last year, aiming to dethrone Luckin as China's homegrown coffee king.
Cotti is deploying the same strategy that made Luckin a household name – high-profile promotions, heavily subsidized prices and rapid expansion. Under a banner of 9.9 yuan per cup, Cotti has been ramping up its own stores in the battle for dominance.
The price war officially kicked off in June, when Luckin's chain grew to more than 10,000 outlets and it rolled out a campaign promising its own high-quality cup of coffee for 9.9 yuan. Luckin seems to be digging in for a long battle, as its chairman and co-founder Guo Jinyi told an earnings conference call that 9.9 yuan price promotion would be a permanent offer.
Margins hurt in the crossfire
The discounting contest pushed Luckin's customer unit price down to 12 or 13 yuan in the third quarter. Its gross margin dropped seven percentage points to 56% from the year-earlier period and 4.3 percentage points from the previous quarter. Guo said margins could fall further in the fourth quarter on seasonal factors, product mix adjustments and a continuing rise in raw material costs. But the company remains committed to gaining more market share, meaning it is prepared to sacrifice gross margin to win the turf war with Cotti.
Cotti is also going all-out. In an internal memo on October 22, Qian spoke of a global target of 20,000 stores by 2025 and revealed that Cotti had already expanded to 6,061 stores, earning it fourth place in the global rankings.
Cotti is also investing in infrastructure to support its ambitions. The company set up a large factory in China's Anhui province in early November that will serve as a supply chain base for coffee bean warehousing, roasting, processing, manufacturing and trading. The new facilities are expected to reduce costs and fortify Cotti's fighting ability in the price war.
The dueling companies' common foe, Starbucks (SBUX.US), is staying out of the price-cutting fray for the time being, although China's weak economic recovery is making consumers more price conscious. The average Starbucks unit price in China fell just 3% in its fiscal fourth quarter to Oct. 1, while overall sales rose just 5%, lagging the global average of 8%.
So far, the main casualties of the discount war have been mid-priced independent coffee shops, which have been forced out of business or are just clinging onto life. According to industry data, China had 191,600 coffee shops as of Oct. 29 this year. While 95,000 new outlets had been added, the market saw 44,000 closures, most of them independent coffee shops.
Earlier this year the financial media outlet Jiemian quoted an independent coffee shop owner as saying both Luckin and Cotti had opened stores less than 200 meters from his premises, halving his business. The owner tried to fight off the competition by offering coffee for 8.8 yuan but ended up making a loss. He stated bluntly that the 9.9 yuan coffee price war was killing off the independent retailers.
Luckin was delisted from the Nasdaq after its financial disgrace but can still be traded on the U.S. over-the-counter market. As of last Friday, its share price had risen nearly 50% in six months, raising the company's market capitalization to $9.32 billion, while shares in Starbucks fell 4.2% over the same period.
Luckin's latest price-to-earnings (P/E) ratio has reached 36.4 times, higher than the 28.6 times for Starbucks. Despite being embroiled in a brutal price war, Luckin is still able to appeal to investors with its distinctive blend of alcohol-infused coffee.
Have a great investment idea but don't know how to spread the word? We can help! Contact us for more details.
The Bamboo Works offers a wide-ranging mix of coverage on U.S.- and Hong Kong-listed Chinese companies, including some sponsored content. For additional queries, including questions on individual articles, please contact us by clicking here.
To subscribe to Bamboo Works free weekly newsletter, click here