Koolearn's New Lesson: E-Commerce Pays Better Than Education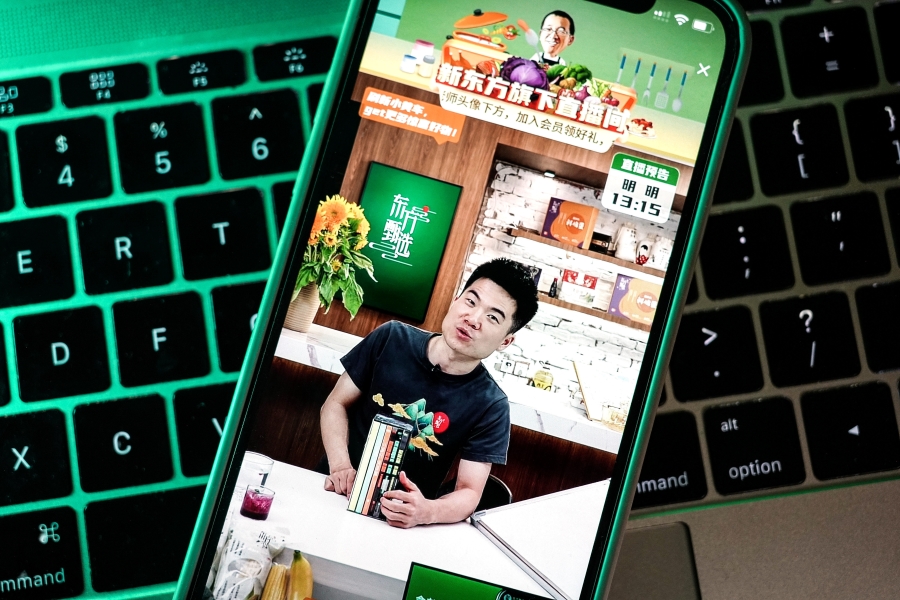 The former education company has returned to profits on spiking revenues, pointing to early success in its transition to livestreaming e-commerce
Key Takeaways:
Koolearn's revenue grew 263% in the first half of its latest fiscal year to 2.08 billion yuan, exceeding levels from before China's crackdown on private educators
The company's surging stock has given it a forward P/E ratio of 55 times, leading some to say the shares could be overvalued
By Molly Wen
Former online education services provider Koolearn Technology Holding Ltd. (1797.HK) is getting an important lesson from its famous founder Yu Minhong, who preached "the pursuit of hope in a sea of despair will eventually lead to a great things."
The online arm of New Oriental Education & Technology Group Inc. (EDU.US; 9901.HK), one of China's oldest providers of after-school tutoring for K-12 students, was just one of many private educators thrown into crisis in July 2021 when Beijing launched a brutal crackdown that outlawed most of their business. But just a year later, Koolearn has found new gold in e-commerce livestreaming, making it a superstar among Hong Kong stocks over the past year.
Koolearn was split off from New Oriental in 2019 and listed separately in Hong Kong that year, carving out a lucrative niche by offering preschool, K-12 and university online education services for students whose parents wanted to give them an edge in China's ultra-competitive education system. It was already grappling with fierce competition when the launch of the crackdown, known locally as the "double reduction" policy, forced it to abandon its core K-9 tutoring operations.
Koolearn and its peers initially took major revenue hits as the new ban took effect, and many even called it quits. But rather than throwing in the towel, Koolearn and New Oriental looked for ways to leverage their existing assets and experience into other areas.
Koolearn's interim results for the six months through Nov. 30, which it released last week, showed a remarkable turnaround for a company once on the brink of extinction. It generated 2.08 billion yuan ($307 million) in revenue for the period, up 263% year-on-year. It also roared back into the black with a 585 million yuan profit, reversing a 544 million yuan net loss a year earlier. The company attributed the rapid growth to major progress in its transition to livestreaming e-commerce.
Investors apparently wanted more, as Koolearn's shares fell 8% the day after the results were announced. Still, anyone who bought the stock a year ago at the height of its crisis can't be too disappointed. The stock has been one of Hong Kong's best performers over the last 52 weeks, rising from HK$4.80 in early 2022 to its latest close of HK$73 – an increase of more than 14 times.
Koolearn's good performance has also boosted New Oriental, which released its second quarter financial report for its 2022/23 fiscal year the same day as Koolearn's. Despite posting a 3.1% decline in revenue to $638 million, New Oriental also returned to the black with a $732,000 profit for the period, reversing a massive $937 million loss a year earlier.
Creative livestreaming
Last June, Koolearn's East Buy livestreaming platform made headlines with its bilingual approach to e-commerce, featuring the company's former English teachers hawking products in both English and Mandarin. Since then, East Buy's livestreaming businesses have become Koolearn's main revenue source, contributing 1.77 billion yuan in revenue in its latest interim reporting period, accounting for 84.9% of its total.
In a nod to its new direction, Koolearn earlier this month announced plans to change its name to East Buy Holding Ltd. to reflect its future business direction and prospects. It also clarified in its latest financial report that its livestreaming business, including a new line of private-label products, have become the principle drivers of its long-term growth, implying that its remaining education business could be on the way out.
The latest report shows just how big e-commerce has become for Koolearn. The business generated gross merchandise volume (GMV) of 4.8 billion yuan for the latest six-month period, and by the end of November it had 35.2 million followers and 70.2 million paid orders via Douyin, the Chinese version of TikTok. East Buy now has six livestreaming accounts on Douyin selling a wide range of products from agricultural produce to food, books and groceries. The company also offers 65 types of private-label products, which generated 1 billion yuan in revenue in the latest reporting period.
But the livestreaming platform has yet to break into the big leagues of China's competitive sector where hawking products online has become all the rage. Last September, Li Jiaqi, the super livestreamer known for peddling lipstick and other makeup products, generated a whopping 120 million yuan in GMV in his first livestreaming session on his return to Taobao, China's most popular B2C e-commerce mall. According to CITIC Securities, leading livestreamers like Viya and Li Jiaqi had a combined GMV of 20 billion to 30 billion yuan during the 2021 edition of China's Nov. 11 "Singles Day" shopping extravaganza.
Overvalued?
According to a research report from investment back CICC, East Buy has achieved its rapid success partly by offering distinctive content. By inviting special guests to its livestreaming rooms and holding some sessions in local communities, the company is helping to advertise local culture and products, which has also boosted its own GMV.
Compared with other specialized livestreaming platforms for multi-channel network (MCN) companies, Koolearn comes out ahead by not having to purchase traffic from outside sources and sharing profits with livestreamers. According to its financials, the gross margin for its private label products and livestreaming business was 42.5%, higher than the 22.73% for livestreaming leader Foshan Yowant Technology (002291.SZ).
By contrast, the company's university education services, as well as content services for institutions like universities and public libraries, have fallen in importance and are no longer the company's main focus. Those two parts of its business earned 295 million yuan and 19.17 million yuan, respectively, in the latest reporting period, accounting for 14% and 1% of total revenue.
Koolearn's meteoric stock gains over the last year have given it a market value above HK$74 billion ($11 billion). Assuming its profit trend continues, its forward price-to-earnings (P/E) ratio now stands at a lofty 55 times, higher than Foshan Yowant Technology's similarly inflated 49 times. CICC believes that the company has advantages over its peers in terms of its traffic, products and supply chain, which bodes well for its profit growth. But with its GMV growth inevitably set to slow, it may be hard to sustain high valuations over the long term.
To subscribe to Bamboo Works weekly free newsletter, click here