Kintor Pharma Wins U.S. Nod for Phase III Trial of Covid Drug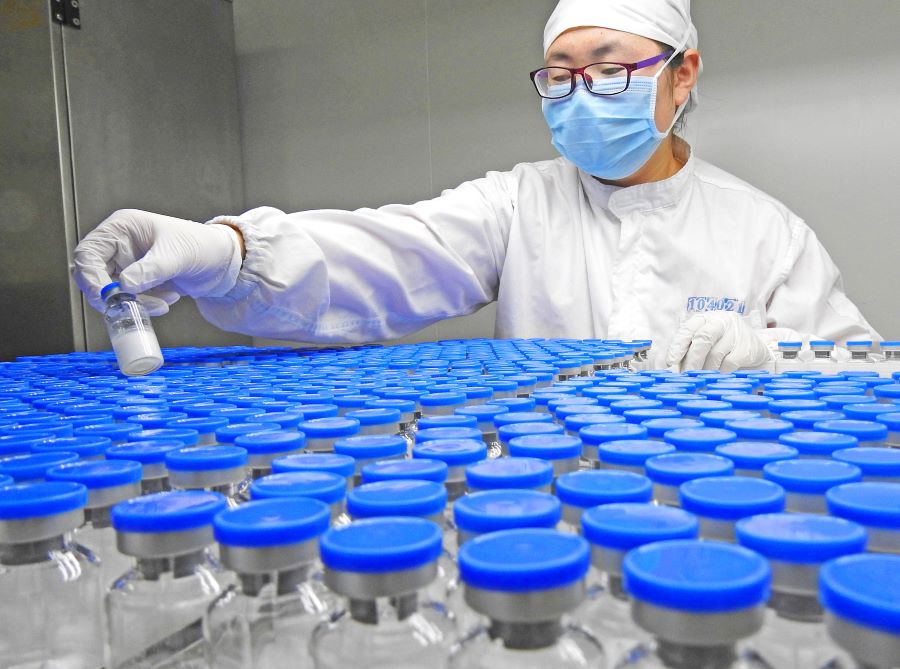 Cancer drug specialist hopes its novel drug Proxalutamide can be approved for treatment of mild to moderate cases of novel coronavirus infections
By Richard Barbarossa
Cancer drug maker Kintor Pharmaceutical Ltd. (HKEx: 9939) has become China's first company approved for Phase III clinical trials for its Covid 19 drug in the U.S., moving it closer to launching its first product for commercial sale.
The U.S. Food and Drug Administration's (FDA) approval for trials of the company's Proxalutamide drug for treatment of mild to moderate Covid 19 symptoms in males is a major boost for Kintor, which hopes to someday take on pharmaceutical giants in the U.S. like Merck (NYSE: MRK) and Gilead Sciences (NASDAQ: GILD), as well as China's own Fosun Pharmaceutical (SSE: 600196).
Founded in 2009, Suzhou-based Kintor develops small-molecule novel androgen receptor (AR) antagonist drugs that can penetrate cells more easily due to their light weight, making them ideal for targeted therapies. Those include treating such illnesses as prostate, liver and breast cancer, and, potentially Covid 19, by blocking the virus from entering host cells.
"This has been the first phase III clinical trial approval from the FDA since Kintor's inception in 2009. We are driving at full force to execute clinical operations of this phase III clinical trial," Kintor said founder Tong Youzhi in a March 5 statement accompanying announcement of the FDA approval.
Kintor shares rallied as much as 10% in the day after the announcement, though they gave back much of that in the next three days.
Kintor announced new details of its Covid 19 trials on Thursday, March 11, sparking another rally for its shares of as much as 9%, even though it didn't provide a number of key specifics about the trials. In previous company statements, Kintor has said the only countries where it was holding in-patient trials for Covid treatments were the U.S. and Brazil.

Proxalutamide has demonstrated a reduction in mortality risk by 92% versus the control group and shortened hospital stays by nine days, with a median hospital visit of five days compared with 14 days for the control, according to a statement to the Hong Kong Stock Exchange issued midway through the trading day on Thursday.
Despite the upbeat pronouncements, the company is like many of its startup Chinese peers in lacking approval for commercial sale of any of its drugs, according to its last interim filing in June. It has six products currently in clinical trials and more than 60 patents under review, according the company's website.
High Stakes
Much is riding on Proxalutamide, which is already undergoing Phase III trials in China for treatment of prostate cancer and similar Phase II testing in the U.S. Phase III is generally the final stage of clinical trials before the FDA considers whether to approve a drug for general use, involving larger numbers of patients and lasting 1-4 years, according to the FDA.
While several Covid 19 vaccines have been approved and are being rolled out around the world, including those made by Pfizer-BioNTech, Moderna and Johnson & Johnson, there is no widely accepted treatment for people already infected. Currently several treatments have shown either "promising evidence" of effectiveness or "tentative to mixed" results. Those include remdesivir, which was developed by U.S.-based Gilead Sciences, Inc., and is the only Covid 19 treatment to receive full FDA approval last October.
However, with Phase III trials possibly lasting up to four years, Kintor may be too late to cash in on the huge yet potentially fleeting demand for Covid 19 treatments. That's because many people are now getting vaccinated against the virus, meaning demand for actual treatment will likely diminish as case numbers go down.
But significant progress in vaccinations will take time, meaning demand could still exist for drugs such as remdesivir and potentially Kintor's – if it performs well in Phase III trials.
Like most of its peers, Kintor is still operating in the red. Its net loss doubled from a year earlier to 195.4 million yuan ($30 million) for the six months through June 30 last year, as R&D expenses jumped 65% to 148.4 million yuan, according to its latest interim report.
While the company has admitted it's not assured of ultimately being able to develop and market its drug candidates including Proxalutamide, it has completed construction of a 20,000 square meterR&D and production facility in Suzhou and received a manufacturing permit in November. It plans to add another 40,000 square meterfacility at an unspecified future date, which would enable it to produce more than 50 million Proxalutamide tablets annually, it said.
Gilead made $2.8 billion from remdesivir in 2020, according to a January presentation by its CEO Daniel O'Day. The company estimates that one in every two patients in the U.S. hospitalized with Covid 19 received the drug, which is marketed under the name Veklury and was found to stop the virus multiplying in cells.
Some other treatments have been granted emergency use authorization. One of those is baricitinib developed by Eli Lilly and Incyte, and is used in combination with remdesivir, though its effectiveness is yet to be determined.
A January report by Morningstar forecast over $10 billion in potential sales for Covid 19 treatments, and predicted a spike in demand this year. But once vaccination numbers mount, there will likely be a steep decline of about 75% in 2022 followed by even bigger falls in 2023, the report said.
While the coronavirus epidemic has been largely brought under control in China, the disease continues to ravage the U.S. with health experts warning of yet another surge in infections fueled by new variants and premature easing of restrictions. Such surges could benefit Kintor if its drug is approved by prolonging demand for treatments.
Kintor's approval to proceed with Phase III trials comes less than a year after its listing in Hong Kong last May when it raised $240 million on strong appetite for Chinese healthcare plays. State-controlled appliance maker Zhuhai Gree Financial Investment Management Co. Ltd. was a cornerstone investor, along with Foresight Orient Global Superior Choice SPC and Highlight Medical.
Since the debut, Kintor's shares have fallen 19% against a rise of the same amount by the broader Hang Seng Index. As with many of its peers, investors are weighing up the company's chances of successfully commercializing any of their pipeline drugs.
Key takeaways
Kintor could become a significant player in a market valued at up to $10 billion for Covid 19 treatments if it can get its Proxalutamide drug to market quickly following its approval for Phase III trials in the U.S.
Even with delays, the company could still benefit if its drug proves effective due to ever increasing strains of the virus and the likelihood of the pandemic stretching into a third year.
To subscribe to Bamboo Works weekly newsletter, click here
---