KE results show green shoots of recovery after real-estate winter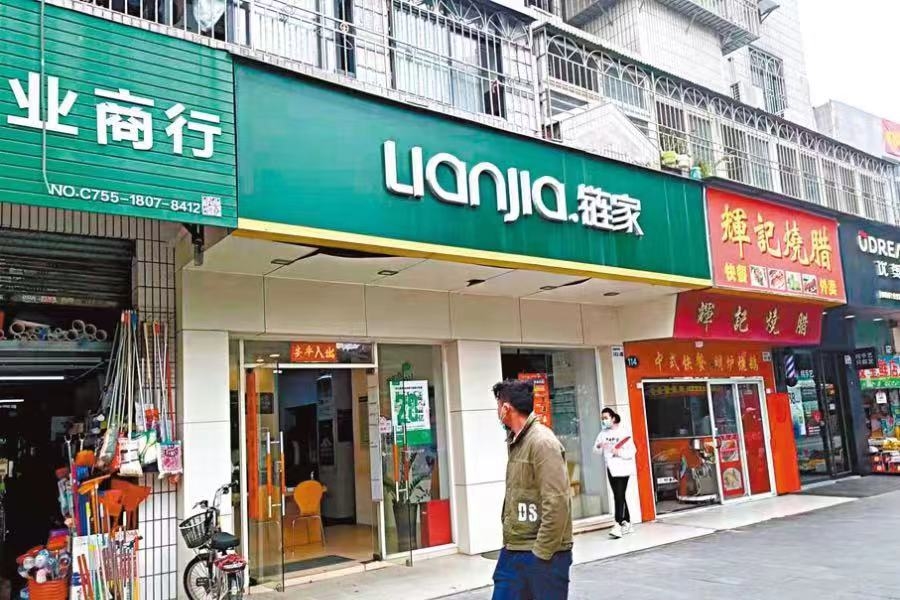 China's top property broker insulated itself against a market downturn by expanding into home furnishings and rentals, helping it deliver a quarterly profit
Key Takeaways:
KE Holdings recorded a modest but unexpected rise in the gross transaction value of existing homes in the last quarter. It also swung from a loss to a 372 million yuan net profit despite a drop in revenues
The standout performers were Its home renovation and rentals businesses, where net income soared last year
By Ken Lo
Towards the end of last year, many Chinese businesses were in deep hibernation as Covid controls cast a wintry chill on the economy. But a big name in the real-estate sector managed to pull off an earnings surprise in the final quarter and post a profit.
Leading residential property broker KE Holdings Inc. (BEKE.US; 2423.HK) reported a smaller than expected dip in revenues for the fourth quarter and managed to land in the black, lifted by a surge in income from its home improvement and rentals businesses.
The company, whose distinctive green signs adorn a network of Chinese real-estate agencies, reported last Thursday that revenues fell 5.8% to 16.7 billion yuan ($2.4 billion) in the fourth quarter, an improvement on its earlier forecast of between 14.5 billion and 15 billion yuan.  The gross transaction value (GTV) of existing homes was unexpectedly resilient, rising 1.5% during the quarter.
Revenue from the home improvement business sky-rocketed, with a 35-fold increase in the quarter, while turnover from the emerging business segment, which includes rentals, more than doubled. These flourishing businesses offset weakness in property deals.
The news went down well with investors, as the company's share price jumped 9% to approach the HK$50 level the day after the results.
Chairman and CEO Peng Yongdong put much of the success down to the company's collaborative business model in which agents from different brands can share property listing information, take part in a transaction and split the commission between them.
He said the company's Agent Cooperation Network (ACN) offered industry participants a better distribution of business opportunity, creating room for business growth despite the tough conditions in the real-estate market.
Still, the overall property downturn and the anti-Covid restrictions did leave their mark on KE earnings. Revenue from existing homes fell nearly 12% in the fourth quarter, while income from new home transactions dropped almost 27% from the same period a year earlier.
However, the company's gross margin surged 8 percentage points year on year to 24.4% in the quarter, on an increased revenue share from the more profitable businesses such as existing home transaction services, renovations and home furnishing.
Bringing down operating costs
The company also managed to cut costs through lower broker commissions and salaries. Operating costs fell 14.9% to 12.7 billion yuan in the fourth quarter, allowing the company to land in the black with a net profit of 372 million yuan, rebounding from a net loss of 933 million yuan in the year-earlier quarter.
However, falling gross transaction value for last year as a whole left KE with a net loss of 2.49 billion yuan in the first half, and its full-year net loss widened to 1.4 billion yuan, more than double the 2021 shortfall, despite the quarterly earnings boost.
But things look brighter at an operational level. Excluding items such as fair value changes, goodwill and amortization of acquired businesses, the company's non-GAAP adjusted annual net profit actually rose 24.4% to 2.85 billion yuan. On an operational basis, the company's business performance is improving under a strategy launched in 2021 dubbed "one body, two wings".
KE divides its business into four major segments: transaction services for existing homes, transaction services for new properties, renovation and home furnishing, and emerging and other businesses.
In its strategy, the mainstay real-estate deals make up the body. One wing is the recently added home improvement services, while the second wing is the rental business. The market downturn took a toll on the core business, sending KE's property GTV plunging 32.3% to 2.6 trillion yuan last year. Revenue from existing homes fell 24.5%, while income from new home transactions plunged 38.3%. Overall, revenue fell 24.9% to 60.7 billion yuan for the year.
But China's real estate market is showing signs of recovery after the government introduced a raft of support measures last year and lifted its anti-Covid controls. The GTV of national residential property rose 3.5% in the first two months of this year from the same period of 2022, according to data from China's National Bureau of Statistics.
KE is also upbeat about the outlook, forecasting revenue of about 18 billion to 18.5 billion yuan in the first quarter of this year, a year-on-year jump of more than 43%.
Uplift from the "two wings"
KE's performance last year was boosted by the "two wings" of its strategy – home improvements and property rentals.
Annual net revenues from the home renovation and furnishing business rose 24-fold to 5.05 billion yuan, after the company acquired Shengdu Home Renovation, whose results have been consolidated into KE earnings since the second quarter of last year.
While property purchases have fallen, many Chinese have turned to the rental market to put a roof over their heads. KE's emerging business segment, which includes rental services, reaped the rewards, with revenues growing around 33% to 2.85 billion yuan last year.
KE has attached strategic value to expanding in the rental sector. In March last year, it set a target of achieving 100,000 rental properties for the year. By the end of 2022, its rental business had expanded into 13 cities, with total properties under its management exceeding 120,000. Rentals promise to provide another growth engine for the company.
A rebound in the housing market will undoubtedly give investors high hopes for China's top property broker, which boasts a market capitalization of nearly HK$190 billion, double the low point reached in October last year. Its closest counterpart, online property marketplace Fangdd Network (DUO.US), is still in the red, with a price-to-sales (P/S) ratio of only about 0.08 times, far behind KE's 2.53 times.
With signs of a thaw in the property market, KE's dominant position looks to be secure.
To subscribe to Bamboo Works weekly free newsletter, click here