JD.com backs its merchants with $1.5 billion. But investors aren't buying it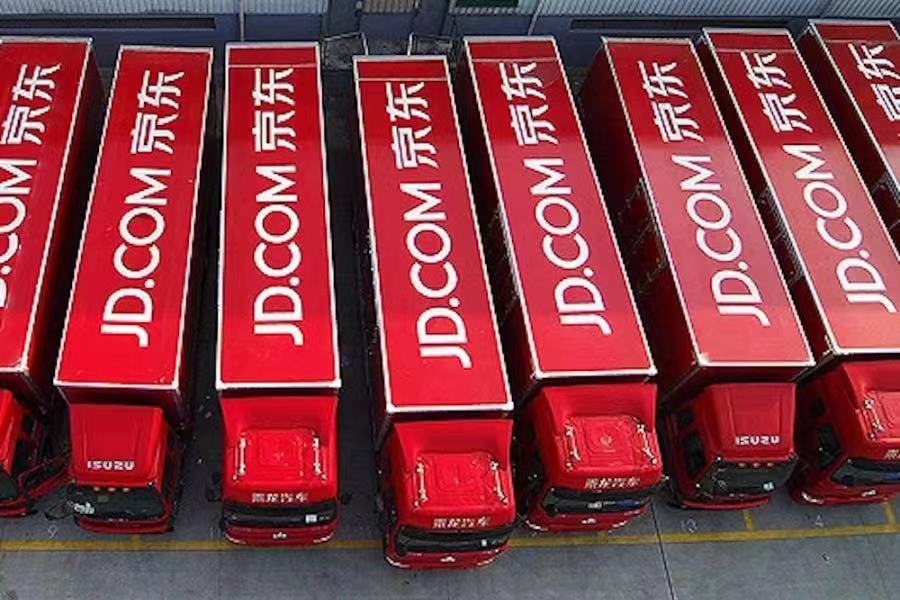 China's No. 2 e-commerce company launched a 10 billion yuan subsidy plan for its merchants, as it eyes improving consumer sentiment in the second half of this year
Key Takeaways:
JD.com's adjusted net profit jumped 64% jump last year, as it launched a final dividend that is relatively rare among Chinese tech stocks
The e-commerce company's revenue growth may decline in the first quarter of this year, and consumer sentiment may not pick up significantly until the second half
By Ken Lo
After promising to boost its third-party merchant partners through a 10 billion yuan ($1.45 billion) subsidy program last month, No. 2 e-commerce firm JD.com Inc. (JD.US; 9618.HK) began "showing them the money" with the program's launch on March 6. It certainly has the cash to spare, after announcing better-than-expected results last week that showed its revenue rose 10% last year to just crack the 1 trillion yuan mark. Its non-GAAP net profit jumped by an even higher 64% for the year to 28.2 billion yuan.
But all was not peaches and cream for the e-commerce giant, as CEO Xu Lei said that despite China ending most of its strict Covid restrictions, a broader recovery for the country's battered retail sector hinges on consumer confidence that is still quite weak. With time still needed for a number of government stimulus measures to take effect, he added, the market might remain weak in the first half of this year and not improve notably until second half.
Xu's comments at the company's results briefing, combined with concerns over the massive subsidy program announced just weeks earlier, cast a chill over the otherwise-positive results, with JD's share diving 11.5% the following trading day. Xu took pains to stress the new subsidies would have only a small impact on its profit margins, and that he hoped to change consumer habits by creating a "daily low price" environment. But the big sell-off said more about investor concerns over the company's prospects, as the shares continued to fall and were down about 16% from pre-announcement levels by Wednesday's close.
Despite China's widespread Covid control measures last October and November, including lockdowns and frequent store closures, JD was less affected due to its online model that largely insulated it from such disruptions. Its revenue rose 7.1% year-over-year in the fourth quarter, while its adjusted net profit more than doubled to 7.66 billion yuan.
New final dividend
Another highlight for investors was the company's declaration of a final dividend of $0.31 per share. That, together with a special dividend of $0.63 last May, means JD.com paid total dividends of $0.94 for the year. The generous payout is more like a gift to shareholders for their long-term support, especially as the company's revenue and profit growth slow.
In China's internet industry, NetEase (NTES.US; 9999.HK) and Tencent (0700.HK) are among the few companies that also pay regular cash dividends. Alibaba (BABA.US; 9988.HK), Pinduoduo (PDD.US), Xiaomi (1810.HK), Meituan (3690.HK) and Baidu (BIDU.US; 9888.HK) all have yet to pay such dividends since going public. The declaration of an annual dividend policy by JD's CFO Sandy Xu suggests the dividend payment could become an annual fixture, leading many to speculate over whether some of the other big tech names could follow suit.
Unlike previous 10 billion yuan subsidy programs launched by JD in the past, often aimed at Pinduoduo, JD stressed the latest subsidy plan is not so specific or a one-time promotion. Instead, it is aimed at attracting more customers to its platform as it works to improve its overall online shopping experience.
JD has always had an edge over many of its rivals due to tight control of its entire e-commerce ecosystem, which includes its own logistics, warehousing and industry chain capabilities. But it may need to relax some of that control if it wants to snatch market share from Pinduoduo's home turf in ultra cost-sensitive smaller cities. That may get investors worrying that the latest program could mark the start of a prolonged battle with Pinduoduo, which could turn into a money-burning machine for JD.com.
JD's latest report shows it had 226.2 billion yuan in cash and cash equivalents at the end of last year. Coupled with 57.8 billion yuan in net cash inflow from operating activities last year, the e-commerce giant definitely has the requisite deep pockets to fund a prolonged subsidy war. But such a plan could be ill-timed if consumer sentiment remains weak.
China's economy has already shown some early signs of recovery since Beijing scrapped its "zero Covid" policy early last December. Still, Xu Lei said he expects travel services to be among the first to recover, while a rebound for other consumer sectors could depend on whether national disposable income increases.
Wobbly labor market
Xu's comments underscore that China's labor market is currently in a wobbly state. Unemployment for the nation's youth – some of the most enthusiastic e-commerce buyers – is now pushing 20%. That could well improve with the end of zero Covid, but small and medium enterprises that employ many of those youth will need time to resume hiring. In the meantime, the risk of more layoffs is still high due to declining factory orders from Europe and the U.S. All that shows consumer demand could remain unpredictable, no matter how much JD spends to stimulate consumption.
HSBC Global Research said JD management revealed that gross merchandise volume (GMV) on the company's platform fell year-on-year in the first two months of the 2023, with a small improvement in early March. So, it expects that revenue will not pick up significantly until the second half of the year when consumer sentiment improves.
The bank lowered its earnings forecast for JD by 0.9% and 2.4% for this year and next, respectively, and lowered its target price from HK$320 to HK$273, while maintaining its "buy" rating. HSBC believes that JD will suffer a single-digit decline in retail revenue in this year's first quarter due to strategic adjustments in low-profit categories and a slightly weaker-than-expected macro recovery.
The post-earnings sell-off, coupled with the final dividend, may attract some investors back to JD's stock when markets settle after recent turbulence. Following the declines, the company's shares now trade at a price-to-earnings (P/E) ratio of just 15.8 times, well below Pinduoduo's 20.3 times. JD's operating costs have been running high for many years, giving it an operating profit margin of just 1.75% — a fraction of Pinduoduo's 23.9%. That lower operating efficiency may explain why the smaller Pinduoduo is valued more highly, despite JD's larger size and longer operating history.
To subscribe to Bamboo Works weekly free newsletter, click here