I-Mab Gets Boost from Latest Industry Signals on New Cancer Treatment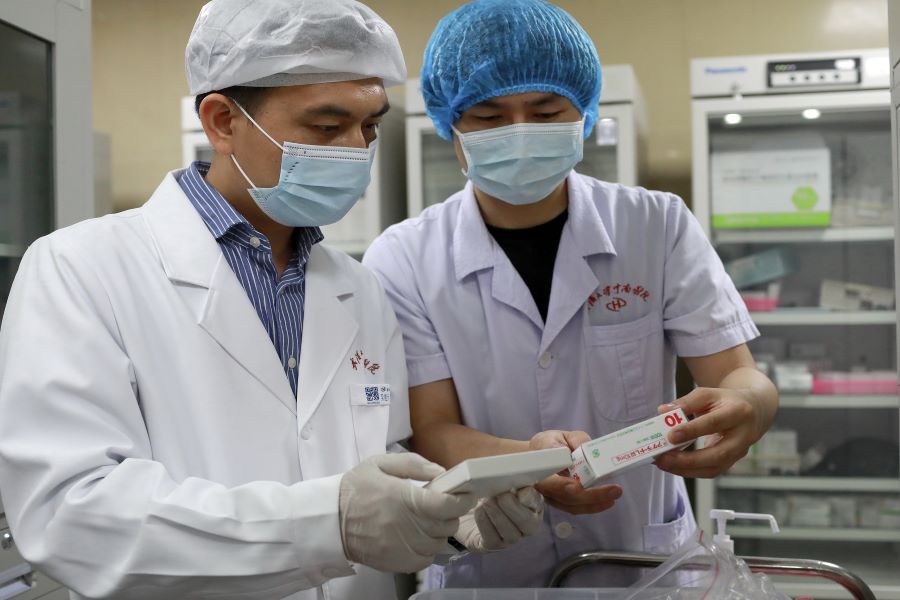 Company's shares surged as much as 15% after AstraZeneca unveiled upbeat results for a new class of cancer drugs known as CD73 antibodies
Key Takeaways:
I-Mab's shares surged up to 15% on positive results from a peer developing a similar new type of cancer treatment, though they later gave back most of those gains
Company has plenty of cash on hand, and could soon get more as it seeks a deal to commercialize the drug, uliledlimab, with a U.S. or European partner
By Doug Young
It may still be at least two or three years away, and perhaps even further down the road. But there's no mistaking the scent of money that provided a major boost for a group of novel cancer drug makers last month, including I-Mab (IMAB.US).
But it seems that scent is waxing and waning, based on I-Mab's recent share price volatility.
Uliledlimab is one in a class of cutting-edge drugs that fight cancer at the molecular level, in this case by targeting a marker on cancer cells known as CD73. I-Mab and several other companies are racing to develop and commercialize treatments based on so-called CD73 antibodies, mostly in combination with another class of drugs called PD-1 checkpoint inhibitors.
The news that got the oncological world buzzing came at the European Society for Medical Oncology conference that took place the week of Sept. 13, when British giant AstraZeneca (AZN.L) presented mid-stage trial data showing its own CD73 drug called oleclumab helped to improve progression-free survival rates (PFS) and overall response rates (OPR) for people with stage 3 non-small cell lung cancer.
That positive signal provided a boost not only for AstraZeneca's own shares, which rose nearly 10% the following week, but also for I-Mab's, which surged by as much as 15% over that period. But shares of both companies gave back most of those gains in the next week, highlighting the fact that there's really no substitute for a drug that has cleared the years-long process of medical trials and government approvals before it can actually make money on a long-term basis.
In I-Mab's case, the company certainly has plenty of credentials under its belt, even if it lacks the most important one that comes with a stable revenue base, something that is expected to begin in 2023. The Shanghai-based company currently has 18 drugs in clinical and pre-clinical stages of development for the treatment of various immuno-oncological diseases, especially in solid tumors and hematology.
I-Mab made some significant headway in its road to revenue last year after it signed a deal with U.S. giant AbbVie (ABBV.US) to commercialize another one of its cancer drugs, lemzoparlimab, which included a $180 million up-front payment.
Bloomberg reported in September that I-Mab was in discussions for a deal to commercialize an unspecified drug that could also involve an equity investment. It reported separately in June that I-Mab was in discussions with U.S. and European partners for a deal to jointly commercialize uliledlimab. But I-Mab will not get all the money until uliledlimab is proven effective and gets actual approval for sale in one of the world's major markets. Such is also the case with the AbbVie deal.
Uliledlimab is currently in phase two trials in combination with a PD-1 checkpoint inhibitor in China, and I-Mab expects to start similar trials in the U.S. by the end of this year. If successful, those trials would be followed by a larger and final third phase of trials, and then final government approval – meaning any final sales are probably still at least two to three years away at best.
Bulls Abound
Despite I-Mab's recent stock price volatility, many are still quite bullish on the company. I-Mab counts a number of major fund managers among its investors, including BlackRock and T. Rowe Price. Many of those may have been drawn to the stock because they offer funds based on the MSCI China All Shares Index, which added I-Mab to its constituents in May.
Of the eight analysts who provided ratings on the company to Yahoo Finance, six gave I-Mab a "buy," while the remaining two gave it a "strong buy." Sixteen analysts who follow the company gave it an average target price of $96.19 – or roughly 20% above its current levels in the $70 range, according to Yahoo Finance.
The fact of the matter is investors in the company have done quite well since its IPO, despite the recent roller coaster ride . At its current levels, I-Mab's stock has risen roughly fivefold from its IPO price of $14 when the company first floated shares in January 2020. That's certainly not a bad return for your investment, even though the stock's current levels represent a comedown from its all-time high of more than $85 in June.
Despite all that, the company does still look undervalued compared to some of its peers. It currently trades at a price-to-book (P/B) ratio of 6.9, according to Yahoo Finance. That's a shade weaker than domestic rival Zai Lab (ZLAB.US; 9688.HK), which trades at a P/B of 7.3, and well below the 10.3 for BeiGene (BGNE.US; 6160.HK), both of which are dual-listed in New York and Hong Kong. And with a P/B of 11, AstraZeneca is also far more richly valued than I-Mab.
New partnerships like the one with AbbVie, and the potential new one for uliledlimab, will help to finance I-Mab's operations as it awaits the day when it starts generating significant revenues and then profits from its many investments in R&D. But the company has also shown itself quite adept at raising money through other channels, meaning it's unlikely to face a cash crunch anytime soon with $700 million cash and cash equivalents midway through this year.
In addition to the roughly $100 million from its IPO, the company raised another $523 million in a private placement about a year ago. It's also exploring a possible secondary listing either in Hong Kong or on Shanghai's enterprise-style STAR Market, which could raise several hundred million dollars more. Such a move would mirror a similar strategy by many U.S.-listed Chinese growth companies over the last year, as they seek to diversify their investor bases and make their shares more accessible to buyers in their home China market.
The Bamboo Works offers a wide-ranging mix of coverage on U.S.- and Hong Kong-listed Chinese companies, including some sponsored content. For additional queries, including questions on individual articles, please contact us by clicking here.
To subscribe to Bamboo Works free weekly newsletter, click here