Hygeia adds another top hospital to its cancer-care chain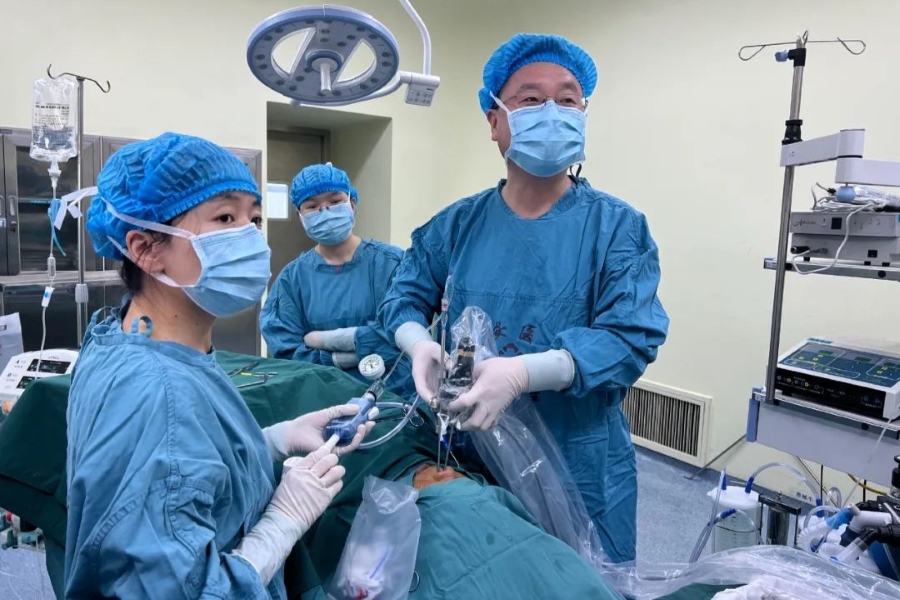 China's biggest group of private cancer hospitals has gone on another buying spree, acquiring a well-established hospital in the country's northwest to expand its brand
Key Takeaways:
Hygeia paid 1.66 billion yuan for all the shares in Chang'an Hospital, which has a track record of profitability
Since the start of the Covid pandemic, the company has raised the quality of its acquisition targets and boosted the value of its goodwill
By Molly Wen
The Covid pandemic triggered a shakeout in China's private healthcare sector that has left only major medical groups standing. And the list of independent survivors just got shorter.
Last Tuesday, China's leading private chain of cancer hospitals, Hygeia Healthcare Holdings Co. Ltd. (6078.HK), announced it had added a medical industry heavyweight to its expanding portfolio, buying all the equity in Chang'an Hospital for 1.66 billion yuan ($233 million).
It marked the ninth acquisition for Hygeia and the latest chapter in a consolidation story for Chinese private healthcare. More than 2,000 private hospitals in China are reported to have folded since the start of the Covid pandemic due to fewer hospital visits and frequent lockdowns.
The private hospital market, which once attracted money from venture capital, real estate, insurance and other sectors, is now left mainly in the hands of major medical conglomerates.
Chang'an Hospital is a general hospital based in the northwestern city of Xi'an that has been operating for more than 20 years. It ranks as a top-tier hospital in China's six-tier system. The Chang'an oncology department is considered cutting edge and has served as the hospital's main revenue driver. The new owner, Hygeia, also specializes in oncology, with a core focus on radiation therapy.
Hygeia said the acquisition dovetailed well with its development strategy. It vowed to continue to build on Chang'an Hospital's strengths as a provider of oncology services.
Chang'an Hospital is located in the main urban area of Xi'an, the largest city in northwest China with a dense population of 13 million and strong demand for healthcare. The hospital boasts an experienced and skilled team specializing in oncology, cardiology, nephrology, gynecology and orthopedics. Last year, it ranked 13th on a list of China's top 100 private hospitals, averaging 630,000 inpatient or outpatient visits annually over the past three years. In the past two years, Chang'an Hospital brought in annual revenues of 732 million yuan and 692 million yuan, with net profits of around 100 million yuan and 93.4 million yuan.
Hygeia's stock rose for two straight trading days after the acquisition news, as a cumulative gain of 5% signaled investors were upbeat about the deal. Several investment banks also gave the company a "buy" rating, with a BofA Securities research report saying that Hygeia had demonstrated strong expansion capability by completing two M&A deals this year.
Meanwhile, TF Securities said the move filled a gap in Hygeia's network in northwest China, and should help to enhance its profile in the region. In addition, BofA Securities expects Hygeia's revenues to rise by 2% and 16% in the next two years, as the acquisition is consolidated into the company's financial statements in September or October this year.
Hygeia has now added two hospitals to its brand so far this year. Just over two months ago, the company announced it had acquired an 89.2% stake in another medical facility, Yixing Hygeia Hospital, for 268 million yuan. Yixing Hygeia is a general hospital ranked in the third of China's six hospital tiers, with around 255,000 visits in 2021 and 274,000 last year. Serving the Yangtze River Delta area, the 369-bed hospital is situated in Yixing, Jiangsu Province, one of China's 10 most developed counties.
Hygeia said it would start the second phase of a project to develop its Yixing facility in due course, with the aim of turning it into a top-tier hospital. The plan aims to boost the hospital's available beds to more than 800, increasing admissions capacity and operational scale.
Yixing Hygeia Hospital reported revenues of 181 million yuan in 2021 and 174 million yuan last year. It swung from a net loss of 3 million yuan in 2021 to a net profit of 4.78 million yuan the following year. At Hygeia's acquisition price, the Yixing hospital is valued at about 300 million yuan with a price-to-sales (P/S) ratio of about 1.7 times. By comparison, the newly acquired Chang'an Hospital commands a higher valuation, with a price-to-sales (P/S) ratio of about 2.4 times last year, probably reflecting its superior tier and its location in the city of Xi'an.
Hygeia is the largest oncology medical group in China. At the end of last year, the company was managing 12 oncology-focused hospitals in nine cities across seven provinces, while providing radiation therapy services to 24 third-party hospitals. Hygeia operates four self-built hospitals in northeast and southwest China, all of which are in the top or second tiers.
Post-pandemic ambitions
Six other hospitals previously acquired by Hygeia were mostly located in third- and fourth-tier cities, but since the start of the pandemic the company has targeted higher quality purchases. In 2021 it bought out the Suzhou Yongding Hospital in a key part of the Yangtze River Delta region. In May of the same year, it also acquired a top-tier hospital for the first time, Hezhou Guangji Hospital. It doubled down on the strategy in 2023 by adding another two profitable hospitals with promising outlooks.
As new assets were incorporated into its chain, Hygeia's earnings grew rapidly in recent years. In 2020, the year of its IPO, the company's annual revenue was about 1.4 billion yuan, rising to 2.32 billion yuan in 2021 and 3.2 billion yuan in 2022. Its net profits also rose, from 170 million yuan in 2020 to 440 million yuan a year later and 480 million yuan in 2022.
The rapid expansion over the past three years has also boosted the goodwill value in its financial statements. From 2017 to 2019, before the listing, the company's goodwill was valued at around 300 million yuan. But this had risen to 2.24 billion yuan by the end of 2021, after the acquisitions of Suzhou Yongding Hospital and Hezhou Guangji Hospital, and stayed there until the end of 2022. But if the acquired assets fail to perform as expected, the goodwill could depreciate and affect future earnings – a risk that investors should watch out for.
Hygeia's share price has been hovering around HK$50, well above the HK$16 level of early last year, but it remains almost 50% below a peak of HK$110 reached in June 2021. The company's price-to-earnings (P/E) ratio is about 60 times. To put that in perspective, the most sought-after stock in the field of specialty medicine, Aier Eye Hospital (300015.SZ), has a P/E ratio of about 68 times, slightly higher than Hygeia. However, Hygeia's hospital network is expanding, and investors will be keen to see if the increased operating capacity can feed into a higher valuation.
Have a great investment idea but don't know how to spread the word? We can help! Contact us for more details.
To subscribe to Bamboo Works weekly free newsletter, click here