Healthcare Overtakes New Energy as Top Category for Chinese Concept Stocks in 2022: Bamboo Works Special Report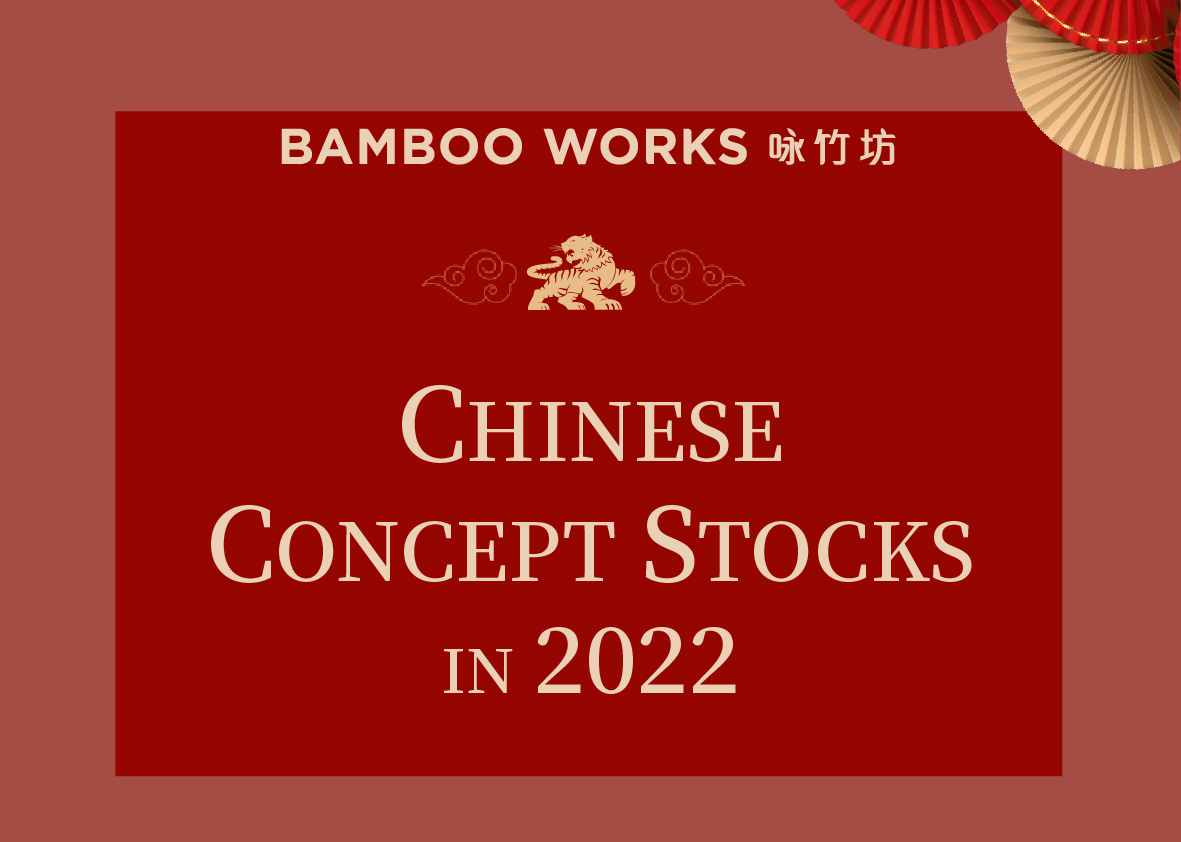 By Brent Li
The Year of the Tiger was a tough one for China and Chinese concept stocks, marred by frequent Covid disruptions and ongoing tensions between the U.S. and Chinese securities regulators. But things took a turn for the better at the end of the year, sparking a late-year rally for Chinese concept stocks. In the last edition of our special report for 2021, we predicted China's regulatory wave might subside last year, though we couldn't foresee the havoc that Covid outbreaks would wreak on the national economy.
Looking back, we examined over 4 million data points from our archives to see what they could tell us about the Year of Tiger for Chinese concept stocks.
Doug Young, co-founder and editor-in-chief of Bamboo Works said "2022 is probably a year that many Chinese companies would rather forget. In addition to getting hammered by constant Covid restrictions, many China concept stocks also spent much of the year worried about a possible de-listing from New York due to a trans-Pacific regulatory dispute. Fortunately, both issues were resolved late in the year, sparking a major rally for these stocks starting in November."
1. Category of the Year
The 749 analysis/fast news items we published in 2022 covered all categories of Chinese concept stocks. By calculating the total attention each category attracted, we can tell which are the most popular among global investors.
New Energy was the top category in 2021, but it dropped to last place in 2022. Though the drop was partly due to the addition of a new 'Infrastructure/Resources' category, it's still very clear that investor attention was drawn to other areas last year.
Healthcare came out as the clear top category in 2022, well ahead of all others. We can't say for sure why Healthcare climbed to the top, but we did find that lots of healthcare/biotech companies launched new products, raised more funds, ran into difficulties and filed for IPOs last year. Healthcare is also one of the fastest growing categories in terms of number of listed Chinese companies in the U.S. and Hong Kong.
Among the companies we wrote about, vaccine giant SinoVac (SVA.US), cancer drug specialist HutchMed (HCM.US; 0013.HK), financial conglomerate Fosun's pharmaceutical arm (2196.HK; 600196.SH) and several IPO applicants were among our most viewed articles last year.
The consumer category moved up to second place. The China divisions of international brands like Yum China (YUMC.US; 9987.HK), Domino's (DPZ.US) and Tims China (THCH.US) made headlines, partly due to the impact they felt when many major Chinese cities were locked down due to pandemic control. Domestic brands like Luckin (LKNCY.US), Haidilao (6862.HK), HeyTea and Popmart (9992.HK) all attracted attention as well as they dealt with their own issues.
E-commerce ranked third. With global investors closely following Alibaba (BABA.US; 9988.HK), JD.com (JD.US; 9618.HK) and Pinduoduo (PDD.US), interest in this category will always be strong. But the industry kept a relatively low-profile last year, with the exception of Pinduoduo's highly publicized move into the US.
The fourth most popular category was Education, though this was also the first category to fall below the average. That may not sound too impressive, but it's a big improvement from our 2021 report when the category got -3.3 mark in popularity and ranked last during a very tough year for the category. Its climbing rank last year shows how hard companies from this category are working to save themselves after a brutal government crackdown, and how investors are looking forward to a turnaround.
Social/Entertainment came after education, and didn't do very well in 2022. It may take a ByteDance IPO to bring new life to this category, though that could take some time if the company's hugely popular TikTok app is kicked out of the U.S.
2. Stories of the Year
Big names always prevail when it comes to individual stories, even as we strive to introduce more small and mid-cap Chinese companies to the world. From the top stories that gained the most views on thebambooworks.com and Seeking Alpha, we can see who investors were following most closely among Chinese concept stocks in 2022.
Alibaba's 'Double 11' was the top story of 2022. The "Double 11" festival, shorthand for its annual date each Nov. 11, was first conceived as a shopping bonanza by Alibaba, and has become an annual mega-event in China to rival Black Friday in the U.S. But after more than two years of strict Covid controls, Chinese consumers just couldn't spoil themselves one more time. The loss wasn't only for Alibaba, but reflected the weaker state of China's economy.
Scandal-tainted Starbucks (SBUX.US) challenger Luckin Coffee has been a hot topic among both Chinese consumers and international investors. It took our No. 2 spot with the announcement that it was on the cusp of emerging from a prolonged bankruptcy following a year-long reorganization to put it back on solid financial footing. Coffee and tea houses have emerged as a major battlefield in China's consumer market, and we also covered other players like HeyTea and Nayuki (2150.HK) in 2022. Tims China's story came at 9th before the China division of the famous Canadian coffee and donut chain was listed on the Nasdaq through a SPAC merger. Time will tell how Tims will educate Chinese consumers about its own take on western coffee culture, and how Chinese tastes will change Tims menu like they did McDonald's and KFC.
The 10th most read story straddles the E-commerce and Consumer sectors, in which we described how Dingdong, Missfresh surge on booming business during covid lockdowns.
Stories on the car-themed Didi (DIDIY.US) and Nio (NIO.US) came in at 3rd and 4th. And New Oriental Education (EDU.US; 9901.HK) was the 5th most read story with its creative endeavor to stay afloat by turning to livestreaming e-commerce after its former tutoring services were banned in an education sector crackdown in 2021. If livestreaming is still somewhat related to New Oriental's original business, Rise Education's (REDU.US) reverse merger with an electric vehicle charging company seems more like a move of desperation. The return of more Education category stories hints that the sector will bounce back as more companies chart a new course in 2023.
The story of the rise and now potential fall of Fosun could be the subject of an entire book. Fosun Pharma's selling down of BioNTech stake might be one of that book's most iconic chapters, spotlighting the company's desperate sale of assets to raise cash to avoid being crushed under a mountain of debt like what happened to previous highflyers HNA and Anbang.
In December, we saw China finally call it quits on its "zero Covid" policy. Not long afterwards, the PCAOB gave a positive review of its trial inspections of two China-based accountants under a landmark U.S.-China information-sharing deal. These two important developments may finally remove the sword of Damocles that has hung over Chinese concept stocks for the past three years.
3. Global Investor Map
We said in our 2021 report that "As secondary listings of Chinese concept stocks in Hong Kong gradually grow there may be new changes in this (global investor) map." Now those changes are starting to show up.
Demographic data taken from thebambooworks.com and Dow Jones Factiva showed that Hong Kong overtook the U.S. to become the top region for Chinese concept stock investors in 2022.
Mainland China and Singapore remained 3rd and 4th on the list, while India and Canada dropped a few positions. Australia took the place of Malaysia on the list. Even as tensions across the Taiwan Strait seemed to escalate, investors from Taiwan became a bit more interested in Chinese concept stocks.
The Greater China Region plus Singapore accounted for about 53% of global investors for Chinese concept stocks. That shows there's still a ways to go for this group to become truly globalized.
4. Conclusion
2021 was a tough year for Chinese concept stocks, and 2022 was equally tough. The good news is a year-end rally brought some needed relief as confidence began to return to the group. The global economy may still face some lingering headwinds in 2023, but we believe a lot of China stocks are still undervalued and have significant upside potential. Bamboo Works will keep bringing more insight on these companies to help investors grab some of that potential.