Haitong International gets set to bow from the Hong Kong Stock Exchange
0665.HK
6837.HK
600837.SHG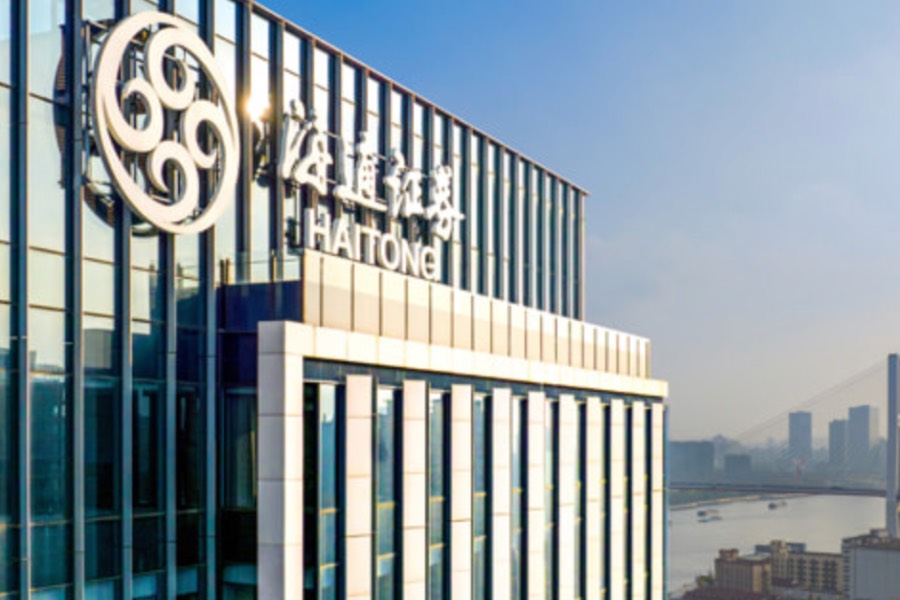 Haitong Securities has launched a privatization bid for its international unit, offering more than double its last trading price
Key Takeaways:
Haitong Securities has offered to privatize Haitong International for HK$1.52 per share, more than double the stock's previous price, in a deal that could cost up to HK$3.42 billion
After losing more than HK$6.5 billion last year, Haitong International's loss narrowed sharply to HK$781 million in the first half of this year after it boosted its capital
By Ken Lo
Another day, another privatization bid for a Hong Kong-listed Chinese company that failed to garner much investor interest with its China-going-global story.
This time it's Haitong International Holdings Ltd. (0665.HK), whose parent, Chinese brokerage Haitong Securities (6837.HK; 600837.SH), has offered to privatize its international offspring with an offer that's more than double the stock's previous closing price. While the move has raised expectation for similar privatizations of Chinese securities firms, it may actually reflect Haitong's ongoing campaign to strengthen its corporate governance and simplify its structure.
Haitong Securities made its bid through a "scheme of arrangement," which requires a "yes" vote from at least 75% of holders of shares with no connection to the Haitong family. At the same time, "no" votes may not exceed 10% of such disinterested shareholders who cast ballots. Those thresholds, which are lower than those for a general offer, coupled with other earlier steps by Haitong International, are expected to give the offer a better chance of success.
Haitong Securities currently holds 73.4% of Haitong International's shares, while disinterested shareholders hold 25.4%. That means that at the offer price of HK$1.52 per share, the privatization will cost Haitong Securities up to HK$3.42 billion ($437 million), which includes buying up share options.
Haitong International is one of several international units that were set up and separately listed by major Chinese brokerages when Beijing was encouraging Chinese companies to expand abroad. Last year, it lost a massive HK$6.54 billion after recording anemic net trading and investment revenue of HK$4.72 billion. It blamed the low figure on poor performance of the stock and bond markets in Mainland China and Hong Kong, which tend to discourage trading.
Balance sheet strengthening
With the support of its parent, Haitong International carried out a series of measures to strengthen its capital this year. At the end of March, the day it released its annual results, the company also announced a rights issue, offering existing shareholders three new shares for every 10 they already held, raising HK$1.16 billion. The company also borrowed $200 million from its parent through a subordinated perpetual debt note, and raised another HK$16 billion through a syndicated loan. As its financial position improved, Standard & Poor's reconfirmed the company's BBB rating and gave it a "stable" long-term outlook.
Wang Shengzu, Haitong International's head of asset management and managing director, told Bloomberg in a June interview that his company was reducing its exposure to Mainland Chinese property developers' U.S. dollar-denominated debt over the past year and shifting funds to U.S. long-dated treasuries and investment-grade bonds.
Wang said Haitong International has actively moved out of fixed-income assets in Asia while increasing its holdings of U.S. long-term bonds, adding he might increase his holdings of U.S. treasuries with a maturity of five to 10 years based on the latest signals coming from the U.S. Federal Reserve.
But such strategies have done little to help the company's recent flood of red ink, as it posted an interim loss of HK$781 million. The massive fundraising did help to stabilize its balance sheet. The company's liabilities totaled HK$67.2 billion by the end of June, down 2% from the start of the year, while net assets rose by HK$2 billion to HK$22.7 billion over that time.
A crackdown on illegal cross-border securities trading by China's securities regulator starting from early this year is taking a heavy toll on Hong Kong stock-focused brokerages. For example, Guotai Junan International (1788.HK) saw its profit drop 26% to HK$119 million in the first half of the year, extending a 93% plunge last year. Meantime, Shenwan Hongyuan (H.K.) (0218.HK) recorded a loss last year, and continued in the red with a HK$71.3 million loss in the first half of this year.
Grim prospects
All the Hong Kong brokerages are getting hit by some of the lowest local trading volumes in years, as investors stay on the sidelines during the weak market. That weakness has also dampened new IPOs that are also another important revenue source for local brokerages. Excluding companies that moved from one stock exchange to Hong Kong, and also local listings "by introduction" and special purpose acquisition companies (SPACs), Hong Kong IPOs raised just about $24.4 billion in the first three quarters of this year, plunging 67% year-on-year.
With money in such short supply for both Hong Kong brokerages and their Mainland parents, the likelihood of more privatizations looks relatively low as everyone tries to conserve their cash. So much for those treasure hunters looking for gems that could also become privatization targets among this beaten-down group.
In fact, Haitong Securities' privatization bid may be mostly aimed at strengthening management at its international unit. Investment decisions by Lin Yong, Haitong International's current vice chairman and CEO, are to blame for its huge losses last year. As the company's ship foundered, Song Shihao, former general manager of Haitong Securities' finance department, was appointed as co-CEO of Haitong International in June, alongside Lin. The unit's string of capital-raising measures earlier this year also look like they were made at least partly to pave the way for its privatization.
So, how reasonable is the privatization offer? The HK$1.52 buyout price gives Haitong International a market value of HK$12.8 billion, which doesn't look great at first glance when compared to its HK$22.7 billion in net assets. But considering the uncertain quality of its financial assets and weak outlook for Hong Kong's stock market, the offer price, which is more than double the price for buying new shares under the rights issue earlier this year, may already be a good deal.
Have a great investment idea but don't know how to spread the word? We can help! Contact us for more details.
The Bamboo Works offers a wide-ranging mix of coverage on U.S.- and Hong Kong-listed Chinese companies, including some sponsored content. For additional queries, including questions on individual articles, please contact us by clicking here.
To subscribe to Bamboo Works free weekly newsletter, click here