Global Heavyweights Inflate Wind Power Specialist Xinjiang Goldwind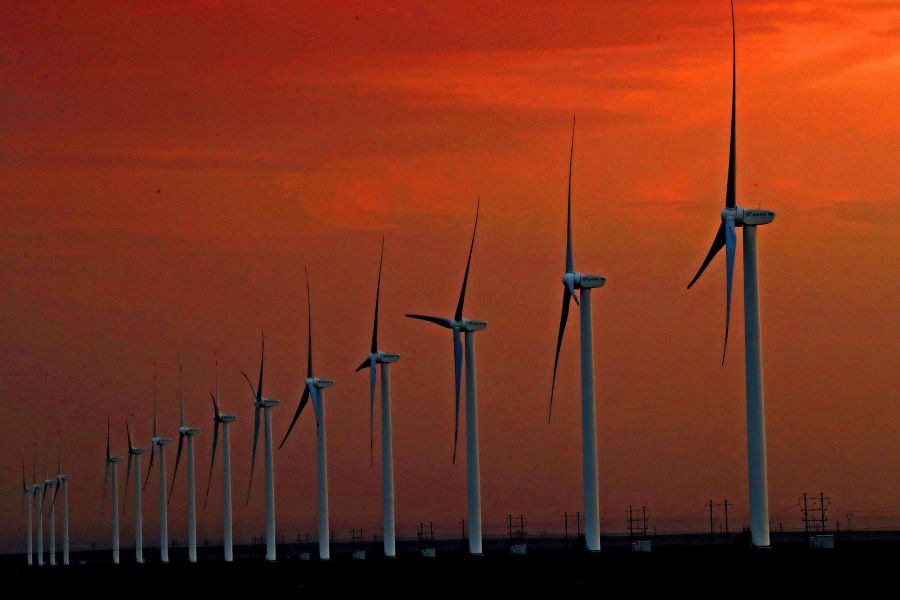 Morgan Stanley, JPMorgan, Citigroup and BlackRock all take positions in China's leading wind power equipment maker as it prepares to announce its latest earnings next week
Key takeaways
Recent foreign interest in Xinjiang Goldwind is linked to its position as a leading wind power equipment maker, and possibly its latest earnings report due out next week
The company's relationship with the new energy arm of the Three Gorges Dam operator will help it profit from China's push to boost its green power capacity
By Doug Young
Which way is the breeze blowing these days for one of China's premier wind power equipment makers?
That's the question swirling around Xinjiang Goldwind Science & Technology Co. Ltd. (2208.HK; 002202.SZ), whose Hong Kong-listed stock has become a plaything for heavyweight foreign investors these days. Barely a day goes by lately without a major institutional investor trading in this particular stock, which indicates people have strong feelings about where it's going.
It's a bit of a guessing game as to where the sentiment stands right now, as the signals are quite mixed. But broadly speaking the big investors look relatively bullish toward the company, which is listed in both Hong Kong and Shenzhen. That's in line with broader sentiment towards the renewable energy sector.
As of this writing, the list of outfits with big positions in Goldwind reads like a who's-who of global institutional investors. It includes top U.S. investment banks JPMorgan, Morgan Stanley and Citigroup, as well as major U.S. fund house BlackRock, all of which are short or long to the tune of at least 5% of the company's Hong Kong-listed shares. Smaller European fund houses Standard Life Aberdeen and Schroders are also betting on the company.
As to where these companies stand, the U.S. investment banks are trading the stock pretty equally on a long and short basis. That probably reflects the fact that their individual clients – who are the stock's ultimate buyers – are equally divided between betting for and against the company. The fund houses are almost exclusively long on Goldwind.
Here we'll step back and look at the broader industry to understand why there's so much interest in Goldwind. Clean energy companies, mostly wind and solar, were a niche market until recently, which includes most of their history dating back around 15 years. That's because they were heavily reliant on government subsidies to survive, since their products weren't commercially competitive with traditional coal- and natural gas-fired power.
But in the last couple of years all of that has changed. There are still some issues being ironed out, but for the first time the technologies have become viable without government support. Many are betting that sea change will unleash a flood of new demand for solar panels, wind turbines and other key components used to generate energy from these renewable sources.
That bet sparked heavy interest in companies that had labored in obscurity for years, with shares of many doubling or even tripling last year. A good broader indicator is the Invesco Global Clean Energy ETF, which has tripled over the last 52 weeks. But the ETF, and the group more broadly, is down more than 20% since start of year, as many believe the stocks may have advanced too quickly.
Whither Goldwind?
With all that background in mind, it's relatively obvious why there's so much interest in Goldwind and the sector in general. The fact that so many big investors are interested in this company, with the focus on long buying rather than short selling, also looks broadly positive, as that means that it's viewed as a major player in the space.
The industry leader is Denmark's Vestas (VWS.DE), which trades at a price-to-earnings (PE) ratio of 38. Goldwind, which is either second or third alongside General Electric (NYSE: GE), is a relative bargain compared to that with a PE of 26. Solar panel makers, which are in a similar zone, trade at slightly higher levels than Goldwind. China's own JinkoSolar (NYSE: JKS) is now at a PE of 33, while the China-listed Trina (Shanghai: 688599.SS) trades at 28.
In terms of financials, Goldwind looks solid enough to believe it will retain its industry-leading status for at least the next few years. The company's revenue nearly doubled to 17.6 billion yuan ($2.7 billion) in last year's third quarter on a consolidated basis. Its profit grew by an even stronger 180% to 834 million yuan, according to its most recent earnings report filed last October.
The company will file its fourth-quarter results next Friday, which could at least partly explain why all the big brokerages are moving so aggressively into and out of the stock. Fund houses like BlackRock tend to take a longer-term view and aren't changing their positions too much lately. But many of the investment banks and their clients are probably more interested in short-term bets, and may just be waiting to see if its latest results show continued strong growth.
One other interesting note about this company is its relationship with Three Gorges, operator of China's massive dam that is a major source of hydropower on the Yangzte River. Three Gorges' new energy arm is a major stakeholder in Goldwind, owning about 16% of the company through direct and indirect holdings, according to Goldwind's latest earnings report.
The pair have announced several tie-ups over the past year, including plans to jointly develop a wind power equipment industrial park, and for Goldwind to contribute to a 1 billion yuan clean energy fund being set up by Three Gorges.
There's no breakdown on Three Gorges' current buying or future plans to buy Goldwind's equipment. But having a major state-owned entity as a backer should help to guarantee that Goldwind will be near the front of the line as a supplier for any new wind projects in China. That should be important going forward, as the addition of more wind power in China will almost certainly be a major component of the country's recent commitments to go carbon-neutral by 2060.
To subscribe to Bamboo Works weekly newsletter, click here