GCL Tech Stares at Dark Year Ahead After Bumper Profits in 2022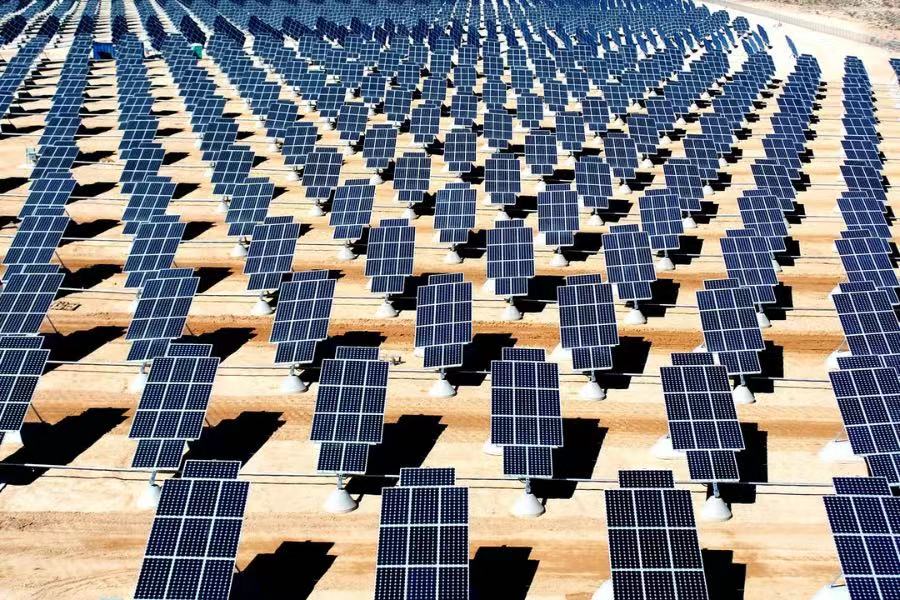 The leading maker of polysilicon said its profit tripled in the second half of last year, but analysts expect the figure to contract this year on falling prices
Key Takeaways:
GCL Technology said its profit tripled in the second half of last year, extending a similar growth rate from earlier in the year, on big price increases for its core polysilicon products
The analyst community is growing increasingly bearish on the company and its peers due to concerns about a coming glut that could lead to plunging polysilicon prices
By Doug Young
Fasten your solar seatbelts!
After notching a year of meteoric gains, polysilicon makers are expected to post moderate to major profit declines this year as prices for the main ingredient used to make solar panels start to fall – perhaps sharply – after two years of big increases. The upside of the recent roller coaster ride was on display in the latest positive profit alert issued Sunday by GCL Technology Holdings Ltd. (3800.HK), one of the world's largest producers.
There are a few pieces to this polysilicon puzzle that are all interlinked and help to explain why analysts see revenue rising for a few producers this year, but falling for most.
Those revenue trends come as companies like GCL race to add massive new capacity targeting a solar power industry that has gained big momentum over the past year. That momentum was originally driven by countries racing to reduce their carbon footprints. But it got another major boost last year with Russia's invasion of Ukraine and a resulting spike in global energy prices, which boosted western nations' resolve to accelerate their move away from fossil fuels.
Massive construction of new solar farms, combined with perhaps just a tad of hype, sent polysilicon prices skyrocketing over the last two years. Those prices finally topped out in the second half of last year, and were already down more than 50% in early January from their peak last August. They continued to plunge throughout last month, falling by a third in the first three weeks of 2023.
But GCL wasn't talking about the future in its latest profit alert. Instead, it was basking in the sunshine of a past year of bumper profits. The company expects to post a profit of 8.6 billion yuan ($1.3 billion) or more for the second half of last year, roughly triple the 2.7 billion yuan profit a year earlier, based on calculations using its new forecast.
It said the big jump was "mainly due to the continuous strong growth in the global photovoltaic industry, and the fact that there was a shortage of supply for polysilicon products causing an increase in both sales price and volume."
The tripling profit in the second half of last year was a slight acceleration from the 187% growth the company posted in the first half, reflecting continued strong prices for polysilicon throughout the year and also the start of production for some of GCL's new capacity.
GCL completed a big expansion at its base in the city of Xuzhou in the first half of last year, bringing its total capacity there to 60,000 tons per year. It commenced operation of another new 100,000-ton facility in the city of Leshan last July, and was also planning two massive facilities with 100,000 tons of annual capacity each in Inner Mongolia, some of which was expected to start producing in last year's fourth quarter.
GCL was hardly alone in adding such major capacity. Its major Chinese rival Daqo New Energy (DQ.US; 688303.SH) is also in the process of roughly tripling its capacity to about 300,000 tons of polysilicon per year by building its own massive new facility in Inner Mongolia.
Rocky reaction
Shareholders reacted to GCL's rosy profit forecast by bidding up its shares by nearly 2% on Monday. But the picture for the stock has been far rockier over the last year, reflecting growing investor concerns that the polysilicon boom will soon morph into an equally loud bust. GCL's stock is down 24% over the last 52 weeks, and has crashed 44% from a peak last July – a sharp contrast to many other offshore-listed Chinese stocks that have rallied sharply in recent months.
The stock now trades at a price-to-earnings (P/E) ratio of 5.2, which is similar to that of German rival Wacker Chemie's (WCH.DE) 5.5 and far ahead of Daqo's 2.1. Part of Daqo's discount could owe to its relatively late arrival to the capacity expansion game, while another part could be due to its base in the sensitive Xinjiang region that has drawn criticism from the west.
Reflecting just how cautious investors have become about this group, just over half of the 21 analysts polled by Yahoo Finance in January had either "hold" or "sell" ratings on GCL, a huge number in an investment community where "buy" and "strong buy" ratings are far more common. Daqo looks similar with seven "hold" or "sell" ratings among 14 analysts polled, while Wacker Chemie is the hot potato of the group with 16 out of 21 analysts giving the company a "hold or "sell" rating.
A look at what analysts are expecting from this group reveals why GCL appears to be a relative favorite, possibly because it was earlier to the capacity expansion game.
GCL is the only one of the three companies we've mentioned that's expected to post revenue growth this year, with analysts forecasting its revenue will rise 6% in 2023, a sharp slowdown from its 74% growth in the first half of last year. By comparison, they expect Daqo and Wacker Chemie's revenue to fall 23% and 13% this year, respectively. All of those forecasts are especially weak when one considers GCL and Daqo will launch huge new capacity this year, meaning they will be earning far less revenue for each ton of polysilicon they produce as prices fall.
As sagging prices fail to offset revenue from new capacity coming onstream, analysts expect producers' margins and profits to inevitably fall. GCL again looks the strongest in that regard, with analysts forecasting its profit will fall by a relatively mild 7% this year. By comparison, Daqo's profit is seen falling by 30% and Wacker Chemie's is expected to tumble by a massive 53%.
At the end of the day, GCL's latest positive profit alert is quite backward-looking and unlikely to boost its shares in the weeks before it publishes its 2022 full-year results next month. Instead, investors will be scouring those results for the company's 2023 outlook, which likely will be filled with caution and warnings of a rough year ahead before the industry perhaps starts to stabilize in 2024.
To subscribe to Bamboo Works free weekly newsletter, click here