Ganfeng Lithium undermined by sinking prices, Chilean nationalization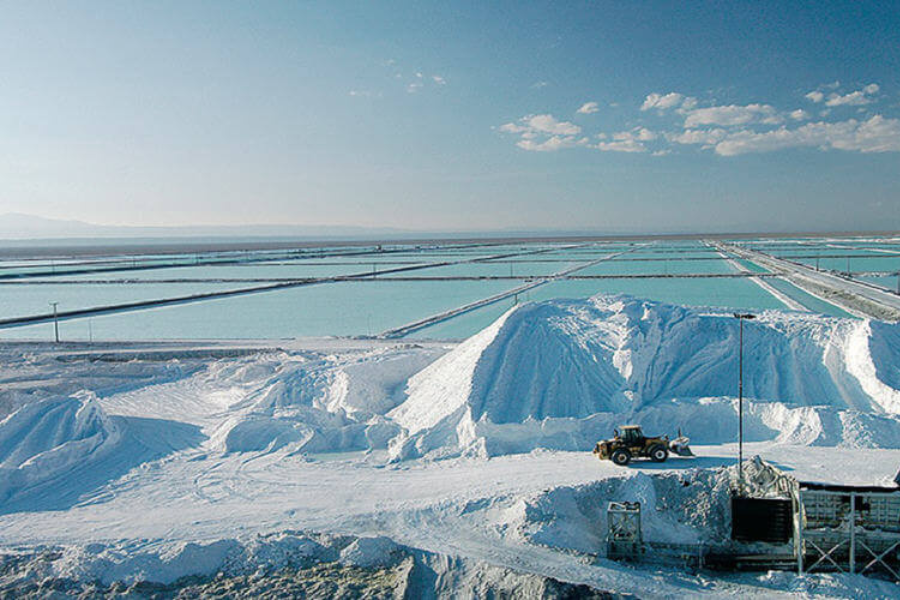 The lithium producer's profits could get squeezed this year as prices for the metal continue to sag and fallout spreads from Chile's recent decision to nationalize its lithium mines
Key Takeaways:
Ganfeng Lithium's profit sank 32% to about 2.4 billion yuan in the first quarter due to rocketing costs and falling lithium prices
The price of lithium mining is likely to shoot up for Ganfeng and its peers after Chile announced a plan to nationalize its lithium industry in early April
By Ken Lo
After unearthing banner profits on soaring demand from battery makers, the global lithium industry is suddenly looking less solid in 2023.
Not surprisingly, lithium prices began plunging this year in a highly anticipated correction after a huge run-up on booming demand from new energy companies. Making matters worse, Chilean President Gabriel Boric on April 20 announced a plan to nationalize his country's lithium industry to promote economic development and protect the local environment. While fallout from that move remains unknown, miners wishing to do business in Chile will almost certainly be required to spend more to meet stricter environmental requirements, meaning higher costs.
Chinese lithium giant Ganfeng Lithium Group Co. Ltd.(1772.HK; 002460.SZ) announced first-quarter results last Thursday that may not fully reflect all those changes just yet. But in a potentially bad omen for the year ahead, those results show its operating costs grew much faster than revenue, undermining its margins.
Ganfeng's revenue grew 76% year-on-year to 9.44 billion yuan ($1.37 billion) in the first quarter, mainly driven by its growing production capacity. But its operating costs surged by a much higher 230% to 5.92 billion yuan during the period. As a result, its net profit fell 32% to approximately 2.4 billion yuan for the quarter.
Reflecting the rapid rise in costs compared with slower-growing revenue, Ganfeng's cash flow from operating activities recorded a net outflow of 3.17 billion yuan during the quarter, nearly triple the 1.14 billion yuan outflow in the same period last year. The company attributed the big rise mainly to the payment of prior guarantees, letters of credit and related taxes and fees.
Ganfeng, whose mining operations extend across Argentina, Australia and China, is far less affected by Chile's decision than its main rival Tianqi Lithium (9696.HK; 002466.SZ), which is a major shareholder of SQM Chile (SQM.US) that sources most of its lithium from Chile. However, anything that happens in Chile still weighs heavily on lithium prices due to the nation's status as the world's second-largest lithium producer after Australia. And with Chile taking steps to reduce pollution from the mining process, there's no guarantee that neighboring Argentina might not follow suit, which would affect Ganfeng more directly.
Dependent on Chile
The vast majority of China's lithium carbonate is currently imported from Chile. Accordingly, Chinese lithium insiders cited in some media reports believe Chile's decision will have a negative impact on the price and quantity of lithium imports to China, and dampen private sector interest in lithium mining. One report pointed out that 90% of China's imports of lithium carbonate last year were from Chile, and imports in this year's first quarter rose nearly 42% year-on-year to nearly 39,000 tons.
More optimistic observers say the Chilean nationalization is aimed at breaking a duopoly in the country's industry held by national champion SQM and American producer Albemarle (ALB. US), thereby creating an opening for other lithium mining giants.
Whatever its motivation, the Chilean government is clearly trying to to get the best prices for the resource while also limiting environmental pollution. But other lithium-producing countries could follow with similar policies, driving up the cost of developing and operating lithium mines even more.
But while mining costs may be headed higher, the average price of battery-grade lithium carbonate has sagged in recent months after two years of strong gains. That's raising concerns that lithium mining giants' profits will come under heavy pressure this year after last year's strong gains.
The average price of battery-grade lithium carbonate in China more than doubled last year, from 250,000 yuan per ton at the start of the year to a high of nearly 600,000 yuan in November, translating to fat profits for miners. But prices started taking a sharp turn for the worse this year, and battery-grade lithium carbonate was selling for below 180,000 yuan per ton as of April 28, down more than 60% from the start of the year.
Weak price outlook
Goldman Sachs lowered its profit outlook and target prices for Ganfeng and Tianqi twice in April in response to uncertain outlook for the industry as prices weaken. In a research report, Goldman also lowered its average price forecast for battery-grade lithium carbonate by 44% to about $30,100, equal to about 208,000 yuan per ton. It also lowered its lithium pyroxene price forecast by 22% to $3,400 per ton.
It cut its target price for Ganfeng's Hong Kong shares from HK$115 to HK$86 in early April, while it lowered Tianqi's from HK$77 to HK$60. Later the same month, it further lowered Ganfeng to HK$80 and Tianqi to HK$53, equal to downward adjustments of about 30% for both companies.
As the new energy vehicle (EV) market that is one of the main consumers of lithium continues to seek new footing after a year of explosive growth, observers generally expect a round of price cuts kicked off by Tesla (TSLA.US) to extend into the second half of this year. That could put pressure on upstream producers like lithium battery makers and miners, also putting those companies' profits under pressure. The Fubao weekly recently reported lithium salt warehouses currently have around 1.5 months of inventory, reflecting ongoing heavy pressure to de-stock.
Ganfeng now has a forward price-to-earnings (P/E) ratio of about 6.3 times, while Tianqi, which is more affected by Chile's privatization plan, trades at 5.4 times, both below Albemarle's 7 times. That seems to reflect a more conservative outlook for the two Chinese miners among investors.
Ganfeng's stock is down around 8% this year, partly on the recent decline in lithium prices. The stock could continue to sag in the months ahead if lithium prices fail to rebound, and also if Ganfeng fails to get its own house in order by bringing its costs under control.
To subscribe to Bamboo Works weekly free newsletter, click here