Feeling the Love: Chinese Tech Giants Catch ChatGPT Fever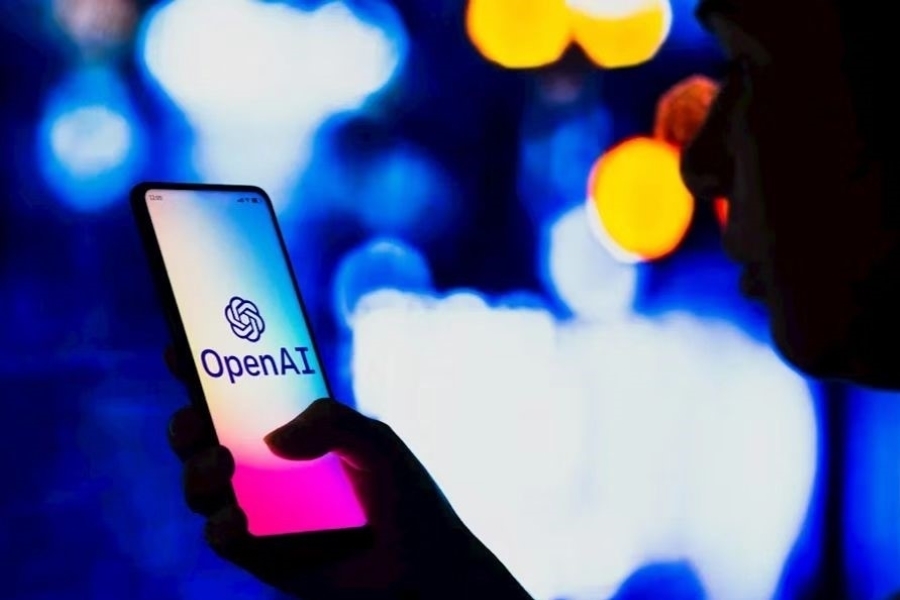 ChatGPT, an AI-driven chatbot that is the talk of the tech world, could shake up internet searching and other types of online business
Key Takeaways:
The global buzz around ChatGPT has spread to China, prompting tech giants Baidu, Alibaba, Tencent and JD to unveil rival projects
Alibaba and Tencent are tipped as potential winners over time in the commercial use of ChatGPT
By Fai Pui
Did you get a love letter from an admirer on Valentine's Day? If so, can you be sure that the words came straight from the heart? Or maybe they were written by ChatGPT, the AI-powered chatbot that has become a global sensation.
Artificial intelligence is entering the realm of romance, according to a survey of 5,000 people around the world about modern-day courtship. Of those surveyed, 26% said they would use text-generating tools such as ChatGPT to write a love letter.
The AI chatbot launched late last year by OpenAI, a startup backed by Microsoft Corp. (MSFT.US), can do more than answer questions. It is able to write essays, scripts, articles or computer programs, with greater skill than virtual assistants such as Siri from Apple Inc. (APPL.US). Within just two months, ChatGPT has already gained more than 100 million monthly active users.
ChatGPT deploys generative AI and language-processing technology to analyze data and produce text in the style of human language. Neural network computing modeled on the human brain helps the chatbot learn how to complete tasks such as writing articles or answering questions in response to users' instructions.
Trouble ahead for Google
ChatGPT investor Microsoft recently announced it was incorporating the chatbot into its Bing search engine, potentially posing a threat to the online search dominance enjoyed by Google, owned by Alphabet Inc. (GOOGL.US).
Google's revenues, which rely heavily on pay-per-click advertising, could be hard hit if ChatGPT draws more traffic away to Bing, until now a relatively niche search engine, says Isaac Wong, analyst at eFusion Capital.
Sensing a stiff challenge, Google hastily released a promotional clip of its own AI chatbot, Bard, last Wednesday. But the counterattack backfired when Bard gave a wrong answer to a question about the James Webb Space Telescope. Alphabet's stock plunged 12% in the three days after the gaffe, wiping nearly $170 billion off its market value.
What about Chinese tech giants that have also been combining Big Data with AI to develop intelligent chatbots?
Baidu Inc. (BIDU.US; 9888.HK), China's leading AI and search engine company, was the first to jump on the publicity bandwagon with the launch last week of "ERNIE Bot," a language-generating chatbot that is due to complete internal testing in March. Baidu's plans to integrate the chatbot into its search engine sent the company's shares soaring 15% last Tuesday.
Next up was Alibaba Group (BABA.US; 9988.HK), which confirmed it was working on its own version of ChatGPT. Screenshots leaked online suggest Alibaba may incorporate its AI technology into DingTalk, a smart-office app allowing workers to communicate and collaborate online. Tencent Holdings (700.HK) is also reported to be getting in on the act, with research into ChatGPT-style AI technology and plans to invest more in content- generation tools.
The chatbot frenzy goes beyond those three Chinese tech leaders. JD.Com (JD.US; 9618.HK) also announced plans to launch a business version of ChatGPT called "ChatJD" on its AI platform, with applications serving retail and finance sectors.
Baidu is currently leading its rivals in the AI race, justifying a fresh look at the company's fundamentals, says Curtis Yeung, a strategist from UOB Kay Hian (Hong Kong). Investors should note that the company's advertising revenue is picking up as China's economy recovers, and Baidu's forecast price-to-earnings (P/E) ratio, at about 17 times, is around the five-year average, he said.
Tencent and Alibaba as the winners?
But will the early leader be able to sustain its advantage? Some financial experts are tipping other big tech names as the potential winners over the longer term as the technology is put to use, leaving Baidu in a similar position to Google.
Isaac Wong of eFusion Capital noted that Baidu's core income comes from online advertising, and its other businesses are capital intensive. If ad revenue slips, initiatives such as autonomous driving that have not yet achieved profitability could take a hit.
Wong believes that ChatGPT-style technology will be more beneficial to Alibaba and Tencent, when applied to their retail or gaming services. Alibaba can deploy chatbots to recommend products to customers on its Taobao and Tmall e-commerce platforms, helping to boost sales, he said. Meanwhile Tencent can use ChatGPT in its role-playing games, enabling conversations with characters and driving in-game sales.
As for the U.S. companies rushing into the chatbot race, both eFusion Capital's Wong and UOB Kay Hian's Yeung are bullish about Microsoft. Yeung believes that Microsoft, as a major investor in OpenAI, can reap synergy benefits by folding ChatGPT into products such as Azure, its cloud business.
Wong thinks ChatGPT could be woven into Microsoft's Office software. "For example, users only need to type in a headline and ChatGPT can complete the text content," he said. "Even if Microsoft charges $20, or even $2,000 a month, companies can still save a lot of costs, and Microsoft has a new money spinner."
It remains to be seen how much AI chatbots will help to cut business costs in the future. But the stock market will not pass up an opportunity to shoot higher with every new tech sensation or game-changing invention.
Take the ChatGPT frenzy for example, which has even boosted companies that could end up being trampled by the rise of the chatbots. Zhihu Inc. (ZH.US; 2390.HK), a Quora-like Q&A network, enjoyed a one-day surge of nearly 60% in the market rally even though ChatGPT is likely to steal some of its traffic in the future.
Among mainland A-shares, many ChatGPT-like stocks rose by the daily limit for several days in a row, resembling last year's "metaverse frenzy" over virtual and immersive products.
Chinese authorities are already ringing alarm bells about the risks of the chatbot frenzy. The Securities Times published an article warning readers against rushing head-long into the market, saying some listed companies are still far from commercializing their AI chatbots and others have only just dipped their toes into the emerging technology.
To subscribe to Bamboo Works weekly free newsletter, click here