EHang lands battery supplier stake as its self-flying vehicles near takeoff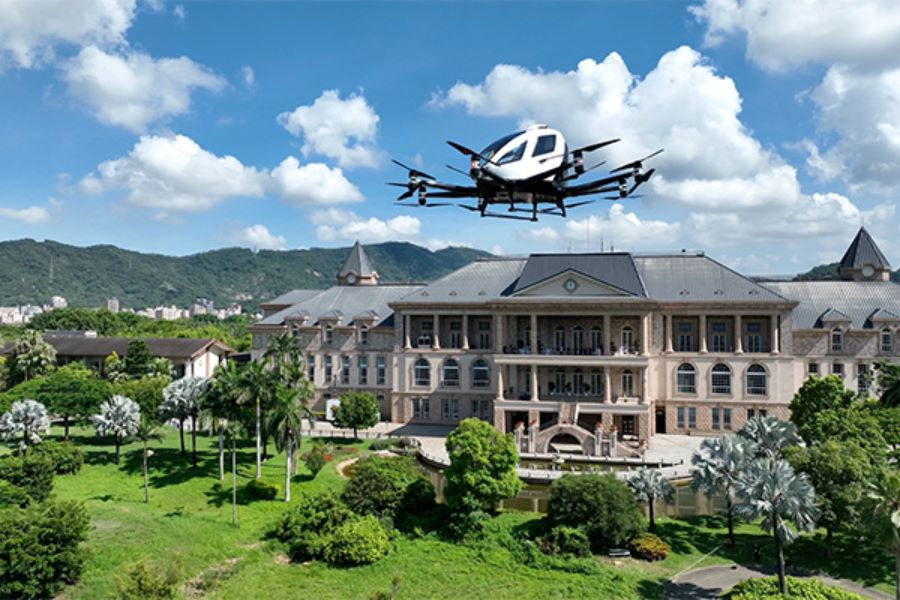 The maker of autonomous aerial vehicles could attain a range of benefits from its newly announced investment in a solid-state lithium battery maker
Key Takeaways:
EHang has made a strategic investment in lithium battery maker Shenzhen Inx Technology, though it declined to provide financial details
The deal comes after the autonomous aerial vehicle maker completed all compliance tests for its flagship model, putting it closer to commercialization
By Warren Yang
EHang Holdings Ltd. (EH.US) is stretching itself vertically as it nears takeoff.
Last Wednesday, the maker of autonomous aerial vehicles (AAVs) announced a strategic investment in Shenzhen Inx Technology Co. Ltd., a developer of lithium batteries that are a key component for self-flying aircraft. As part of the deal, the two will cooperate in developing and producing batteries for EHang's products.
EHang didn't disclose more details about the deal, including the amount of its investment or the size of its new stake in Inx. But presumably it wasn't large, given that Inx is a young startup that has been around only a few years, and thus probably lacks the big sales to warrant a lofty valuation.
What's more, Ehang isn't exactly sitting on a large amount of idle cash to make any big investments, and needs to be careful about its spending while waiting to commercialize its products. Its cash and cash equivalents nearly halved to about $18 million at the end of June from just six months earlier as the company continued to operate in the red.
EHang has largely completed development of its first AAV model, and has delivered some small trial orders to customers. But its AAVs need regulatory approval before anyone will place the large orders it needs to become profitable – something it is fast approaching in its home China market.
In the long term, the new Inx investment can help EHang to vertically integrate a key part of its supply chain by giving it a dedicated source of batteries for its vehicles. This way, EHang won't need to worry about things like battery shortages or unexpected price spikes. Additionally, procuring such components straight from its own manufacturer can help reduce costs by eliminating the need for any intermediaries.
EHang currently doesn't really have any major competitors due to the newness of its products. But more companies will eventually enter the fray, creating competition for the component parts for their aircraft. When that happens, EHang's supply ties with Inx could give it a key advantage over its rivals.
The investment also ticks a lot of boxes for EHang because of Inx's expertise. Inx specializes in solid-state lithium metal batteries, which have higher energy density than traditional liquid types, allowing them to charge faster. Solid-state batteries also have longer lifespans.
Another advantage to solid-state batteries is the safety factor because liquid batteries become more flammable and volatile at high temperatures. And finally, solid-state batteries are better for the environment because they require substantially smaller amounts of raw materials and are easier to recycle.
All of these things are important for EHang as it seeks to spread its wings and someday become a profitable company. For starters, its customers would certainly appreciate shorter charging times for their vehicles. Battery safety is also important – the last thing passengers on an unmanned vehicle want to see is its battery catch fire midair. The environmental benefits are also important as China and the rest of the world try to promote environmentally friendly products.
"Our strategic investment in Inx aligns seamlessly with our pursuit for greener, low-carbon technologies, and is also part of EHang's efforts to deploy and enhance our upstream battery supply chain," EHang CEO Hu Huazhi said in the company's announcement.
Ready for takeoff?
Investors seemed to like the new investment, bidding up EHang shares by 2.7% in the two trading days after the announcement. The stock has given back those gains and more since then on growing concerns about the slowing Chinese economy, which could dampen tourism-related spending that will be one of the main drivers behind demand for EHang's products.
New dealmaking aside, EHang has also been busy taking steps to clear regulatory requirements for commercializing its products. That has been a long, drawn-out process, but the company is getting close, especially in its home China market.
The highlight of EHang's second-quarter earnings release last month was its announcement that it completed all tests in the last phase of demonstration and verification of compliance for its EH216 series, a major milestone capping some 30 months of work. That aircraft model also passed the Civil Aviation Administration of China's definitive flight test, with EHang saying it was expecting to receive official certification "soon."
EHang is hatching various plans around this achievement as it prepares to take the next step in its flight to commercialization. In the second quarter, EHang established a joint venture with Xiyu Tourism (300859.SZ) to develop low-altitude tourism and aerial sightseeing projects in the Heavenly Lake of Tianshan, a national tourist attraction, and other scenic areas in Northwest China. In the second quarter, EHang also delivered five EH216 units to the venture, whose fleet is expected to expand to at least 120 vehicles in the next five years, if all goes as planned.
The joint venture is just a small part of what EHang has been working on lately. It has developed 20 trial operation sites in 18 cities across China over the past two years and conducted more than 9,000 trial flights for the EH216 at these locations, which could allow the start of commercial operations once the aircraft is certified by China's aviation regulator.
The question hovering over the company is how it can sustain its money-losing operations until all these plans start to bear fruit. But it doesn't seem to have much trouble finding investors who are betting on its future success. Such believers include the unlikely figure Lee Soo Man, founder of K-pop giant SM Entertainment, who led a group that invested $23 million into EHang in July.
EHang shares are up nearly 80% this year, including the gains after the announcement of the Inx investment, and are more than a third above their IPO price from 2019 – something that few U.S.-listed Chinese companies can say these days. The stock's current valuation translates to a startling price-to-book (P/B) ratio of 80, compared to just 2.4 for German peer Lilium (LILM.US).
If EHang's aircraft actually hit the skies soon, as the company hopes, its stock may fly even higher. But any setback or delay would almost certainly cause it to fall back to earth. At least for now, it seems like investors are betting on the former.
Have a great investment idea but don't know how to spread the word? We can help! Contact us for more details.
The Bamboo Works offers a wide-ranging mix of coverage on U.S.- and Hong Kong-listed Chinese companies, including some sponsored content. For additional queries, including questions on individual articles, please contact us by clicking here.
To subscribe to Bamboo Works free weekly newsletter, click here