Drink, snack or shares? Vending machine brand Quna seeks IPO cash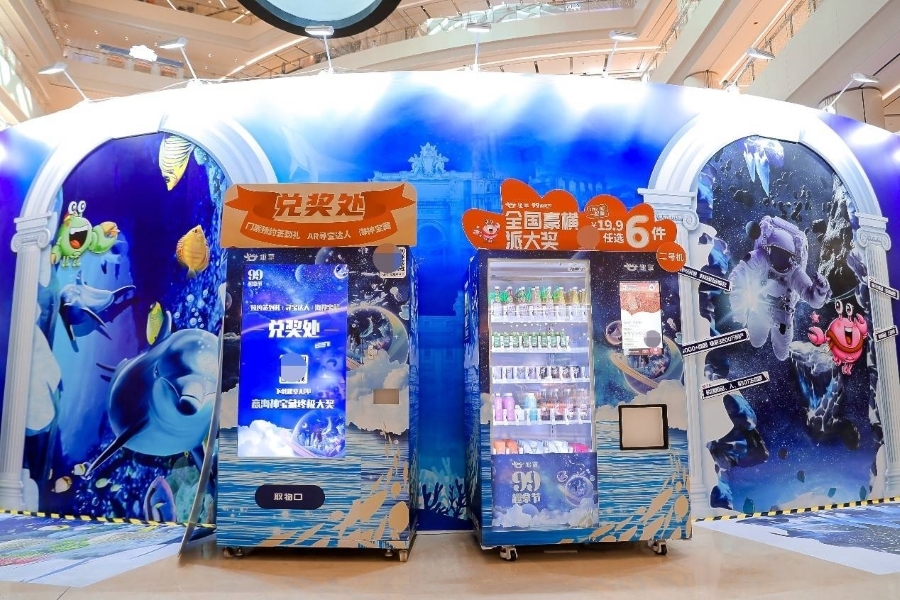 The provider of AI-driven marketing solutions for consumer goods retailers is making its third attempt at a share listing
Key Takeaways:
Qunabox Group has posted rising revenues and adjusted profits over the past three years, and the end of Covid controls boosted its business in the first half
The company has shrunk its network of smart vending terminals by around 2,500 machines over the past year and a half
By Fai Pui
Imagine that a thirsty shopper at a Chinese mall has stopped by a vending machine to get a drink. By scanning a QR code and clicking a coupon to pay, the buyer has unwittingly become a consumer of a marketing business that combines artificial intelligence with the internet of things.
Vending machines with the "Quna" trademark have long been a common sight in office buildings and major shopping malls in leading Chinese cities, operated by a company that facilitates sales and trials of fast-moving consumer goods through smart terminals and an online platform.
The parent company, Qunabox Group Ltd., is now hoping investors will click the "buy" box on its planned Hong Kong IPO, delivering a boost for the business of marketing food, drinks and other daily essentials through online or automated retail.
In its recently filed prospectus, the company describes itself as a leading marketing solutions provider using the artificial intelligence of things (AIoT). Its services aim to create immersive product experiences for consumers to better enable client brands to incubate their goods, with curated customer feedback and campaign advice.
Qunabox's traffic-driven model aims to attract consumers to its experiential intelligent terminals (EITs) and convert them into users of its web-based platform, thereby merging online and offline channels while generating retail insights.
The process may use the latest smart technology for a seamless retail experience, but the company's IPO journey up to this point has been less than smooth. The application to list on the Hong Kong Stock Exchange is the company's third IPO attempt, with a different sponsor every time.
Back in February 2018, Qunabox looked to list on China's A-share market with Shenwan Hongyuan appointed sponsor during the guidance period. But the listing attempt was abandoned after two years of trying. Shortly after parting company with Shenwan Hongyuan, the company enlisted CICC in June 2020 to prepare an IPO on Shanghai's STAR Market, but the plan was shelved just over a year later. In the latest listing twist, the marketing solutions provider has turned its attention to the Hong Kong stock market, with the backing of Haitong International.
So how do the company's numbers look? Qunabox revenue has been growing for the past three years, from 365 million yuan ($50.1 million) in 2020 to 554 million yuan last year, although the growth pace eased off last year as Covid lockdowns reduced the use of vending machines. Despite rising revenues, Qunabox has been stuck in the red. It posted a loss of 112 million yuan in 2020, which swelled around 20% in 2021 to 139 million yuan before narrowing 16.5% to 116 million yuan in 2022. Overall, the company's losses amounted to 367 million yuan over the three years.
However, a closer look at the financial performance reveals that the red ink was mostly flowing from fair-value losses on financial liabilities. Putting those numbers aside, the financial performance looks brighter, with an upward profit trajectory. The company made an adjusted profit of 29.62 million yuan in 2020, rising to 52.32 million yuan the following year and 78.16 million yuan in 2022.
In the first half of this year, revenue more than doubled from the year-earlier period to 364 million yuan, yielding an adjusted profit of 53.95 million yuan. The company rebounded from an adjusted loss of 16.39 million yuan in the first six months of last year, boosted by the lifting of China's strict zero-Covid policy.
A strategy shift towards concentrating its terminals in China's biggest cities also played a part. Qunabox operated 6,018 EITs in 22 cities across China in the first half of this year, with around 98% of them in established and new first-tier cities. However, the company has cut back its overall number of terminals, which amounted to 4,178, 8,520 and 7,402 in the three years from 2020 to 2022. That means the network shrank by 1,118 terminals last year and a further 1,384 in the first half of this year.
Hard sell at high valuation
Why did Qunabox choose to cut back at a time of retail recovery? The company said in its prospectus that it had optimized its EIT network to improve operational efficiency, especially in second-tier cities where it had a presence, responding to market conditions in the wake of the pandemic.
But the company looks to be planning to scale back up, if investors dispense the desired cash. It said the IPO proceeds would be spent on improving brand awareness and market penetration, as well as strengthening technology and R&D efforts. Those plans would include an expansion of the EIT network, the company said. As of the end of June this year, Qunabox held cash and cash equivalents of 161 million yuan, not very deep pockets considering the cost of sales alone reached 170 million yuan in the first half of this year. Little wonder that the company is keen to go public to bolster its finances.
The company was founded in 2013 by Yin Juehui, who brought two decades of experience in telecom and technology fields to the enterprise. Qunabox began commercial operations in 2015 after the Quna platform was built. The founder is the company's current CEO and chairwoman, while her younger sister, Yin Juelian, serves as CFO. The two sisters, together with allied parties such as the vice president of sales, Cao Liwen, and chief customer relations advisor, Wu Wenhong, hold 42.45% of voting rights.
Like many tech start-ups, Qunabox has tapped external capital to establish itself. The firm carried out nine fundraising rounds in the past decade, with backers including Eagles Fund, SAIF Partners, Legend Capital, Xiamen C&D, Wuxi Ferry Venture Capital and Lighthouse Capital. A financing round in March last year boosted the firm's valuation to $520 million, which increased again to $571 million in an F series fundraising just three months later.
According to data from China Insights Consultancy, Qunabox ranks only third in revenue terms among Chinese providers of AIoT marketing solutions for fast-moving consumer goods (FMCGs). Its market share of just 3.5% is dwarfed by the 26.4% enjoyed by top-ranked Focus Media (002027.SZ), which is listed on the A-share market. After the last financing round, Qunabox's valuation came to about 4.2 billion yuan, less than 4% of Focus Media's colossal market capitalization of 106.87 billion yuan. Unlike Qunabox, Focus Media mainly helps customers market their daily consumer products through advertising on buildings, theater screens and media platforms.
Focus Media has a price-to-earnings (P/E) ratio of 29.6 times, while Qunabox's listing valuation might only amount to 3.85 billion yuan, falling short of the last post-financing level, assuming a similar profit performance in the second half of the year as in the first six months.
With the Hong Kong stock market falling, Yin Juehui and IPO sponsor Haitong International may struggle to convince investors to pay a premium price for Qunabox shares.
Have a great investment idea but don't know how to spread the word? We can help! Contact us for more details.
The Bamboo Works offers a wide-ranging mix of coverage on U.S.- and Hong Kong-listed Chinese companies, including some sponsored content. For additional queries, including questions on individual articles, please contact us by clicking here.
To subscribe to Bamboo Works free weekly newsletter, click here