Despite Good News, 'Sauerkraut Fish' Specialist Jiumaojiu Leaves Investors Hungry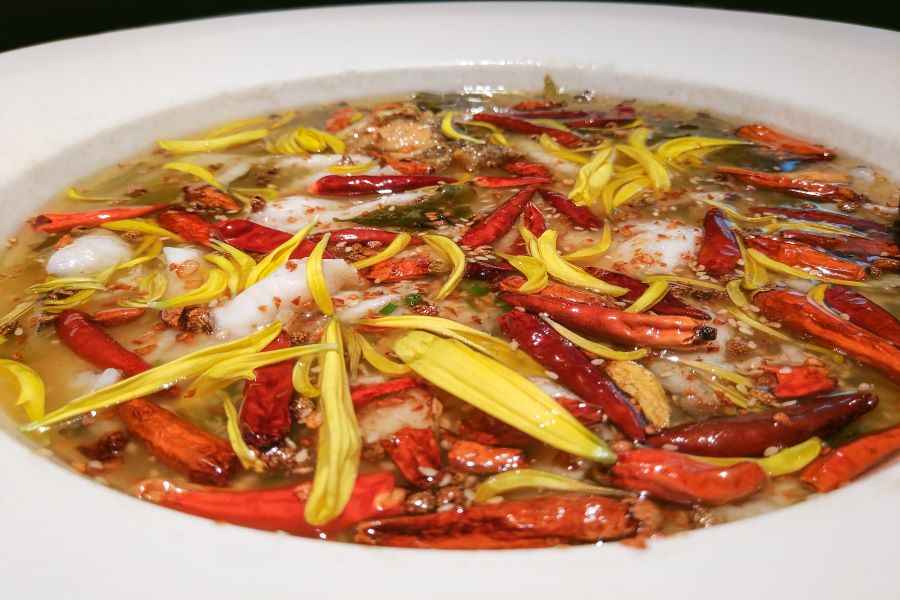 Restaurant operator says it returned to profitability in the first half of 2021 as it resumed an aggressive expansion for its popular Tai Er chain
Key Takeaways:
Jiumaojiu has resumed an aggressive expansion of its popular Tai Er restaurant chain as it returned to profitability in the first half of the year from a year-ago loss.
While the entire sector suffered during the pandemic, Jiumaojiu appears to be more favored by investors due to its big post-pandemic growth.
By Thomas Zhang
"Sauerkraut fish" may be pleasing Chinese pallets these days with its trendy combination of fresh fish in a popular hotpot-style format. But suancaiyu, as it is locally known, was less tasty to investors who largely dismissed a positive profit alert last week for restaurant operator Jiumaojiu International Holdings Ltd. (9922.HK).
Despite suffering alongside other restaurants during the pandemic, the operator of the popular Tai Er chain's upside profit alert announcement showed there's real money to be made for companies that can quickly latch on to the latest dining trends.
The company's profit alert for the first six months of 2021 boils down to two numbers that matter. One is the profit attributable to the equity shareholders of the group, which is expected to be 180 million yuan ($28 million) or more.
That reverses a loss of 85.9 million yuan for the same period a year ago, which corresponds to the height of China's Covid-19 outbreak when many restaurants were ordered to shut down for months. More significantly, that figure is nearly on par with the 186 million yuan profit Jiumaojiu reported for all of 2019, which was before the pandemic and also when the company was in the early stages of its recent aggressive expansion.
The other significant figure shows Jiumaojiu was operating 286 Tai Er restaurants midway through the year, almost double the 161 from just a year before. That rapid expansion comes as Tai Er contributes more than 70% of Jiumaojiu's total revenue, as it quickly outpaces the older Jiumaojiu brand from which the company takes its name.
This growing recognition of Tai Er, together with the revenues it rakes in, plus the rise in total restaurant operation days, were the primary reasons for the sharply improved performance in the first half of this year, according to the group.
Despite its strong return to profitability, investors weren't too impressed. The stock managed a 2.7% gain the day after the positive alert came out, before giving back all of those gains and more in the next two sessions, and was down 9% from its pre-announcement level by the end of last week. Clearly investors quickly lost their taste for the good news.
Like many China shares lately, the stock got off to a roaring start in 2021, reaching a high around mid-February just after the Chinese New Year holiday. But then it gave back all the gains in early March. Its July 30 close is nearly identical from where it started the year – not exactly great food for investors.
But the fact of the matter is that investors seem to be losing their appetite for Chinese restaurant stocks lately, and Jiumaojiu actually appears to be a stronger performer than some of its peers during that time.
The company counts Blackrock as a major investor, with the U.S. fund giant building up its position to 7% of Jiumaojiu's stock in early July. Blackrock has started to sell some of that down lately, and its latest disclosure shows it had cut its holdings to 6.6% at the end of last month.
Restaurant Rout
While Jiumaojiu's "zero sum" stock performance this year isn't anything to get fired up about, one of its top rivals, hotpot sensation and former investor darling Haidilao International, has seen its stock plummet by about two-thirds from a February peak, a sharp reversal following an 80% surge in 2020 despite the Covid pandemic.
Another hotpot chain, Xiabuxiabu Catering Management, operator of the popular Coucou chain, has had an even more unfortunate run. The company's shares, which have been listed since 2014, briefly swooned to an all-time high of HK$27.15 ($3.49) in early February, only to crash to below HK$7 at the end of July.
All restaurants in China were hit hard by the pandemic, there's no doubt about that. But to slightly rephrase a famous quote from the Tolstoy classic "Anna Karenina," it seems that "each underperforming restaurant chain is underperforming in its own way."
For Haidilao, some analysts view the rapid decline of its table turnover rate, which fell from nearly five times a day in 2019 to less than four after the pandemic, as a key factor behind its plunging stock. For Xiabuxiabu, wrangling in the highest ranks of the company's management earlier this year caused grave concerns and heightened uncertainty among investors.
So, is Jiumaojiu offering more value to investors than Haidilao or Xiabuxiabu?
Based on its latest stock price and earnings during the pandemic-plagued year of 2020, the company had a lofty price-to-earnings (PE) ratio of 257. But if we double the 180 million yuan profit from the latest alert to assume a 360 million yuan profit this year, the PE drops sharply to a still-high but more manageable 77.
Haidilao's PE based on 2020's pandemic-hit profit stands at an even higher 417. But based on its pre-pandemic profit from 2019, the figure would come down to a more palatable 55. Similarly, Xiabuxiabu had a sky-high PE of over 4,000 for a few months during its headier times earlier this year. But the figure comes down to just 21 based on its 2019 profit and its currently deflated stock price.
Thus Jiumaojiu looks somewhat favored by investors among the trio based on non-pandemic-level profits, perhaps owing to the newer nature of the "sauerkraut fish" craze compared with the more traditional hotpot fare of its two rivals. We'll have to wait until the company issues its full interim report in late August for a more complete picture of how Jiumaojiu did in the first half of 2021.
In the meantime, the company and its peers are probably all crossing their fingers and hoping China's most recent coronavirus outbreak, which first emerged at the Nanjing airport in late July and has spread to many other parts of the country, will end soon without the need for any mass restaurant closures.  
To subscribe to Bamboo Works weekly free newsletter, click here