DDC Enterprise IPO fails to whet investor appetites on Wall Street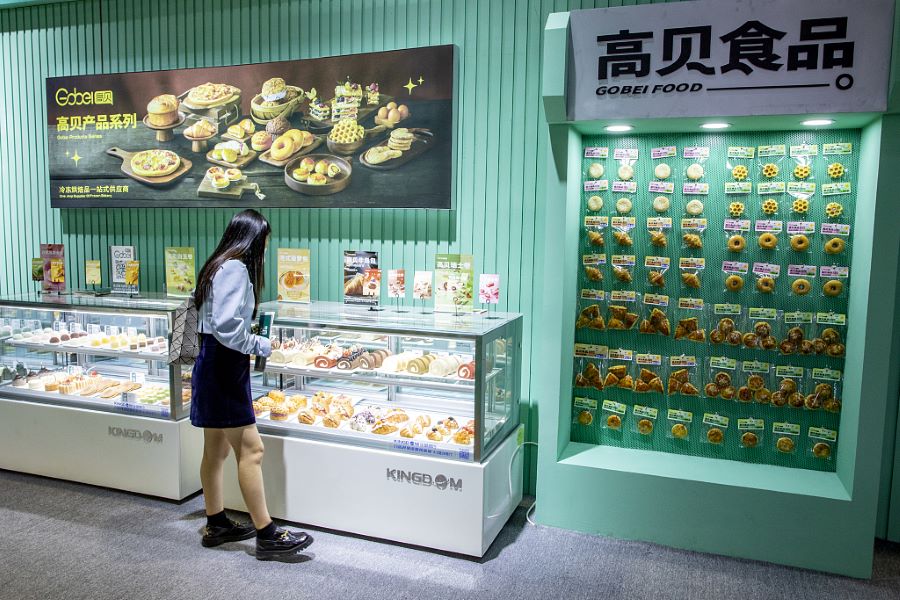 After a failed attempt at a SPAC listing a year ago, shares of cooking content and prepared foods maker DayDayCook plummeted in their New York trading debut
Key Takeaways:
Shares of DDC Enterprise, also known as DayDayCook, priced below their earlier indicated range and fell 27% on their New York trading debut
The Chinese cooking company is repositioning itself as a global supplier of Asian food and content with a series of recent acquisitions
By Edith Terry
It was hoping Wall Street would gobble up its shares, but DDC Enterprise Ltd. (DDC.US) discovered a distinct lack of investor appetite instead.
The Shanghai-based seller of Asian prepared foods and cooking content, also known as DayDayCook, made one of the biggest IPOs by an Asian company in New York this year, raising about $33.15 million with a sale of 3.9 million shares last Friday. The amount was far shy of the $44.6 million it originally targeted, as the final $8.50 share price came in even lower than the original price range of $9.50 and $11.50 from the company's latest prospectus filed Nov. 8.
But that was just a hint of things to come, as DayDayCook's stock fell by nearly 27% on its first trading day, and shed another 16% the next, to close Tuesday at $5.21. The company now has a market value of just $120 million, about a third of the estimated HK$3 billion ($384.2 million) it was worth when it first signaled its intent to list in New York in in June 2022.
Perhaps investors simply tired of waiting for this particular deal.
DayDayCook first tried to list more than two years ago in August 2021 through a merger with a Nasdaq-traded special purpose acquisition company (SPAC). But it abruptly cancelled the deal a year later, and in October last year made its first public filing for a more traditional IPO on the NYSE American Exchange. The deal took another year to make it to market.
There's much to like about DayDayCook. The company started as a cooking video made by Norma Ka-yin Chu, a former head of equity research at HSBC Private Bank in Hong Kong. Chu says that when Hong Kong family-owned sauce giant Lee Kum Kee contacted her for a collaboration, she realized she had a business. So she quit her job to set up DayDayCook in 2012, before moving its headquarters to Shanghai in 2015.
DDC's price to sales (P/S) ratio stands at a healthy 4.29, signaling investors may think the company has a bright future despite the chilly trading debut. The company's revenue also rose by a healthy 33% to 89 million yuan ($12.3 million) in the first six months of this year, from 67 million yuan in the same period of 2022.
DDC has already gone through eight funding rounds, taking in money from a wide range of smaller investors. The company has also attracted some big-hitters in Hong Kong, including the chairman of local real estate giant Henderson Land and the Hong Kong & China Gas Co., perhaps reflecting Chu's experience dealing with wealthy families during her time at HSBC.
Going global
Since its founding, DayDayCook's e-commerce platform has accumulated 24.5 million paid customers in China, with a social media reach of more than 60 million. The company is trying to diversify beyond its Mainland China base, forecasting 10% to 15% of revenue this year will come from other places. Unlike many of its Chinese counterparts, the company has an international board of directors and executive team, as it tries to cultivate a global flavor.
Deloitte China estimates the Mainland pre-prepared food market was worth 550 billion yuan in 2021, with an expected compound growth rate of about 13% over next five years after that. The market in China got a big boost from the pandemic when many restaurants were frequently forced to close or limit service. It has eased since China scrapped its "zero Covid" policy, but is still larger than the $46 billion market for ready-to-eat meals in the U.S., according to estimates from Statista.
To broaden its base, DDC bought four companies last year in Hong Kong, Shanghai and Quanzhou, and another two this year. It entered the U.S. in July last year by listing its products on California-based Yamibuy.com, an Asian foods platform, and later set up U.S. DayDayCook in this year's first quarter, both with a stated mission "to promote Asian cooking to the world." It further extended its U.S. footprint this year by purchasing Nona Lim, a San Francisco-based Asian food brand with an established U.S. distribution network.
The company says its revenue would have increased to 124 million yuan in the first half of 2023 with the addition of contributions from its most recent acquisitions, which is substantially more than its reported total of 89 million yuan for the period.
While the company continues to make losses, those losses are declining as it controls costs. DDC's net loss declined sharply from 83.5 million yuan in the first six months of 2022 to 8.9 million yuan in the same period of 2023. The cost controls helped improve its profit margin to 26.2% from 20.2% over that period.
A good comparison for DayDayCook might be U.S. company Blue Apron (APRN.US), whose shares have lost a dramatic 98% of their value since their 2017 listing. That's given Blue Apron an anemic price-to-sales (P/S) ratio of just 0.18, hinting at the uphill battle DayDayCook might face in retaining investor favor despite its current 4.29 ratio that is far higher. Guoquan Food (2517.HK), which listed a few weeks before DDC, is in between those two with a P/S ratio of 2.21.
That seems to show there's quite a range of investor appetite for this group of prepared food specialists. Accordingly, their ability to keep pleasing investors may depend on finding a potent growth formula with the right combination of tastes and different global markets.
Have a great investment idea but don't know how to spread the word? We can help! Contact us for more details.
The Bamboo Works offers a wide-ranging mix of coverage on U.S.- and Hong Kong-listed Chinese companies, including some sponsored content. For additional queries, including questions on individual articles, please contact us by clicking here.
To subscribe to Bamboo Works free weekly newsletter, click here