Covid Variant Trips Up Topsports, Catching Investors Off Guard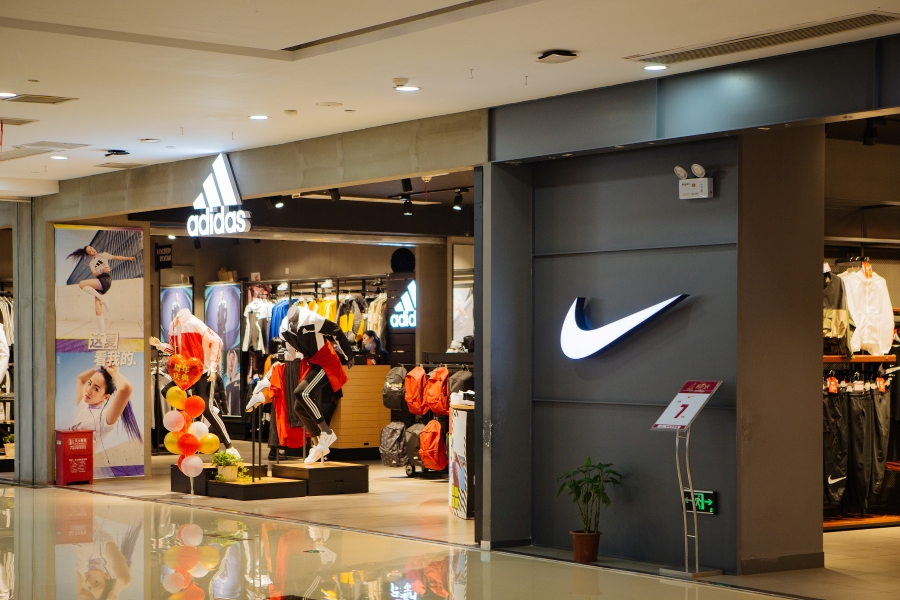 Retailing partner for Nike, Adidas in China reports surprise 20-30% year-on-year sales decline in latest three-month period
Key takeaways:
Topsports' sales contracted in its latest three-month period due to Covid-related disruptions
The sports shoe retailer is undervalued compared to its peers, with one major bank setting its target 36% above company's current stock price
By Jony Ho
Omicron may be the Covid-19 variant of the moment, but it was Delta that put a big damper on Chinese consumption during the third quarter. More than half of China's provinces and many cities also suffered from power shortages during that time, with resulting restrictions hitting the manufacturing, logistics and retail sectors alike. So it's no surprise that a major sports apparel and shoe retailer might deliver less-than- stellar results in such a tough climate, nor that investors might dump the company's shares.
That's exactly what's happened to Topsports International Holding Ltd.(6110.HK), which has disappointed the market with its latest business update. The company announced late Tuesday that its sales fell 20% to 30% year-over-year in its third fiscal quarter through November for its three main businesses: selling directly to consumers via retail stores and over e-commerce platforms, and selling to downstream retailers.
China's retail sales have logged continuously slower growth since the start of the year. In the first quarter consumption grew more than 30% year-on-year, coming off a low base from the worst stages of China's Covid-19 outbreak in early 2020. But since then the growth rate has dropped substantially to around 12%.
Spread of the Delta variant and power restrictions converged to drag down the growth to only 2.5% year-on-year by August. Things only improved slightly from September to November, with the growth rate rising slightly to between 3.9% and 4.9%. With such sluggish figures in the background, Topsports' weak showing in the last three months shouldn't come as a complete surprise.
Topsports is the sports business spun off from shoe giant Belle International, which was previously publicly listed but privatized in 2017. Topsports was listed separately in October 2019, and operates direct retail stores for international giants Nike (NKE.US) and Adidas (ADS.DE), with a network of 7,785 stores in 360 cities at the end of August.
Expanding floorspace
The sharp sales decline hasn't deterred Topsports' ongoing expansion. The gross sales area of its directly-managed stores increased by 3.9% at the end of November from three months earlier, and was up 7% year-on-year, as it continued its strategy of shutting down smaller laggard stores in favor of larger mega-shops. Such a strategy works during good times, but can undermine a company's financial position when costs continue to rise even as sales decline.
Sensing that, investors dumped Topsports' shares the day after its latest business update, sparking a 6.8% decline as the stock closed at HK$8.01 ($1.03) on more than double the usual trading volume. The shares continued to sag on Thursday, falling as much as 6% before later closing down another 3%.
This year has been a period of ups-and-downs for Topsports' stock. It reached a record high of HK$13.78 in February, before starting a downward ride tied to China's sagging retail sales. Its Thursday close of HK$7.78 represents a 44% drop from that earlier high.
While the economic weakness was widely known, the latest selloff shows the magnitude of Topsports' drop caught the market by surprise. Its previously released interim results, which cover the six months through August, showed its revenue decreased by a much milder 1% year-on-year to 15.6 billion yuan ($2.44 billion), while its net profit grew 9.3% to 1.43 billion yuan. The company also increased its interim dividend by 8.3% to 0.13 yuan per share.
Reflecting a more upbeat view at that time, management said the relatively stable situation in China, coupled with rising public fitness and health awareness, was driving continued growth in demand for sporting goods.
Despite the spread of the more contagious Delta variant worldwide, Topsports continued to step up cooperation with its brand partners, increasing its total sales area and moving ahead with a digitalization drive to better understand consumers and reach a wider customer base.
So it's no wonder that the latest report, especially when compared the company's previous optimistic signals, caught investors off guard.
A deeper dive into its interim results reveals Topsports' income isn't too diversified. Its core retail operations reached 12.7 billion yuan in the six-month period, accounting for 81.6% of total revenue, down just slightly from the 82.5% for the year-ago period. Wholesale operations and concessionaire fee income accounted for only 17.4% and 0.8% of its revenue, respectively.
Not surprisingly, the business update's release sparked a wave of concern among major banks covering the company. BofA Securities said it believes the epidemic has slowed arrival of new products, and that Topsports' sales will remain under pressure due to supply chain disruptions. But it added the company is still benefiting from continued growth in its market share, and could also have potential future growth opportunities if it develops other non-core brands, possibly with other partners.
BofA maintained a "buy" rating on Topsports, though it cut its target price by 15% to HK$10.60, which is still 36% above the current price. BofA's price target cut came as it also pared its revenue forecasts for the company by 11% and 13% in 2022 and 2023, respectively.
Undervalued against peers
In its own separate note, Credit Suisse pointed out that Topsports and its stock may continue to come under pressure in the fourth quarter due to ongoing disruptions in the global supply chain, coupled with low consumer demand and strong comparisons from the same period of 2020.
The bank said it was most bullish on OEM producers from the sporting goods sector, followed by sports brands. It was the least bullish on retailers like Topsports, prompting it to cut its earnings forecast for the company by 18% for 2022. It maintained a "neutral" rating, while cutting its target price from HK$10 to HK$8.40.
The relatively big gap between analyst targets and the company's actual share price reflects the market's current low valuation for Topsports compared with its peers. The company trades at a price-to-earnings (P/E) ratio of about 13 times, sharply lower than ratios of between 34 and 56 times for Hong Kong-listed peers Anta (2020.HK), Li Ning (2331.HK) and Xtep (1368.HK). Those three engage in a wider range of businesses, from manufacturing to retailing, compared with Topsports, whose main business is retailing.
Even its main brand partners Adidas and Nike trade at significantly higher P/E ratios of 33 and 43 times, respectively, showing the relative lack of respect Topsports currently commands.
At the end of the day, the latest Covid-related disruptions may have slowed down Topsports a bit for the moment. But its fundamentals remain sold, both in terms of industry outlook and its low valuation compared with peers. So perhaps now might be a good time for investors to bet on the company's resilience in the face of the latest adversity.
To subscribe to Bamboo Works free weekly newsletter, click here